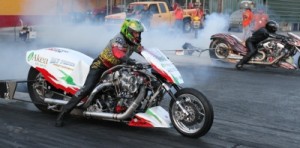 The world's quickest and fastest Harley-Davidson motorcycles, including the national record-holding Top Fuel bike of Harley legend Ray Price, descend on Rockingham Dragway this weekend for the American Motorcycle Racing Association's All-Harley Nitro Nationals.
An international lineup of bikes and riders is expected to contest the Top Fuel title insomuch as this will be the 2014 AMRA debut for the nitromethane-burners. Neither Top Fuel nor Funny Bike was contested at Baton Rouge, La., or Bowling Green, Ky., in the season's first two events.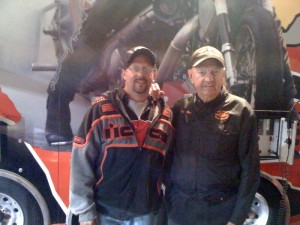 As a result, extra attention will be focused on Steve Earwood's high traction quarter mile, the track on which Tommy Grimes of Clemmons, N.C., drove Price's Raleigh-based Harley to an AMRA record 6.197 seconds at a finish line speed of 227.96 miles per hour en route to victory last October in the Jim McClure Nitro Classic.
The first AMRA Top Fuel rider to break the 6.20 barrier, Grimes is expected to have lots of company this week. Among those expected to challenge him and the record book are former IHRA World Champion and Rockingham winner Jay Turner of Julian, N.C., current IHRA Nitro Jam point leader Mark Cox of Wilkesboro, N.C., and his Bojangles-sponsored Harley and 2013 AMRA champion Randal Andras of Amelia, La.
Rockingham regular Mike Scott of Blind Bay, British Columbia, Canada, who rode Turner's second bike to runner-up honors last fall and to a victory in last month's Nitro Jam Spring Nationals, also is expected to contest the title.
Andras will be one of several riders trying to double-up. In addition to his Top Fuel bike, the Louisiana rider also is expected to compete in Funny Bike astride the Harley on which he won last fall.
Among the contenders in Pro Fuel will be Johnny Vickers of Millers Creek, N.C., the national record holder, current point leader Rebel Glover of Holly Hill, Fla., and Rocky Jackson of Youngsville, La., last fall's Rockingham winner.
The three-day event begins Friday with a 3-8 p.m. test session and continues with time trials and qualifying at 10 a.m. Saturday and single elimination finals beginning at 11 a.m. Sunday.
Adult admission is $45 for all three days, $35 for a Saturday-Sunday combo or $20 daily at the gate. Saturday admission includes access to the traditional Harley music concert that follows qualifying. Parking is free in Rockingham's main lot.