Reed Motorsports Joey Gladstone enjoyed a monumental day at Heartland Motorsports Park, picking up his second consecutive NHRA win with his memorable triumph on Sunday at the 33rd annual Menards NHRA Nationals presented by PetArmor.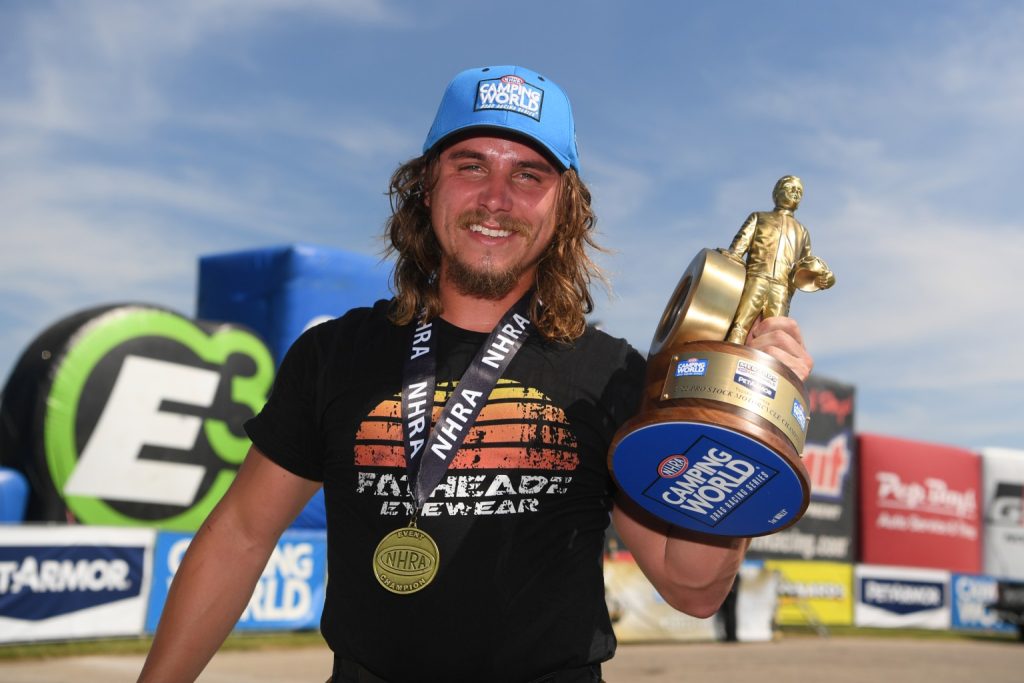 Gladstone wrapped up a perfect weekend in Pro Stock Motorcycle, going 6.876 at 195.59 on his J&A Service Suzuki Hayabusa to knock off Eddie Krawiec in the championship round. It gave Gladstone his second straight – and second career – victory in the class as the young standout made the quickest run of every single session in both qualifying and eliminations. After a dominant performance in qualifying, Gladstone didn't let up on raceday, knocking off David Barron and Angie Smith to set up the final with Krawiec. He denied Krawiec his 50th career win, making his seventh straight run in the 6.80s to finish off a remarkable weekend in style. He also took over the points lead on Saturday and pushed it to a 64-point lead over Angelle Sampey with his stellar showing in eliminations as Pro Stock Motorcycle appeared in Topeka for the first time since 1997.
"This is what dreams are made of," Gladstone said. "I'm just so thankful and so proud of this team. They're so awesome and this is unbelievable right now. Our guys gave me a perfect bike this weekend and we kind of lucked up into a tuneup. We put something that we thought would be close and we nailed it. We just had to make small adjustments to it, and I just had to keep doing my thing. It's taken quite some time to do this, and these are extremely difficult to ride correctly. My tuner is doing a terrific job and to be doing it in this style, it's so cool."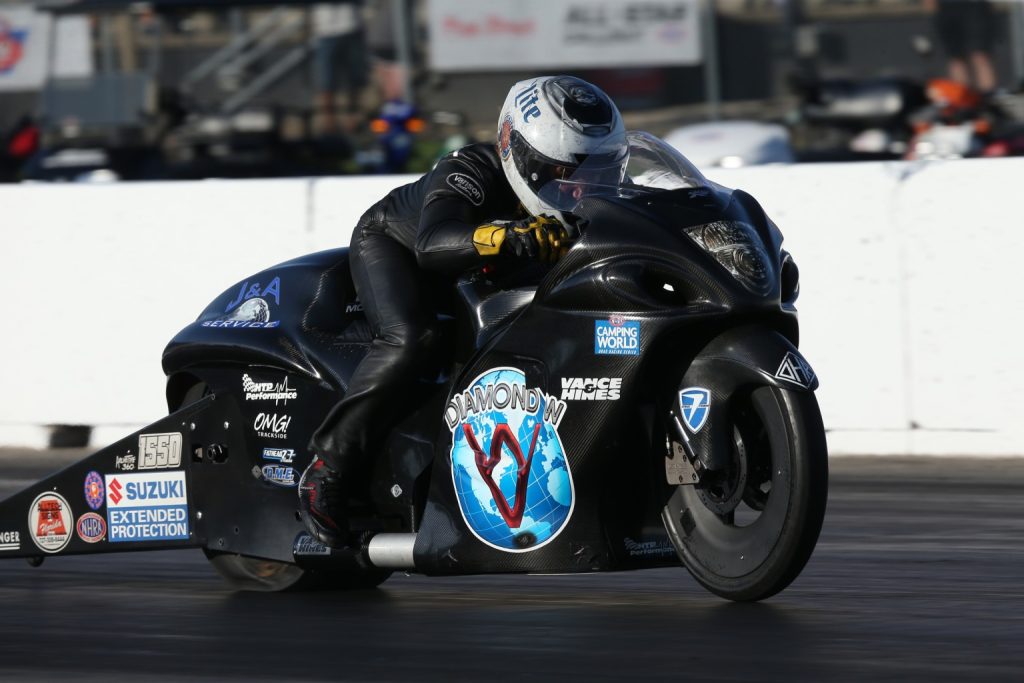 Krawiec came up short against Gladstone in the final round for the second straight race, but he did move to third in points by defeating Ryan Oehler, defending world champ Matt Smith and Jerry Savoie. It's also his 91st career final round.
The NHRA Camping World Drag Racing Series returns to action Aug. 18-21 with the Lucas Oil NHRA Nationals at Brainerd International Raceway in Brainerd, Minn.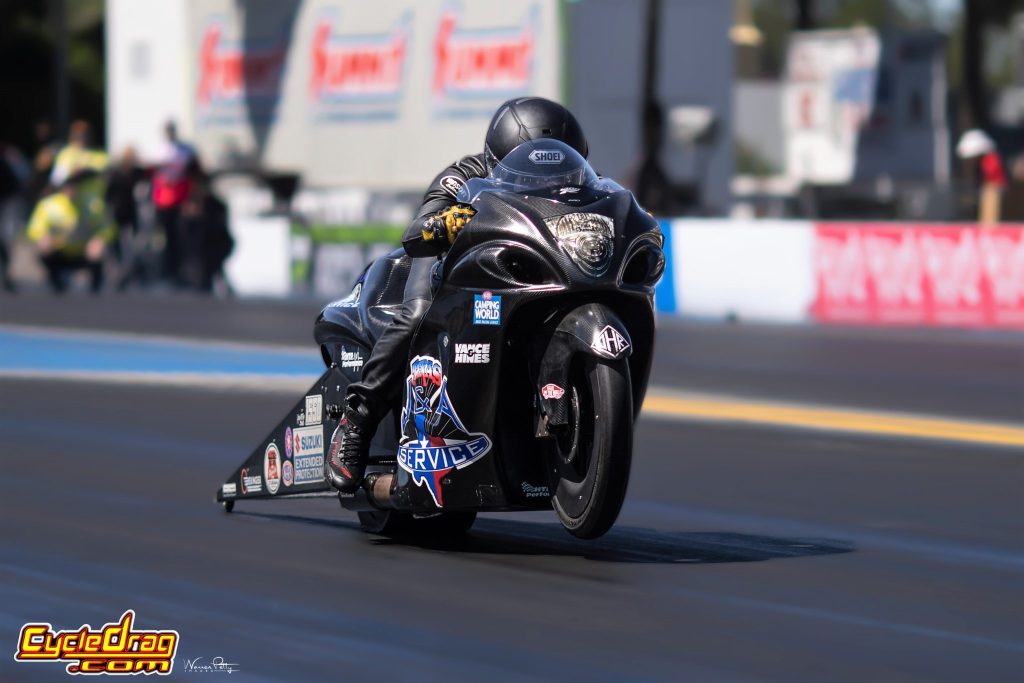 ROUND ONE — Angie Smith, 6.908, 197.86 def. Chris Bostick, Suzuki, Broke – No Show; Jerry Savoie, Suzuki, 6.933, 194.21 def. Karen Stoffer, Suzuki, Foul – Red Light; Matt Smith, Suzuki, 6.915, 196.87 def. Steve Johnson, Suzuki, 6.946, 192.99; LE Tonglet, Suzuki, 6.911, 195.45 def. Marc Ingwersen, 6.943, 194.66; Angelle Sampey, Suzuki, 6.970, 196.02 def. Jianna Evaristo, Suzuki, Broke; Joey Gladstone, Suzuki, 6.834, 197.48 def. David Barron, 7.512, 154.71; Eddie Krawiec, Suzuki, 6.908, 196.16 def. Ryan Oehler, 7.081, 192.36;
QUARTERFINALS — Gladstone, 6.859, 196.82 was unopposed; A. Smith, 6.945, 197.10 def. Tonglet, 6.939, 194.69; Krawiec, 6.874, 196.36 def. M. Smith, 6.896, 198.52; Savoie, 6.964, 193.32 def. Sampey, 9.020, 85.32;
SEMIFINALS — Krawiec, 6.913, 195.25 def. Savoie, 6.992, 193.54; Gladstone, 6.872, 196.87 def. A. Smith, 7.080, 195.11;
FINAL — Gladstone, 6.876, 195.59 def. Krawiec, 6.935, 195.36.
Pro Stock Motorcycle Points
1. Joey Gladstone, 724; 2. Angelle Sampey, 660; 3. Eddie Krawiec, 628; 4. Steve Johnson, 621; 5. Matt Smith, 615; 6. Angie Smith, 577; 7. Jerry Savoie, 541; 8. Karen Stoffer, 534; 9. Marc Ingwersen, 378; 10. Ryan Oehler, 298.
There are more videos on the Cycledrag Youtube channel (please subscribe here) and the Cycledrag.com Facebook page (Please like here) and more will be coming soon. Check back daily.
To take advantage of some amazing discounts at Brock's Performance, click – http://brocksperformance.com?aff=12
USE cycledrag5 coupon code.