On Sunday, Sept. 20, just after 2:30, Jim Doyle of Springfield, Mass. was injured when his AMRA F/B Fuel Harley crashed at New England Dragway in Epping, NH. Jim was at the track testing in preparation for some important races soon to follow in his 2015 racing schedule.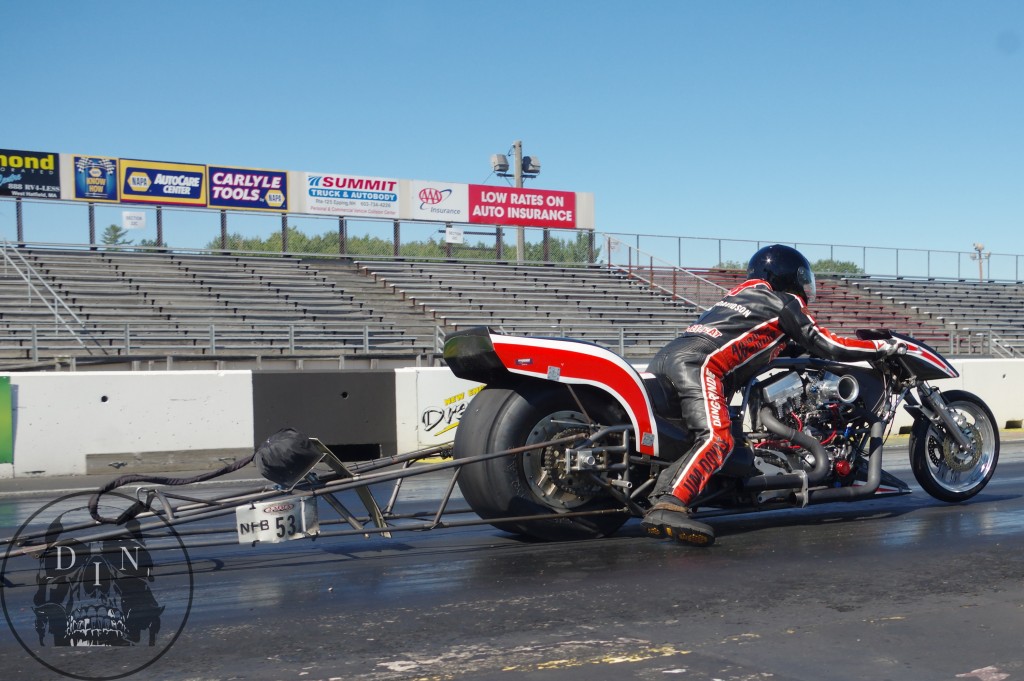 Jim made a pass earlier in the day of 6.98 at 218 in the left lane that he was pleased with. On his last pass of the day, he was again in the left lane and about mid track he encountered a handling issue. The bike changed lanes just after the eighth mile clocks and continued to drift hard to the right in the right lane. He impacted the retaining wall just before or about the finish line hard. This threw Jim from the bike and he tumbled to a stop on the New England Dragway racing surface.
The bike is reported to have miraculously continued down the shut down length of the track and came to a stop in the gravel pit in the upright position. It was noted after the crash that team members were able to mount the bike and tow it back to the pit area in a normal fashion.
Jim was taken to a Trauma unit in Portsmouth NH by ambulance and treated over night. He was then transferred to Baystate Medical in Springfield, closer to home for further treatment.
At the time of Jim's crash, while being assessed by the Emergency Medical staff at New England Dragway, Jim was reported to have said to one of the EMT's "Hey there's nothing wrong with my butt, no need to check my butt." Hearing this in the N.E.D. pit area relieved a lot of tension – as we were all scared badly by seeing this veteran take a bad tumble. Jimmy has been racing nitro bikes since the early 80's and has 7 national championships and 19 fuel bike records on his resume.
While Jim's hospital treatment in on-going and will be for some time, he's already endured two surgeries to attend his badly mangled right ankle. There is little doubt that Jim will have to endure more of these surgeries in the future as his healing and treatments will continue for some time. Clearly Jim has his sense of humor intact, but his injuries are no joke. Jim is self employed and without sufficient medical coverage for an accident of this nature.
Please be alert for fund raising efforts on Jimmy's behalf as Jim Doyle works his way through this recovery.