My buddy Paul Miller texted me and said '-.001 red and you're a zero, .001 green and you're a hero. I'd like for someone to be able to tell me they can see the difference,'" NHRA Pro Stock Motorcycle racer Jerry Savoie said Sunday night. One thousandth of a second is the margin that separated Savoie's semifinal reaction time from fine to foul, and ended his day at the NHRA Carolina Nationals at zMAX Dragway near Charlotte. His White Alligator Racing (WAR) Suzuki TL1000 ran .004 quicker than eventual winner Andrew Hines's Harley-Davidson on the pass.
"To get bit by a -.001 red is kinda crazy," said Savoie. "But we've been struggling with clutch and made a few changes."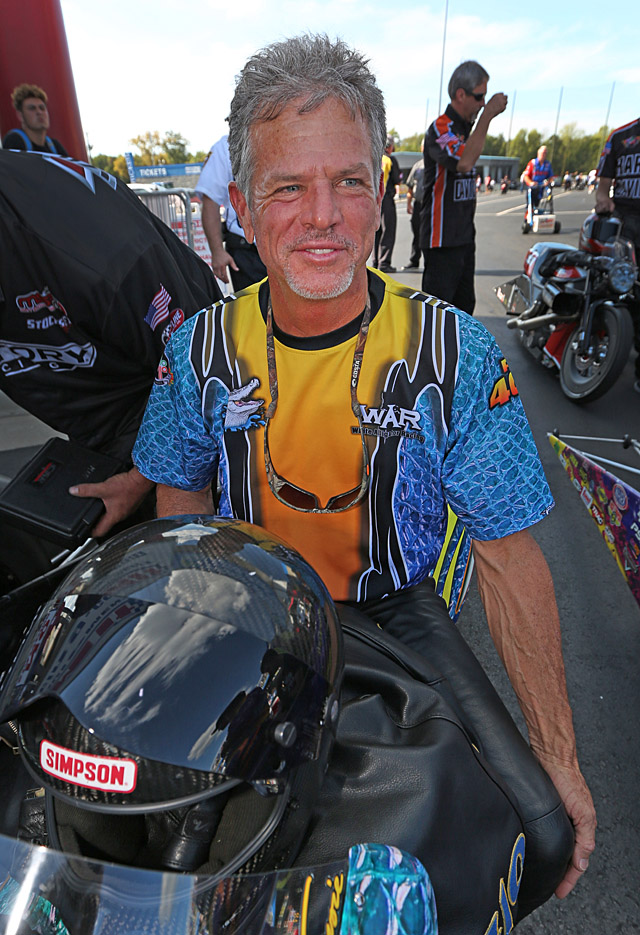 "We had trouble with our lights in the first round of eliminations," said WAR crew chief/tuner Tim Kulungian. Indeed, the WAR Suzuki was visibly slow to move against Shawn Gann in round 1 and Kulungian was relieved to see Savoie's winlight come on. "We dodged one right there," Tim said at the time.
Instead of blaming his rider, Kulungian took a team approach and knew there was a window of adjustment to how the motorcycle can be set up to react when the clutch is thrown. "We've been working together about how to create a more predictable reaction time. It's been a little bit of our Achilles heel throughout the year. So we made some adjustments to the motorcycle and Jerry gained some awareness about what's happening around him.
"And we did great in the second round with an .016, so we turned that first round light over in a really good direction." That was against Angelle Sampey who, like alligator farmer Savoie, is from the Gulf region of Louisiana.
Then came the semi against Hines. "We didn't push the tree against Andrew, we were just ready to race," said Savoie. "It coulda been a .001 green and we'd be sittin' here smiling."
"The .001—I don't like to be in the .000 to .012 area, because I feel it's really dangerous territory," said Kulungian. "I didn't expect a -.001, I didn't expect that at all. He may have gone in a little deep, or the pre-load on the clutch may have been set a little too tight, or the track may have been a little tighter in the semis than it was in the second round. All of these things may have made for a faster reacting motorcycle.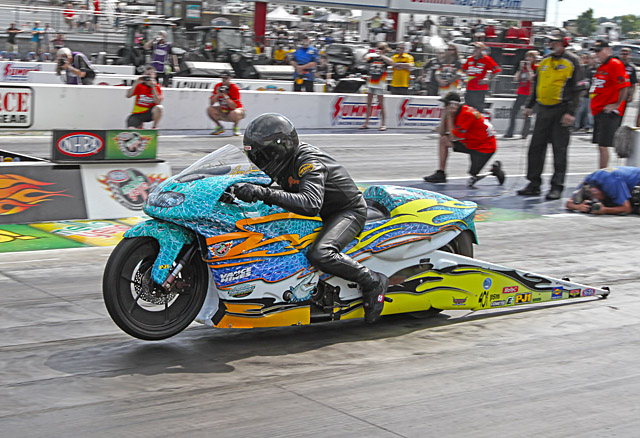 "So we should have been better at predicting what would happen on the hit and how fast this motorcycle's going to react. That is what comes into winning championships and building a championship program—having that kind of predictability and producing favorable results time and time again regardless of the circumstances.
"But I'm pleased with the power, pleased with the performance. Performing means having a fast motorcycle, a well put-together machine, and a driver that has control and predictability with the results he's producing. So obviously we know where we fell short today, and we need to work on that, be strong in that area, and move on to the next race."
The team was Friday's qualifying leader and ended up second behind Hines in Saturday's qualifying. They also ran high MPH of the event. "We picked up some extra points in qualifying and had the fastest bike all day," said Savoie, who's now third in NHRA's Countdown to One championship playoff.
"So I feel good. We'll see what the next four or five races hold, and it is what it is. We're gonna go into St. Louis positive. We've got a good team, got some good engines, and we're gonna have a good time. It's gonna be interesting."
Jerry Savoie and the White Alligator Racing team race next September 25-27 at the NHRA AAA Insurance Midwest Nationals at Gateway Motorsports Park just outside of St. Louis.
Jerry Savoie thanks Eddie Krawiec, Byron Hines, Terry Vance and everyone at Vance & Hines http://vanceandhines.com/ , E3 Spark Plugs http://e3sparkplugs.com/ , High Performance Lubricants http://www.hplubricants.com/wp/ , PJ1 http://pj1.com/ , crewmen Jeremy Derouche and Steve Zelem, Kulungian, his whole family, and the staff of Savoie Alligator Farm.
For more information about Jerry Savoie and White Alligator Racing go to http://www.whitealligatorracing.com/