Jerry Savoie's banner season in Pro Stock Motorcycle continued at the most recent event in Dallas, where the alligator farmer picked up his third win of the 2015 NHRA Mello Yello Drag Racing Series season.
It made him a bonafide championship contender on his Savoie's Alligator Farm Suzuki, putting him just 31 points behind reigning world champion Andrew Hines heading into this weekend's 15th annual NHRA Toyota Nationals at The Strip at Las Vegas Motor Speedway.
As the magnitude of the moment grows with the penultimate event of the 2015 season approaching, Savoie's laid-back mindset becomes even more evident as he continues to push any pressure aside to simply enjoy the race to the championship.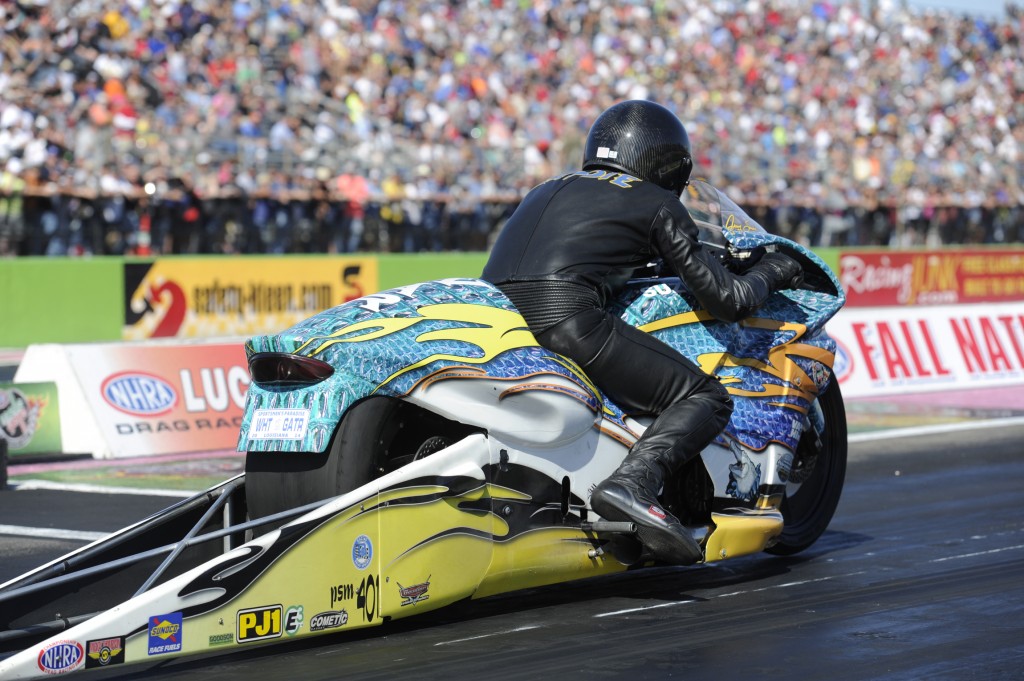 "I do care about the championship," said Savoie, who has four career wins. "If we go out there and do our job, we have a chance to win. If other people do their job better than us, they're going to win. Am I worried about it? No, not really. People put themselves under so much excruciating pressure during times like this and that's not me. Whatever happens, happens.
"Here's the main deal. In February, I'm going to be 57. To come out and do this is amazing and I am so thankful to be in the position I'm in. Whatever happens from here on out is icing on the cake. I don't have any pressure to come out and win. I'm blessed, the team works really hard and we're just having fun. If you can have fun, that's what it is all about."
Spencer Massey (Top Fuel), Del Worsham (Funny Car), Erica Enders (Pro Stock) and Hines (Pro Stock Motorcycle) were last year's winners of the event that will once again be televised on ESPN2. The 15th annual NHRA Toyota Nationals also marks the fifth of six playoff races in the Mello Yello Countdown to the Championship and Savoie has enjoyed nearly every moment of the first four races of the NHRA's playoffs.
After winning the prestigious Chevrolet Performance U.S. Nationals for the first time heading into the Mello Yello Countdown to the Championship, Savoie was the No. 2 qualifier in Charlotte and the top qualifier in St. Louis. He added his second No. 1 qualifier of the season in Dallas, capping off a thrilling weekend by running a 6.744-second performance in the final to hold off Eddie Krawiec, who sits 21 points back of his teammate Hines in second. It was the latest moment to bring a smile to Savoie's face during his impressive 2015 campaign, but he is just as competitive as ever, even as he continues to enjoy the ride.
"I don't want to lose at anything," said Savoie, who also posted a win in Englishtown this season. "We're not slowing down (heading to Vegas). We're going to try something new this weekend. When you get this bike in a certain window, this thing is going to respond and it has. It's been really rewarding. We're trying things we've wanted to try for years and it's really great and exciting to see it come together. I think I might be more excited for the team that they get to experience all this."
What they are experiencing is a chance to compete in the thick of the championship hunt. But until it was pointed out to him, Savoie admitted he did not realize how close he is to Hines with two events remaining. Now knowing what the gap is, don't expect Savoie to change an approach that has worked so well for him thus far.
"All I know is someone told me I was 31 points behind," Savoie said. "I didn't even know how many points I was behind before Dallas. I'm not focused on that at all. I can't change the outcome by looking at that and worrying about it. That's the way I'm approaching it. (The championship) will come if it's meant to be, but this class is the best of the best."
It's a deep group in Pro Stock Motorcycle and 30 riders will make up the field this weekend at the NHRA Toyota Nationals in Las Vegas. The Countdown field is stocked with standouts, including Hines and Krawiec, as well as Hector Arana Jr., who won in St. Louis and sits 81 points behind Hines, Matt Smith, Hector Arana, two-time season winner Karen Stoffer, Jim Underdahl, Chip Ellis and Scotty Pollacheck.
Savoie, aware of the fierce competition, is geared up to battle as he searches for his first career win at The Strip at Las Vegas Motor Speedway.
"We've done really well in Vegas in previous years and I think we will have something good for this race," Savoie said. "I'm really excited for this one. I've been to a few finals there but I haven't gotten that victory yet. I'm going to just be focused round-by-round and see if we can put together a win."