The following is team blog by Hawaya Racing –
It was a busy and exciting weekend for Hawaya Racing this past weekend at the Jim McClure Nitro Nationals held in Rockingham NC. 12 Pro Fuelers showed up to do battle for the title of the AMRA National Finals Champion.
The weather was outstanding and optimism was in the air about it being a record setting weekend. In qualifying, Kirby Apathy ran an outstanding 7.12 second run to take the #1 spot. Johnny Vickers sporting the new Gen-4 upgrade in the Terminater bike ran back to back 7.26 second runs with the new engine to take the #2 spot. The Dream Chaser team of Buddy and Janette qualified #3 with a 7.299 ET, Kevin Garrow came in 4th with a 7.370, Keith Kelly and the Tenn. Thunder team wound up 5th at 7.464, Rich Vreeland was 6th with a 7.509, 7th was Dennis Fisher with a 7.510 and Tyler Wilson rounded the top 8 with a 7.530. The remaining 4 were Rocky Jackson, Jay Beasley, Many George, and John McConnell. At the end of the day, Vickers stood alone at the top lowering his own AMRA National ET record from 7.21 seconds to a 7.181. Vickers passes for the weekend were, 7.267, 7.263, 7.253, 7.181, 7.185, 7.253.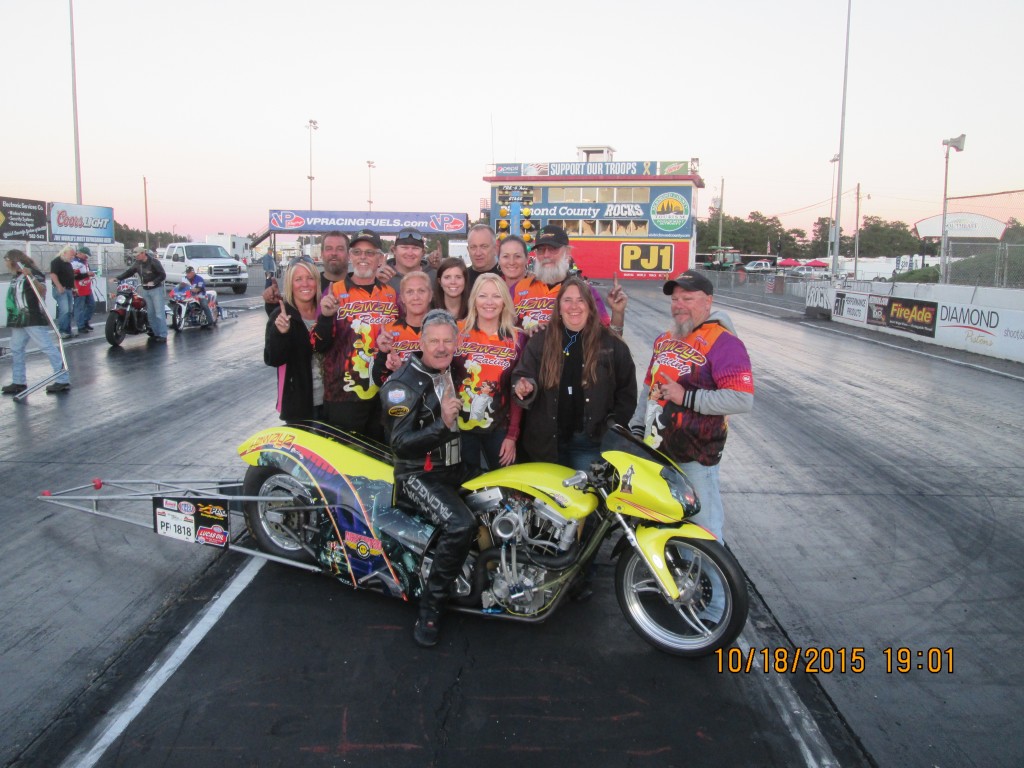 In Nitro Funny Bike, Rich Vreeland qualified #1 on his HRP built machine with a 6.79 ET and Billy Jackson on his HRP built machine came at #2 with a 6.83 second run. In the finals, these two paired up in an all HRP Derringer final. Billy Jackson came out on top making it 2 AMRA wins in a row. Billy's bike which is tuned by Steve Vickers also had low ET and high MPH of the event.
"It was a very good weekend all the way around this past weekend for HRP says President Johnny Vickers. The Gen-4 upgrade package ran quick right off the truck. After qualifying was completed, I put my trusted old Derringer engine back in for eliminations, as Kirby was quick in qualifying and I felt I did not have enough data on the new combination just yet, so I played it safe. I will put the Gen-4 back in for the NHRA Vegas event and continue to get more information on this new combo. All in all, I am very pleased with the outcome so far. It was good to lower my National Record to the 7.181 seconds in the process. Another interesting note from the weekend was that 1/3rd of the Nitro Bikes riders at this event were graduates of the Nitro Bike School. I am in conversation with Marty and Jane of the AMRA as well as Rockingham Dragway owner Steve Earwood at the present time, as how to best proceed with the Nitro Bike school in 2016. So, we will be making an announcement on that in the future."
Team Hawaya would like to thank our sponsors for their continued support of our racing efforts and commitment to the sport of Motorcycle Drag racing:
VP Racing Fuels                                                                                 Lucas Oil
Venom Group International                                                                Mickey Thompson Tires                                  Vanson Leathers                                                                                 PAC Racing Springs
CP Pistons