Multi-time DME Racing Real Street champ Jeremy Teasley scored perhaps his closest win ever in a 7.80 to 7.80 final against his RS Motorsports owner/tuner/teammate Roger Starrette. Teasley was actually .006 slower from point to point but got a .029 jump at the start for the win.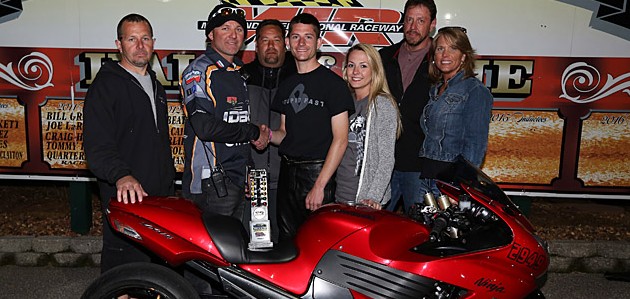 This incredible DME Racing Real Street final between the two nitrous-huffing, Kawasaki ZX14s took place at the International Drag Bike League's WPGC Bike Fest at Maryland International Raceway. The all-RS final capped off a weekend where the team, along with David Merks on his turbocharged Suzuki Hayabusa, qualified 1-2-3.
Teasley also won FBR Shop 5.60 riding Carroll Craft's 'Busa streetbike, and the Dragbike.com Grom Shootout on JC Betancourt's tiny beast.
Roger Starrette thanks Adams Performance http://www.adamsperformance.net, the whole RS Motorsports team, and Jason Miller and the staff at Maryland International Raceway.