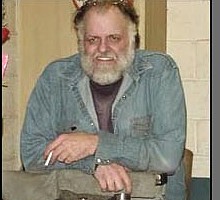 One of the world's most accomplished and skilled chassis builders, James "Puppet" DiTullio passed away today.
DiTullio succumbed after a long and hard-fought battle in the hospital for the past several weeks.
Puppet had been building dragbike frames since the 1970s, when a young Paul Gast went to his shop to get some welding done on his Kawasaki Pro Stock two-cycle.  Puppet would go on to build chassis for legendary riders such as Jim McClure, "Pizza" John Mafaro, Dave Schultz, Elmer Trett and the world's quickest dragbike racer Larry "Spiderman" McBride.
"It is a great loss.  He was the best Top Fuel chassis builder in the world and a great man," McBride said.  "I talked to him on the phone regularly.  He was hilarious. I will miss him."
Utilizing the chassis Puppet built for him in 1994, McBride set the world record for a Top Fuel Motorcycle at 5.79 at 245 mph.
Considered an artist and a pioneer by his peers, Puppet will be greatly missed throughout the motorcycle drag racing community.