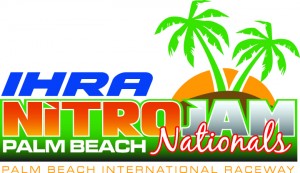 Heavy rains and a less than favorable forecast for the weekend have forced the cancellation of the remainder of the IHRA Nitro Jam Palm Beach Nationals at Palm Beach International Raceway. 
The event is considered complete, and the IHRA Nitro Jam Drag Racing Series will move on to Rockingham Dragway in Rockingham, N.C. for the IHRA Nitro Jam Spring Nationals on May 17-18, 2014.
"If we had a chamber of commerce forecast for Sunday we would try and stay to complete the event. Staying on Sunday puts a serious financial strain on our competitors and without being 100 percent sure we would complete the event, we don't want to put them in that position," said Skooter Peaco, IHRA VP of Operations. "We certainly don't want to create additional hardships for anyone involved. It is disappointing for everyone that we could not finish."
Fans that purchased a ticket on Saturday will be able to redeem that ticket at next year's IHRA Nitro Jam event at Palm Beach International Raceway.
"First and foremost, the IHRA would like to thank all of the loyal spectators that came out this weekend to support the IHRA Nitro Jam Drag Racing Series and Palm Beach International Raceway despite the forecast. Palm Beach has an incredible fan base and we are extremely disappointed that we couldn't complete the event this weekend," said Scott Gardner, President of IHRA Motorsports. "The IHRA and PBIR staff worked diligently throughout the weekend battling the weather, but unfortunately in this instance the weather won. We look forward to returning here next year and putting on an amazing show for the fans."
For more information, please visit the International Hot Rod Association at www.ihra.com or visit us on Facebook and Twitter. You can also visit Palm Beach International Raceway at www.racepbir.com and on social media for additional information.