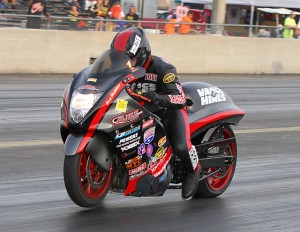 When champion Joey Gladstone pulled his turbocharged Suzuki Hayabusa out of the DME Racing trailer and popped off a 6.91 right away at, it seemed a forgone conclusion that the first 6.80 Orient Express Pro Street pass would happen during the Mickey Thompson MIROCK Superbike Series' Fast by Gast Spring Nationals at Maryland International Raceway, the track's first dragbike race of 2014.
Neither Gladstone nor anyone else was able to achieve the milestone that weekend, but Joey did take the win over teammate Terence Angela in an all-DME final.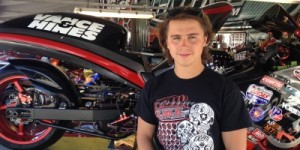 It was a great weekend all-around for the team, with Ehren Litten running personal bests on both ends of the track, and Jason Dunigan making it to the semifinals. In fact, DME fell just short achieving the historical first of placing all four bikes in the semis. But for that, and the 6.80s, there is always the next race at the MIROCK Fast By Gast Summer Nationals, May 30-June 1 back at Maryland International Raceway in Budd's Creek.
Follow riders Gladstone, Angela, Dunigan, and Litten though the weekend in this video, with interviews and insights from Gladstone, Angela, DME owner Dimey Eddinger and tuner Andy Sawyer:
Joey Gladstone and the whole DME team thank DME Racing http://www.dmeracing.com/ , Penske Shocks http://www.penskeshocks.com/ , Catalyst Racing Composites http://www.catalystracingcomposites.com/ , NLR http://www.nlrsystems.com/ , Vanson Leathers http://www.vansonleathers.com/ , Lucas Oil http://www.lucasoil.com/ , CP/Carillo http://www.cp-carrillo.com/ , Web Cams http://www.webcamshafts.com/ , Worldwide Bearings http://www.worldwidebearings.com/ , Cometic Gaskets http://www.cometic.com/ , R&D Motorsports http://www.r-dmotorsports.com/ , VP Racing Fuel http://www.vpracingfuels.com/ , Dunigan Racing http://www.duniganracing.com/ , DCE http://www.wiringlooms.com/ , MTC http://www.mtceng.com/ , APE http://www.aperaceparts.com , Vance & Hines http://www.vanceandhines.com , and Blouch Performance Turbo http://www.bptstore.com
This report was prepared by Tim Hailey.
Enjoy everything there is to read, see and watch about motorcycle drag racing and more at http://www.eatmyink.com