The Mickey Thompson Performance Tires International Drag Bike League's™ (IDBL) WPGC Bike Fest is always known for it's good times and stirring performances in the summer heat at Maryland International Raceway (MDIR). With everything from DC's hottest live music, custom bikes, motorcycle clubs, the East Coast Stunt Jam, International Bikini Team, bikini bartenders, and the best motorcycle drag racers in America and beyond—the nation's biggest motorcycle drag racing and culture event is always about speed, fun, and beauty.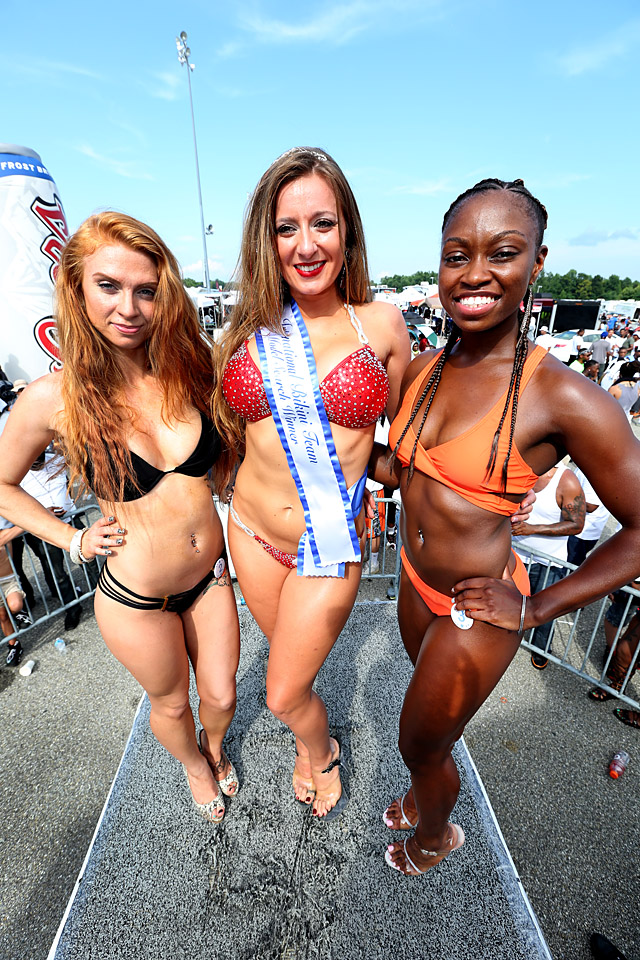 This year's Bike Fest also featured the heat of Nitro in the Top Fuel Shootout—dedicated to the late legend Elmer Trett. Once again, David Vantine and his screaming yellow Vantine Nitrosports bike reigned supreme. The Hamilton, New York racer made three 5-second passes, took two wins, and set a new track speed record.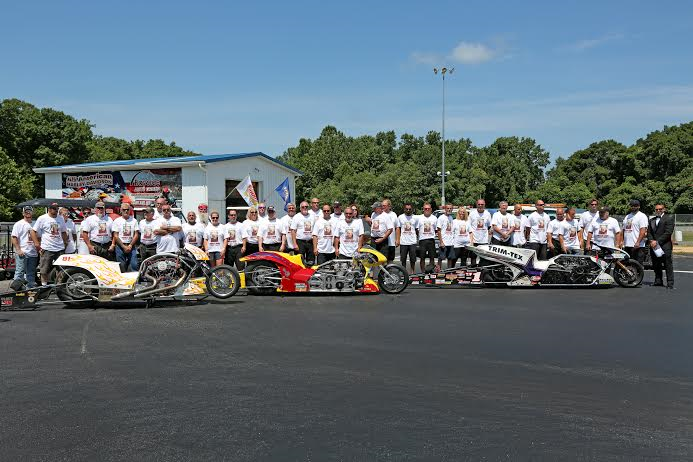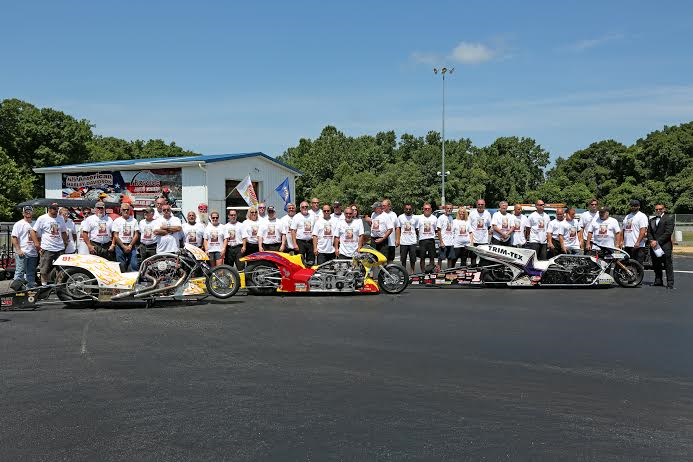 Vantine's opponent, Larry "Spiderman" McBride, struggled with trick electronics on his Trim-Tex/Pingel bike. The McBride team switched back to their old tried and true stuff for the last pass, successfully going A to B but—without a previous full pass to tune to—came up short competitively.
"Hats off to the McBride bothers," said Vantine. "Steve and Larry worked from 7:00 a.m. to 11:00 p. m. on my two motors that we hurt in Memphis so that we could be here this weekend. They never even took their bike off the truck."
East Coast Nitro Harley legend Bob Spina was there tuning rider Peter Geiss down the track. The Korry Hogan-ridden Top Fuel 'Busa of John Alwine was involved in a highway pile-up on the way to MDIR and was unable to compete.
Three-time Orient Express Pro Street champion Joey Gladstone took the win in another all-DME Racing Pro Street final against teammate Terence Angela. After qualifying number one with a 6.822 at 213.16 mph, Gladstone took out Tony Ficher to reach the final. Angela took the tree by .021, but Gladstone powered by for a scant 7.018 to 7.042 win.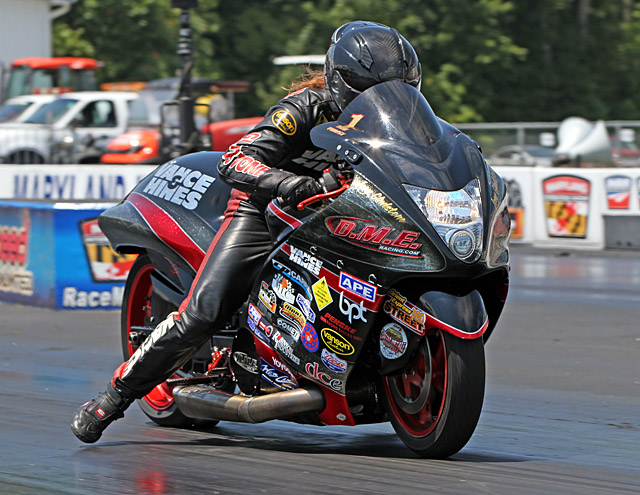 Gladstone and the DME Real Street all-motor 'Busa came up short in the final of that class against champion Anibal "Cannibal" Merced. Gladstone also qualified number one in Real Street as well, but ceded the starting line advantage to Merced .029 to .084. Merced's Kawasaki ZX14 actually stumbled at launch, so his winning 7.925 might have been quicker. Gladstone's quicker-but-losing 7.892 just wasn't enough as Merced sprayed over the finishline at 186.43 mph.
Bike Fest got way too hot for hugely popular and successful MDIR racer Shayne Proctor. He was on a routine pass in Top Sportsman, dialing in 7.80 on Willie Nichol's nitrous-huffing Suzuki Hayabusa. Proctor left the line unusually late with a .109 against opponent Brian Fandel and rode hell-bent on catching up. But right at the eighth mile an apparent nitrous airbox explosion ignited the bike into a huge ball of flame.
Proctor rode the bike to the finishline before he was able to bail, going through the traps still over 85 mph, his legs and feet engulfed in flames. Despite a shoulder dislocated in the fall, Shayne rolled vigorously around on the pavement to put out the fire.
His Bates Leathers did the job they were designed to do—protect Proctor during a slide on pavement. But motorcycle leathers aren't generally built to be fire retardant. IDBL's strict helmet standards kept Proctor awake and alert throughout the fall and tumble. The MDIR safety staff and fellow racers all reacted quickly to help douse the flames.
As Proctor was airlifted to the hospital it was a troubled field that took to the staging lanes until news came back that he is expected to fully recover from the injured shoulder and burns on his legs and back.
Proctor was sidelined by a very serious road accident many years ago and came back swinging. He's already posted on social media that he will be back, and it was duly noted that he won the round despite the explosion, as Fandel broke out.
A GoFundMe account has been set up to help Proctor with his medical bills at https://www.gofundme.com/2hdjgzfb
It was many hours later after clean up, rounds of competition, and rain delay that Richard Gadson took the Top Sportsman final round win on Mike Belo's 1StopSpeed 'Busa streetbike. Gadson nailed an .023 bulb on Melvin Armel and pushed him to break out.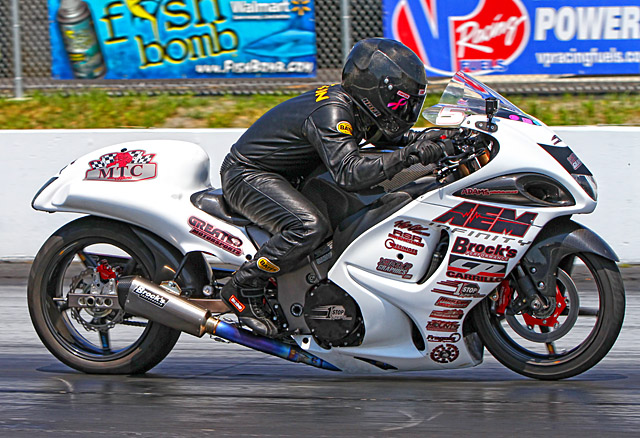 Immediately after Richard's win, his uncle Rickey Gadson won Vance & Hines 4.60 on the crowd-favorite "Crusher" bike owned by James "Hot Rod" Johnson. Rickey's .017 light was only .004 ahead of Mike Thyen's .021 on his MPS 'Busa-motored PXM bike. Thyen's ET was also .004 behind Gadson in a stirring .008 margin of victory race.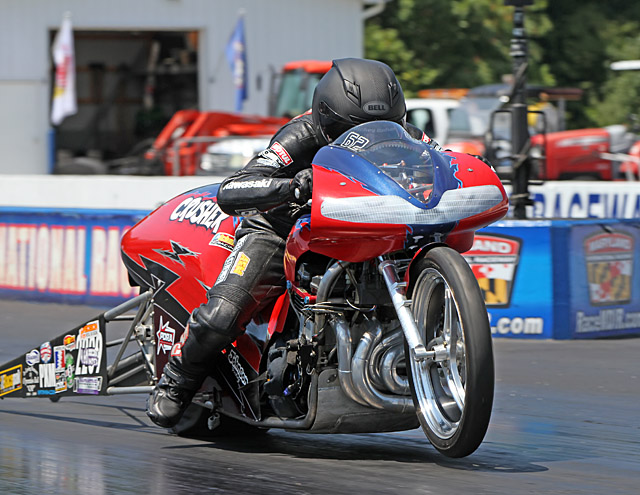 Rickey beat number one qualifier and defending champion Tyler Cammock in round two. A professional racing legend, Rickey Gadson has won three sportsman classes on three separate bikes so far this year in IDBL competition.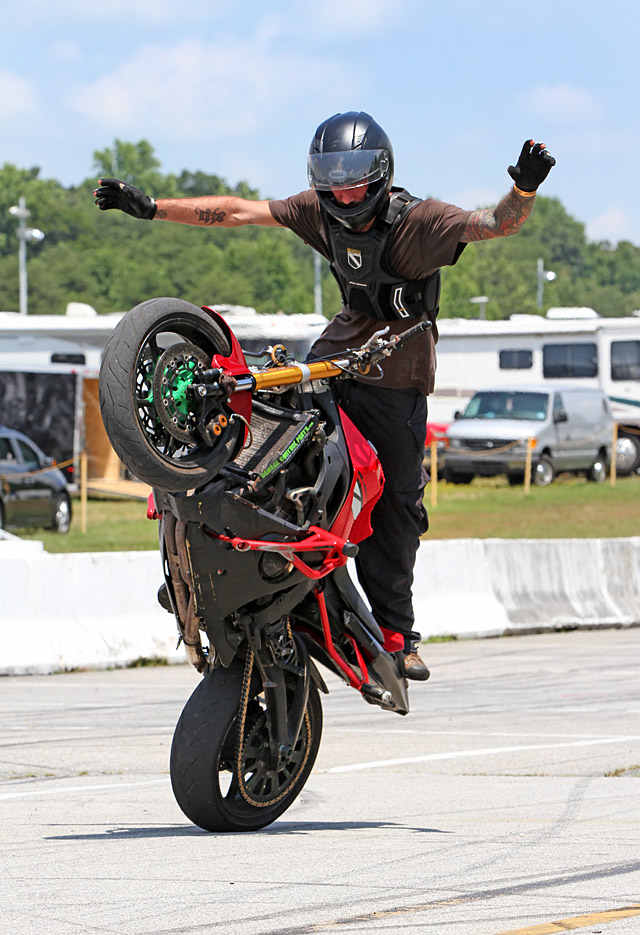 According to IDBL announcer and unofficial statman Fabian Brown, it was the fifth time the Gadsons have shared an IDBL or MIRock winners circle together. "It's always cool when we can one-two punch like that," said Richard, who helped tune "Crusher" for Johnson and his uncle. "It's like an energy thing. He's usually hot when I am and vice-versa."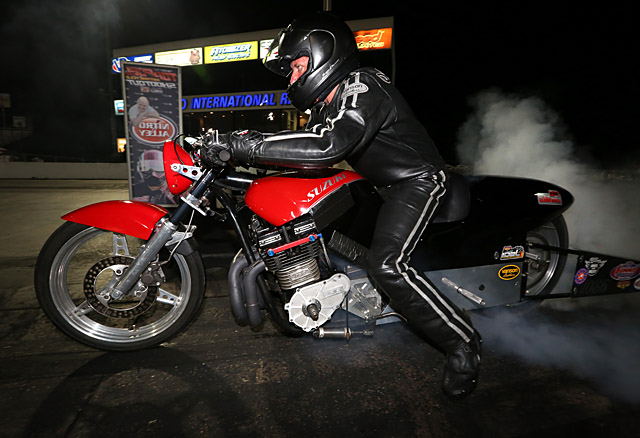 "Long Island Mike" Ostrowski continued his mastery of FBR Shop 5.60. The 2014 champ qualified number one and ran unopposed in the final when Jeremy Fox broke in the water box.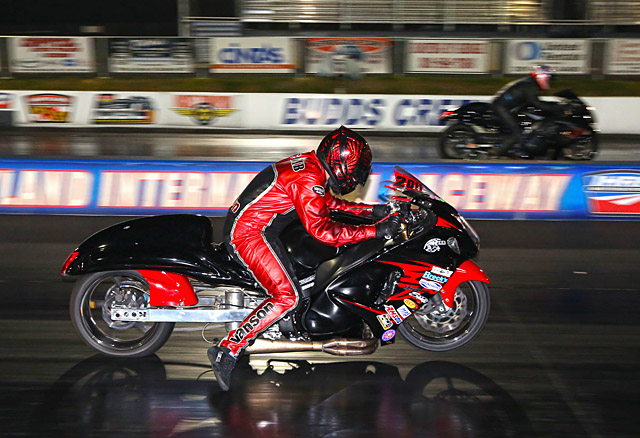 Spencer Claycomb's .020 light did the trick in the Crazy 8s final against Connecticut Kingpin Bob Carlson, whose .037 caused him to break out.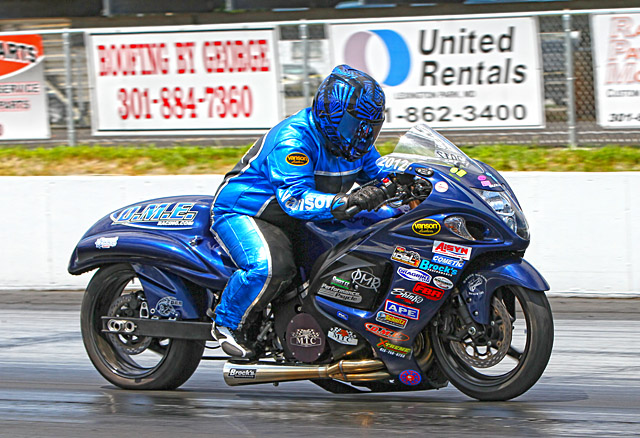 Carlson also runner-upped in Sunday's Brock's Performance Street ET despite a .004 light against Dustin "Biscuits" Lee in the final. Carlson broke out while Lee stuck to .003 over his 9.29 dial-in. Lee also won a Friday Gamblers race, as did Fred Reid.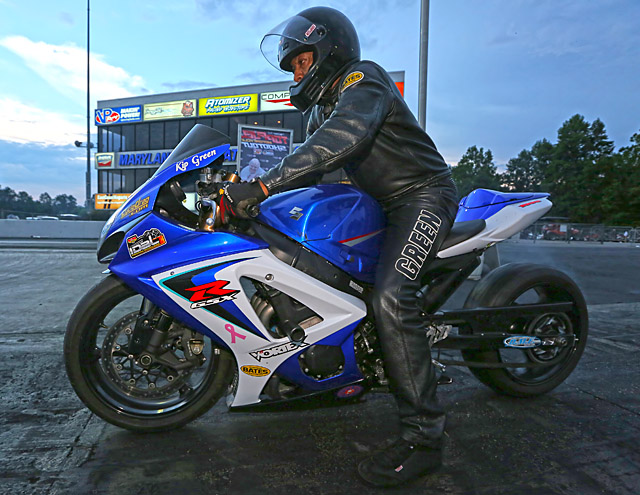 Baltimore's Louis "Kip" Green won Sunday's Shinko Pro ET final over Dale Hamilton. Saturday's Street and Pro ET races were truncated by rain, with the purse distributed amongst all those still left in.
MDIR homeboy Chris Clontz's Top Sportsman two-event win streak may have ended in round 1, but his wife Kelly's Paint the Quarter Pink domination continued. She beat fellow MDIR legend Robin Procopio in the final of the annual breast cancer awareness fundraiser, her third win in five editions.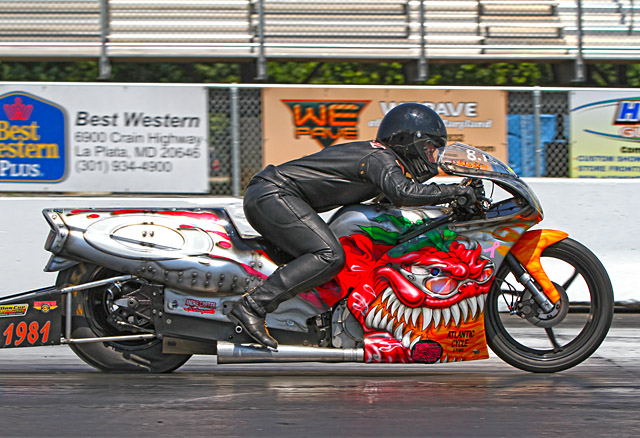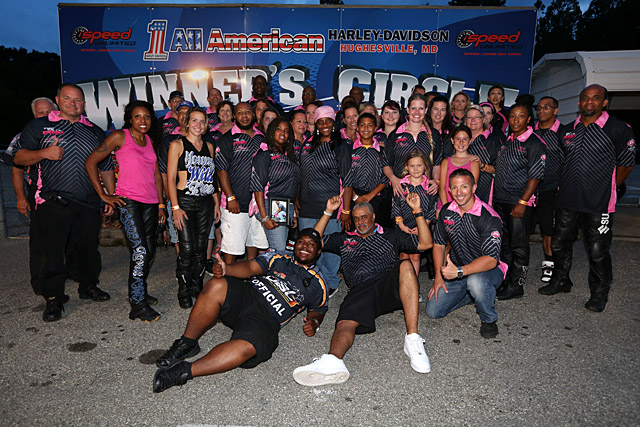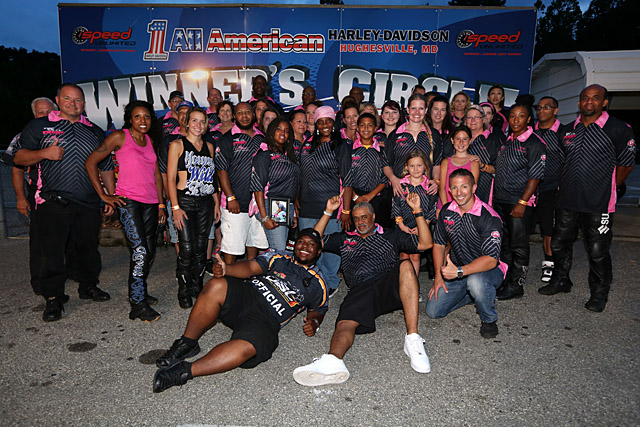 The racing guys and gals of the IDBL return to MDIR September 9-11 for the Metalscorpio East Coast Nationals.
Find out more about the Mickey Thompson Performance Tires International Drag Bike League at http://www.RaceIDBL.com
Find out more about Maryland International Raceway at http://www.RaceMDIR.com