The Gulf Oil Top Fuel Motorcycle Dragracing team kicked off their new season in style with consistency of the
highest order, a new European Record and an event win to take an early lead in the 2016 FIM European
Dragracing Championship.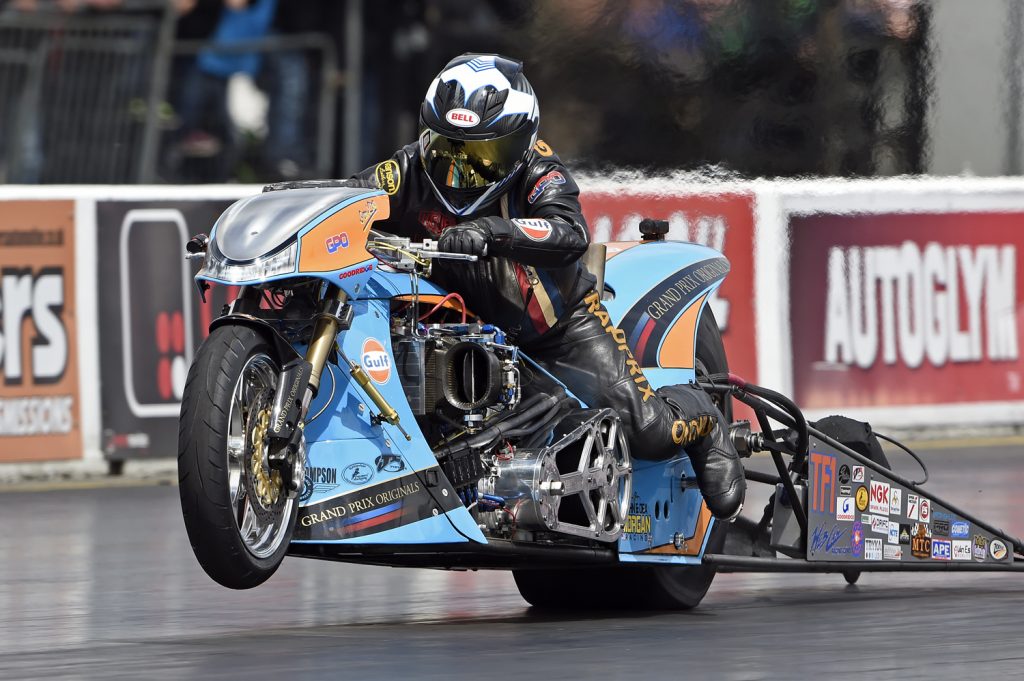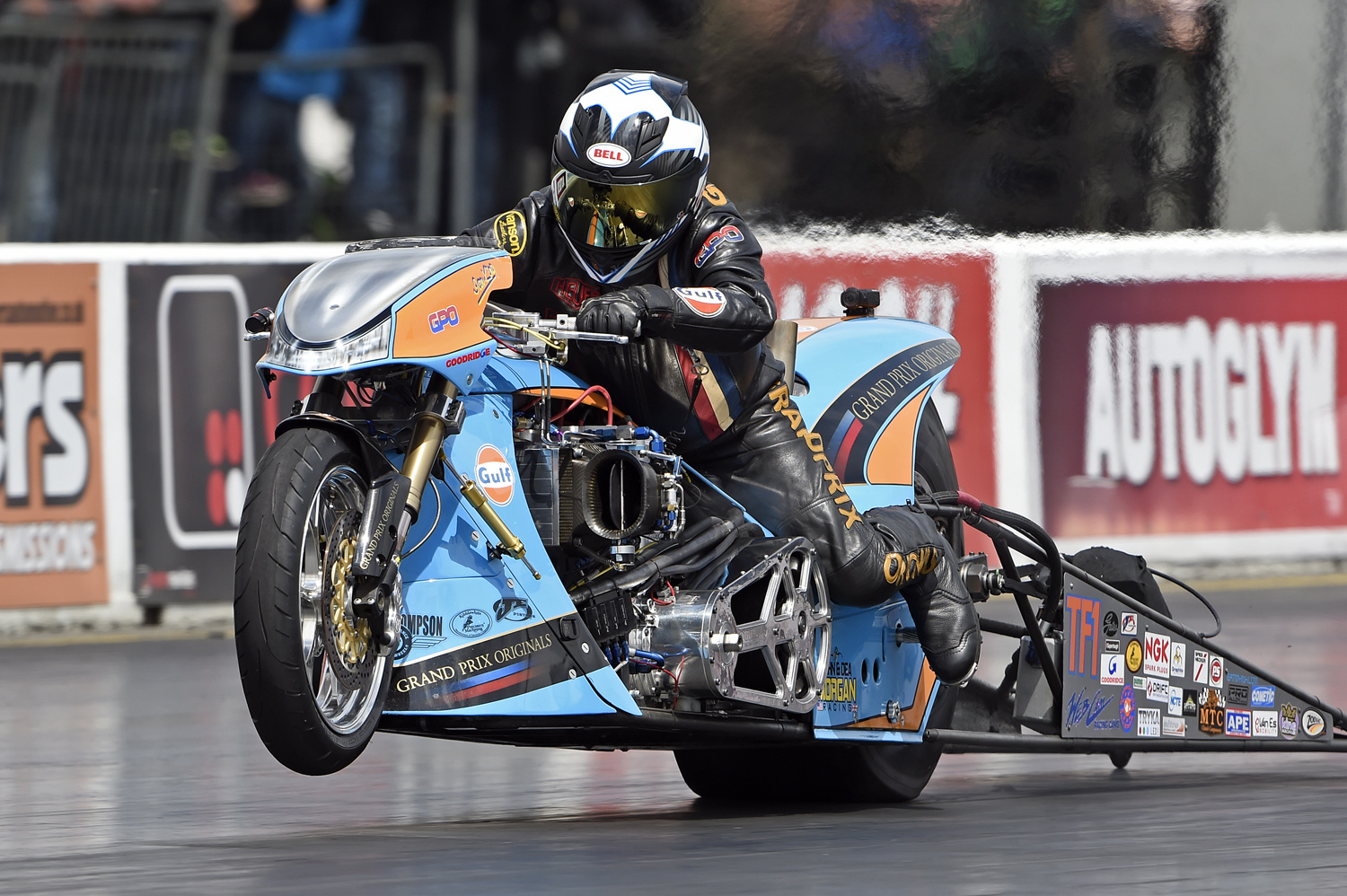 The target for the team was 5 second consistency and so small but meticulous technical enhancements
particularly in areas such as clutch were undertaken over the winter stop. This approach was proven effective
when an off-the- trailer first competitive pass of the year 5.95 seconds @ 239.85 mph pass, and a new
European speed record if backed up within 1% in any subsequent run of the weekend.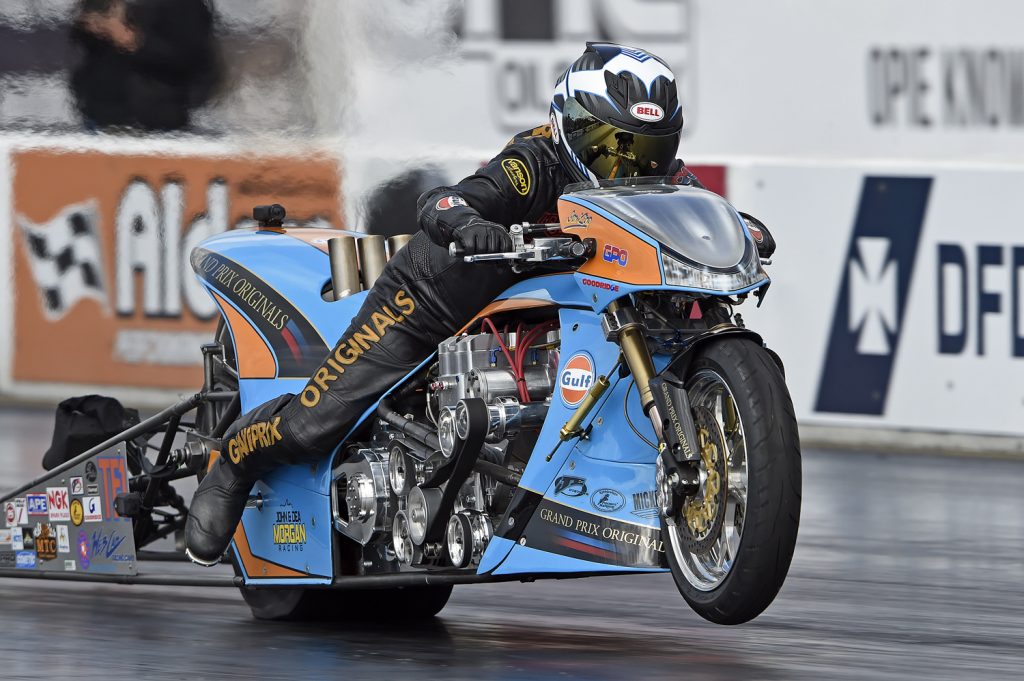 However, the team were plagued with damaged drive & rear wheel sprockets and drive chains on each and every pass due to the
problems also experienced by many riders in this machine category across the globe due to chain stretching
issues following an unknown and as yet unresolved change in manufacturing.
Click here to see a video of the chain stretching on a run: https://www.youtube.com/watch?v=INncs8wVNF8
The team remained in number one qualifying position for the entire two day qualifying session, running two
more 5 second passes, one a 5.8172 seconds @ 233.77 mph, a new European elapsed time record to add to
the potential speed record should it also be backed up within 1% over the event.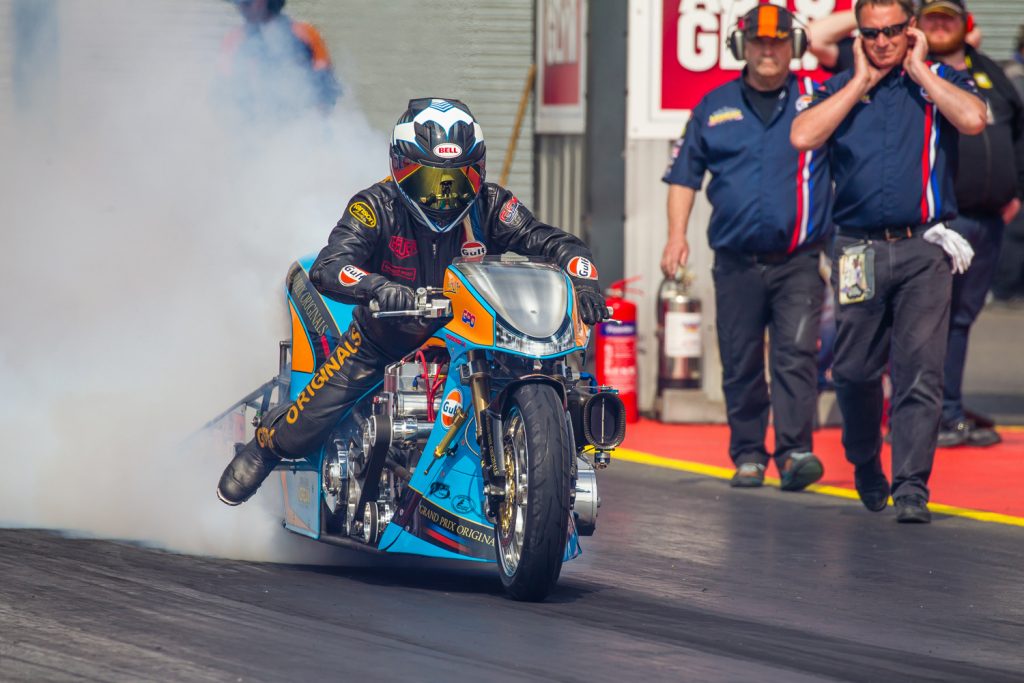 The first round of eliminations saw King overcome Glenn Borg despite breaking a drive chain mid way on the
run, a slowing 6.46 seconds @ 163.68 mph still too quick for the Maltese rider.
Round two saw King run another five second pass, a 5.904 seconds @ 228.93 mph that would have been too
quick for Greek rider Filippos Papafilippou even if his run had not been aborted at the start.
The final saw King up against his great friend and long time rival Rikard Gustafsson in what was looking to be a
possible first European side by side 5 second run following the Swedish rider's stunning 6.04 second pass
earlier in the weekend in his debut competition on his own new Puma powered and supported nitromethane
machine. Unfortunately it was not to be when the Swedish team suffered a minor technical issue that
necessitated shutting off before staging, but King did not disappoint the expectant crowd with another fine
5.893 second run at 239.95 mph, his fastest speed of the weekend and resetting his own FIM European Speed
Record.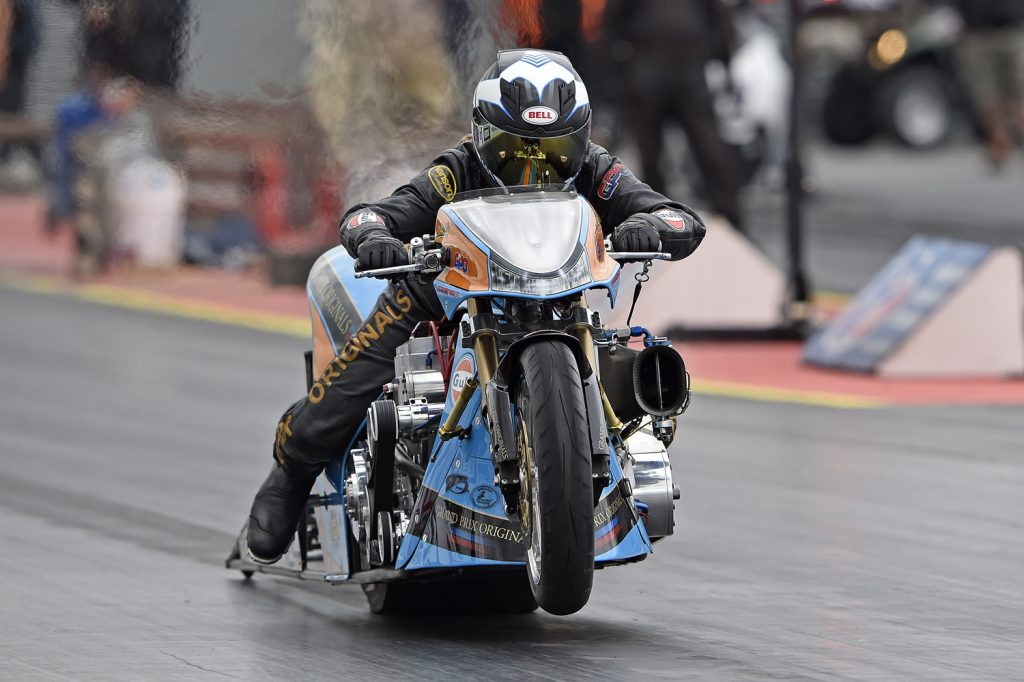 A stunning start to the European Championship season for the team, number one qualifier, five x 5 second
runs out of seven, a new European Top Speed record and an event win!
Pictures courtesy of Ivan Sansom, Rose Hughes and Stefan Boman
See the 5.8172 second run here: https://www.youtube.com/watch?v=nxnAjmpAxEw
See an onboard 5.902 second run here: https://www.youtube.com/watch?v=gB3RJY1Kfa8
See a rear facing 5.904 second run here: https://www.youtube.com/watch?v=K8ZteRr0hgc
The Gulf Oil Dragracing team's next event will again be in the UK after being invited by the Earl of March and
Kinrara to appear once again at the world's biggest and most diverse motorsport event – the Goodwood
Festival of Speed within the grounds of his ancestral home alongside the great and the good from all aspects of
motorsport. Click here to see the entry list:
https://www.goodwood.com/grrc/event-coverage/festival- of-speed/2016/6/fos- 2016-drivers- and-riders/
For more information on the team go to www.gulfoildragracing.com
Twitter: @kingracing
Facebook: https://www.facebook.com/ian.king.73113
YouTube: https://www.youtube.com/kingracingpuma
For more information on Gulf Oil International go to www.gulfoilltd.com
The Gulf Oil – GPO Dragracing team uses and endorses exclusively Gulf Oil greases and lubricants in their
history making machine. The team is extremely proud to be supported by many leaders in their chosen
markets in their endeavours to secure a 10 th European Championship:-
APE – The world's most innovative manufacturer of aftermarket parts for race bikes
BELL HELMETS (UK) – The most iconic name in helmets – since 1954
COMETIC GASKETS – The Premier Manufacturer of racing gaskets
DRIFT INNOVATION – Europe's leading source for action sports cameras
GATES – The world's most trusted name in drive belts, hoses and hydraulics
GOODRIDGE – The most innovative and the best in fluid transfer systems
GRAND PRIX ORIGINALS – The brand for drive and lifestyle, past and present
GULF OIL INTERNATIONAL – The world's most iconic brand in automotive fuels and lubricants
GRAPHITE ADDITIVE MANUFACTURING – A leader in 3D printed technologies and rapid prototyping
HOTROD HANGAR – Home of the world renowned custom artist Knud Tiroch
HYPERPRO – The leading producer of progressive suspension products for motor bikes
JE PISTONS – The world's premier manufacturer of high performance forged pistons
JOHN AND DEA MORGAN RACING – The creators of the world's most advanced New Age Funnybike
KIBBLEWHITE PRECISION MACHINING – The highest quality valve train components available
KING RACING – The most successful Top Fuel Bike team in European Dragracing
MICKEY THOMPSON – Simply the best drag race tyres in the world
MRE – Leaders in trackside support for drag race components and air shifting systems
MTC ENGINEERING – Manufacturer of clutches for the fastest motorcycles in the world
NITROSHUTTER – Europe's leading dragracing photojournalists
NCTENGINEERING – Manufacturer of the world's leading non-contact motorsport torque sensors
NGK SPARKPLUGS UK – The world's number one spark plug manufacturer
PAR WILLEN – Master webmeister and proprietor of HarleyDrags.com
PORTABLE SHADE – The best custom branded collapsible canopies available
PRO ALLOY MOTORSPORT – The UK's leading fabricator of alloy tanks, intercoolers and radiators
PUMA ENGINEERING – Manufacturer of the world's most powerful motorcycle engines
RSG CUSTOMIZE – The UK's most creative website designers and vinyl artists
SUPERTOUGH – Custom cases and covers for the Film, TV, Music and Motorsports Industries
SPIES HECKER – the world's leading supplier of paint for car, commercial and industrial finishing.
TRYKA LED – the UK's cutting edge LED lighting manufacturer.
VAN ES MOBILITY – The leading manufacturer of telematic products for management of moving objects
VANSON LEATHERS – The most iconic brand in motorsport leather goods
WEB CAMSHAFTS INC – Simply THE company for Top Fuel Bike camshafts
WORLDWIDE BEARINGS – The world's leading supplier of ceramic bearings for racing
ZODIAC – Europe's largest supplier of performance and aftermarket HD parts