Hudson Valley Motorcycles, the only Ducati dealer in Westchester County New York, is pleased to announce that Ducati motorcycle sales for the month of May 2015 surpassed all other Ducati dealers in North America!
To become the top selling Ducati dealer in North America required tremendous focus and dedication from both the staff and the Alexander family who run Hudson Valley Motorcycles. The family run business acquired the line of Ducati motorcycles late in 2012, and this sales achievement came through refocusing energy on the family business, away from professional road racing over the past two years.
This accomplishment is even more impressive given the very short time period since the dealership began offering Ducati motorcycles to its customers. Hudson Valley Motorcycles attracts customers from all over the metropolitan New York City region, well north into the Hudson Valley counties, and including Fairfield County Connecticut and Northern New Jersey.
The convenient location on Route 9 in Ossining, just off the Taconic State Parkway, and minutes from the Metro North Hudson train line has certainly encouraged customers to visit the dealership, and helped to make May 2015 such a success!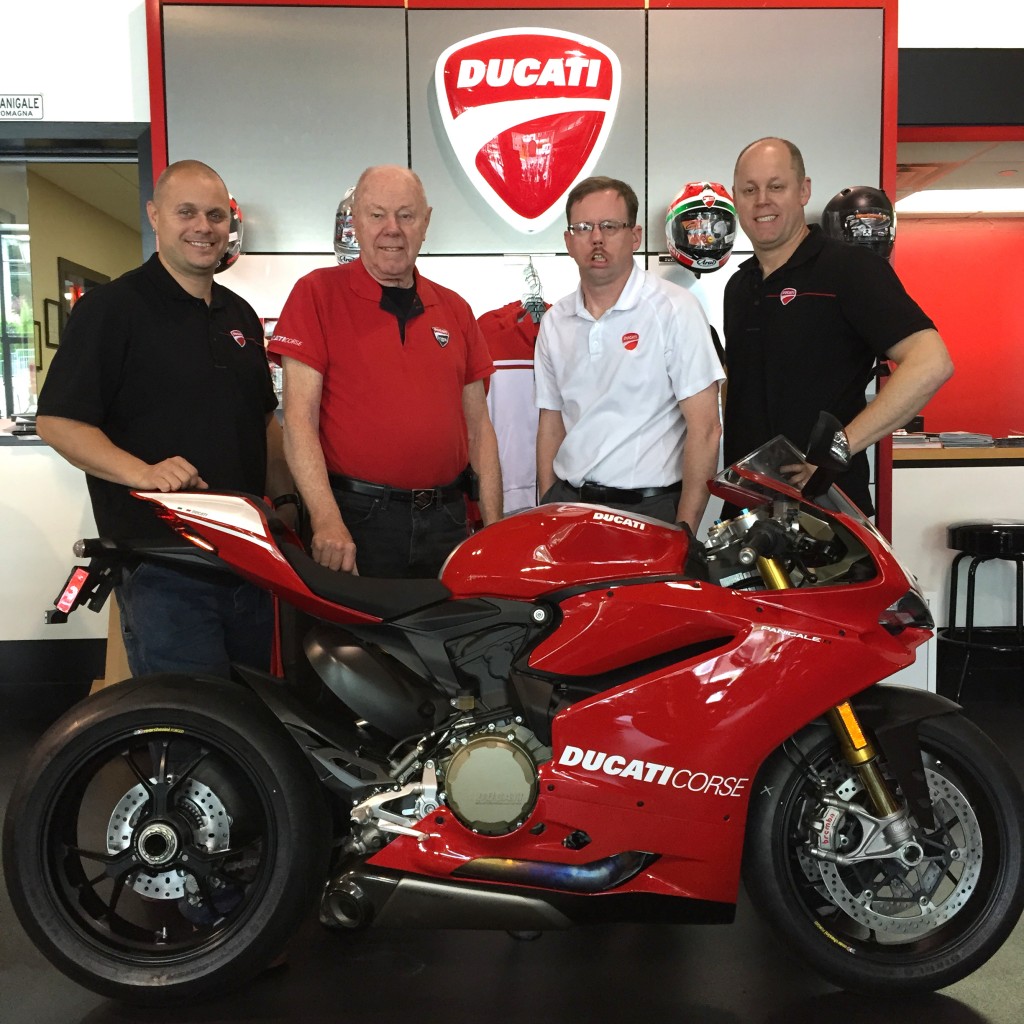 Established in 1966 by Richard Alexander Sr., Hudson Valley Motorcycles has always been filled with natural competitors and champions.
Currently racing in the Moto America Series, Corey Alexander took the 2013 AMA Supersport East championship. His Uncle, Richard Alexander Jr. has worked in professional racing for the past twelve seasons, and previously was the 1998 AMA 750 Supersport champion, and now the General Manager for the family owned and operated dealership.
Duane Alexander has worked hard as the General Manager for Sales, leveraging long standing relationships with customers to generate sales and interest in the newly acquired Ducati product line. Romy Ruette, Ducati Sales Manager at HVMC, has brought extensive Ducati product knowledge to the dealership, as well as clients from his previous positions, expanding the HVMC customer base and driving sales to new levels! Richard Alexander Sr. said enthusiastically "we are very fortunate to be the national sales leader for Ducati in May. I'm really proud of my sons and the guys at the shop for all their hard work, and I'd like to thank all of our customers for their business as well."
The dealership, located in Ossining, New York, features a broad selection of all the latest Ducati motorcycles, including the newly released Scrambler, revised Monster M1200, and the amazing Panigale 1299 Superbike. Custom Ducati creations have also quickly become an exciting element of what HVMC offers for it's customers. Additionally, HVMC is pleased to carry a wide assortment of Ducati apparel and Ducati Performance products to enhance the riding experience on any late model motorcycle. With convenient store hours including a 9pm closing on Thursday evenings, as well as pick up and drop off for service appointments or new vehicle deliveries, HVMC understands that good relationships with customers makes the sport easy for busy schedules.
For more information regarding Hudson Valley Motorcycles and the range of Ducati motorcycles and products offered, please stop by the dealership, visit www.hvmotorcycles.com, www.facebook.com/hvmotorcycles, call 914.762.2722, or email duane@hvmotorcycles.com. We look forward to hearing from you!