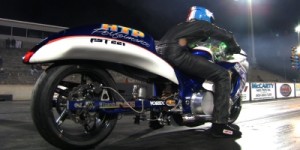 The HTP Performance team ended the 2010 racing season on the highest of notes, obliterating the nitrous Pro Street record. Almost immediately afterward, HTP tuner/builder Cecil Towner III announced the team's 2011 assault on Pro Extreme Motorcycle (AKA Pro Mod) in ADRL and the MIRock Superbike Series.
"Our Pro Mod bike will be a current technology, fuel injected Hayabusa," says Towner. Most Pro Mod bikes run Suzuki GS motors originally produced in the 1980s. "Our customers and fans will be able to relate to this bike as 100% all-'Busa."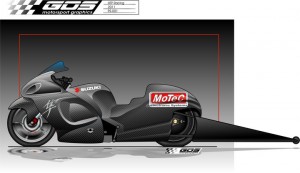 Ryan Schnitz continues his return to racing that started with HTP in 2010. He brings the riding skills honed on the NHRA Pro Stock Motorcycle circuit to HTP's Pro Mod.
But Cecil is also not finished talking about the 7.12 that Lavar "Lil' Charlie" Delee ran on the Pro Street 'Busa at the Manufacturers Cup in Valdosta. That lap destroyed the previous nitrous record and very nearly matched the outright Pro Street record.