The Mark Paquette/McIntosh Machine & Fabrication Pro Street racing team of Mark Paquette and Bud Yoder are on a major win and number one qualifying streak in 2016, as their 700 horsepower, turbocharged Suzuki Hayabusas have torn up dragstrips from Indianapolis to Rockingham, Louisville and Milan, Michigan.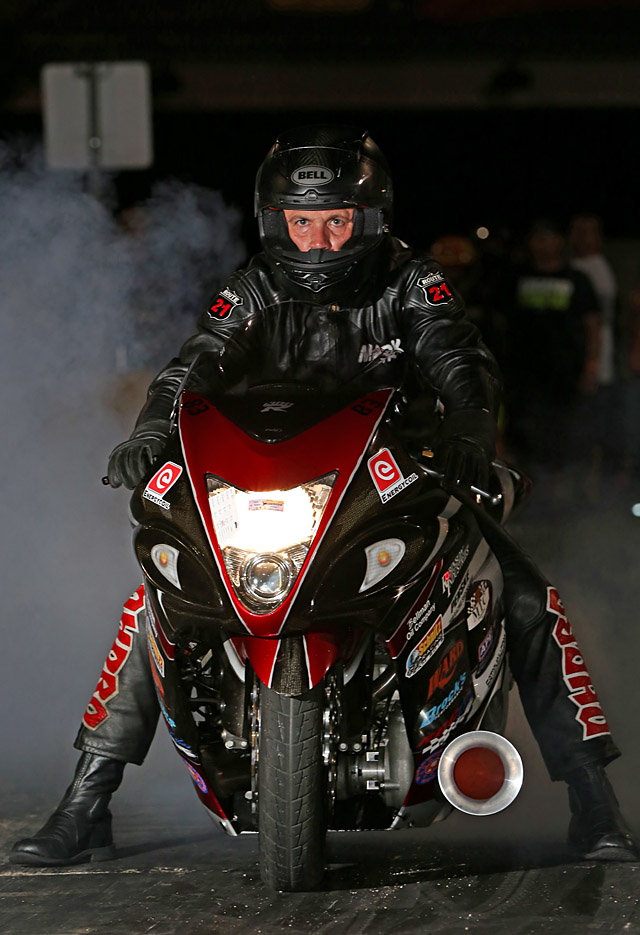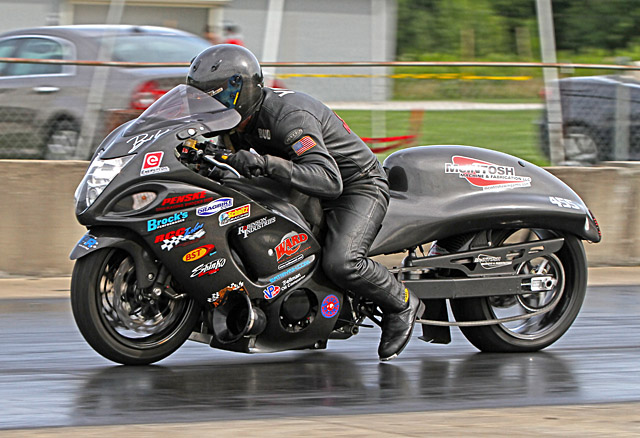 After skipping the NHDRO season opener, Paquette has won three straight. He also picked up a win at the Manufacturers Cup Rockingham round and at hotly contested Milan Dragway—where he shattered the track record. Paquette's low ET of 2016 so far is 6.75 with a high MPH of 214. And guess what? This record-breaking missile is FOR SALE! Serious inquiries should be directed to Paquette at markservingmi@sbcglobal.net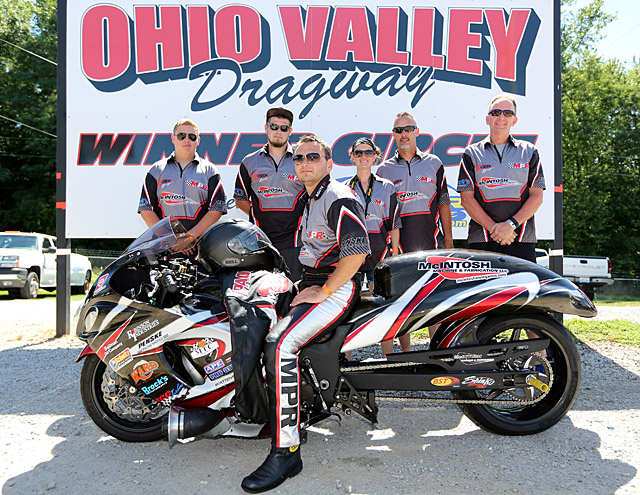 We catch up with Paquette, Yoder and chassis guru/swingarm master Terry McIntosh in this video interview at Louisville's Ohio Valley Dragway after Paquette's third straight NHDRO win, his fifth win of the year overall: https://youtu.be/ayqTFguD0Hk
The MPR team will test out their hot weather tune-up this weekend at the Manufacturers Cup's HTP Performance Nationals at Memphis International Raceway on July 23-24.



"Special thanks to my wife Kerry and daughter Brooke, because without them I wouldn't be able to do what I'm doing," said Paquette. "Also thanks to my crew/nephews Brent and Thomas Paquette and my brother Tony, Bud and Kelly Yoder, and Terry McIntosh."
Mark Paquette, Bud Yoder, and Terry McIntosh would especially like to thank McIntosh Machine & Fabrication http://www.mcintoshmachineandfab.com , Ward Performance http://www.wardperformance.com , and MTC http://www.mtceng.com/ , along with Energy Coil http://www.energycoil.com , Robinson Industries http://www.robinsonindustriesinc.com , Shinko Tire http://www.shinkotireusa.com , Penske Shocks http://www.penskeshocks.com/ , RCC Turbos http://www.rccturbos.com , Worldwide Bearings http://www.worldwidebearings.com/ , Comp Turbo http://compturbo.com , Bellman Oil Company http://www.bellmanoil.com , Brock's Performance http://www.brocksperformance.com , Schnitz Racing http://store.schnitzracing.com , and Vanson Leathers http://www.vansonleathers.com/