The Mopar Mile-High NHRA Nationals this weekend at Bandimere Speedway kicks off the two-race Western Swing for the Pro Stock Motorcycle class, taking Lucas Oil rider Hector Arana Sr. far from his home base.
For that reason, Arana has been preparing for Denver and the next race in Sonoma, Calif., for some time, knowing the 4,600-mile round trip can be taxing.
For starters, Denver presents a completely different challenge, as its mile-high altitude robs engines of air and horsepower.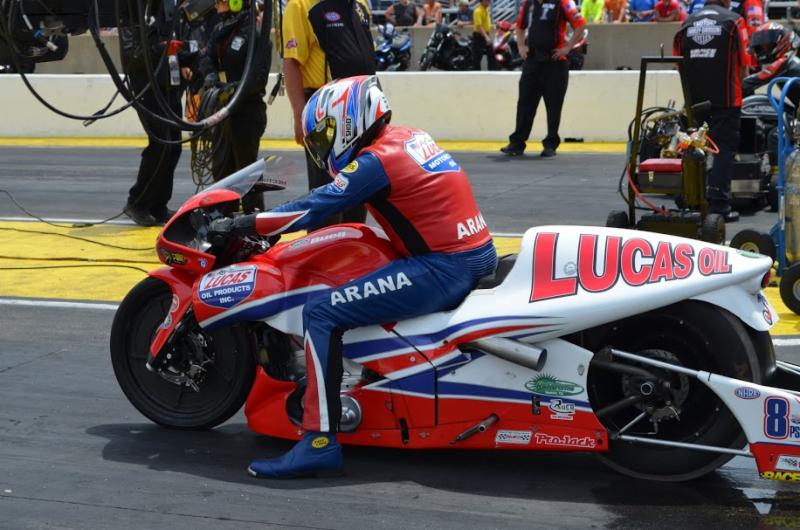 "We wish we always have more time, but we never do," Arana said. "It's only one race a year, and we know what we've done in the past, so we always go back to that. We get those parts that we know that work, put it on the bike, and get ready. That's all we can do."
Then, Sonoma Raceway is nearly at sea level, meaning Arana will have to completely switch over the two Arana Racing bikes to accommodate for the change in tune-up. Plus, it's another 1,200 miles from Denver to Sonoma, meaning the race in Denver lasts a little longer than most.
"Once we get to Sonoma, we've got to swap everything: motor, transmission, clutch, wheel sprocket," Arana said. "All that's got to be changed again. There's no time to take it easy and enjoy the scenery. We have to get there so we can do the work and be ready for Sonoma."
While Arana has had a solid season to date — he has been to one final and is fifth in points — son Hector Arana Jr. is outside the top-10 cutoff to make the Countdown to the Championship. There's still time to climb into the top 10, but one issue the team has to overcome is simple: Stop racing each other in the first round.
"We've got everything done on time heading to Denver," Arana Sr. said. "Hopefully, everything goes just as smooth as it has so far. Hopefully, Hector can qualify better and we don't have to face each other in the first round."
Three times in the last four races, father and son have raced in the first round, and all three times Arana Sr. has sent his son packing.
"That's been the biggest burden right now because it hurts," Arana Sr. said. "Either way, it's going to be him or I. It hurts to see that happen, but I have all the faith that Hector can do well and get back in the top 10 for the Countdown."
Pro Stock Motorcycle qualifying sessions are scheduled for 5 and 7:30 p.m., Friday, and 4 and 6:30 p.m., Saturday. Eliminations start at noon, Sunday. FOX Sports 1 will air qualifying action from 6 to 7 p.m., Friday, and 9 to 10 p.m., Saturday. FOX will carry eliminations live from 1 to 4 p.m., Sunday. (All times listed in MDT).