For many in the NHRA Mello Yello Drag Racing Series, the thought of racing in the mile-high altitude strikes fear in their hearts, but for Lucas Oil Racing TV Pro Stock Motorcycle rider Hector Arana Jr., the chance to race in the Mopar Mile-High NHRA Nationals this weekend at Bandimere Speedway brings a wide smile to his face.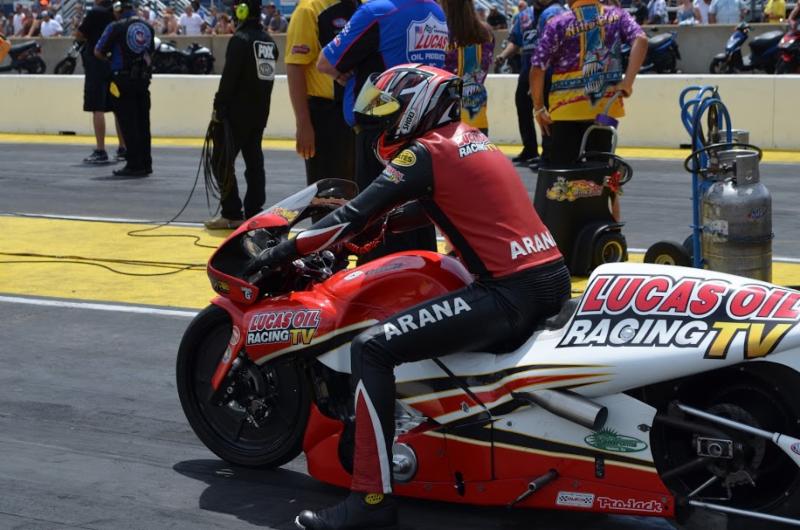 "Denver, I have to say, is one of my favorite tracks," Arana said. "Is it the fastest track? No, it's the slowest, but we're the fastest slowest guys there. We have a really good combination for Denver, and I love the Bandimere family. John Bandimere is awesome, and the facility is just amazing. I love the location, the area, the atmosphere, the fans. It's one of my favorite races."
Mile-high altitude robs Pro Stock Motorcycle engines of air.
"We've had great success there," Arana said. "We had a couple of No. 1 qualifiers there, been to the finals twice. I think it's the kind of race to turn around our season."
Arana has finished fifth or better in the final Pro Stock Motorcycle points standings in each of his five seasons racing with Team Arana, but early season struggles has him sitting 12th in points. However, he knows he has a fast bike and only needs some consistency for his season to turn around.
Denver would be a good race to do that, especially since it will be broadcast live on FOX. This race will be the first in NHRA history to be televised live on a national broadcast channel.
"I don't know exactly how many viewers there are on FOX, but I'm sure there's a ton of them," Arana said. "Hopefully, by us going to FOX we'll be able to gain a lot more fans. People who never knew about our sport will be exposed to it for the first time. I'm excited to see what happens."
Arana would love to be the Pro Stock Motorcycle racer holding the Wally trophy on Sunday afternoon while millions of FOX viewers watch.
"I always want to win, of course," Arana said. "But that would be a great one to win."
Pro Stock Motorcycle qualifying sessions are scheduled for 5 and 7:30 p.m., Friday, and 4 and 6:30 p.m., Saturday. Eliminations start at noon, Sunday. FOX Sports 1 will air qualifying action from 6 to 7 p.m., Friday, and 9 to 10 p.m., Saturday. FOX will carry eliminations live from 1 to 4 p.m., Sunday. (All times listed in MDT).