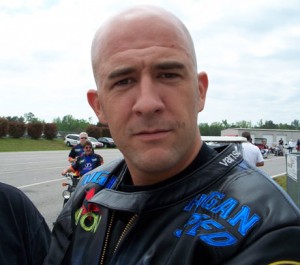 Top Fuel Motorcycle world record holder, Korry Hogan, was seemingly blown off of his motorcycle shortly after crossing the finish line at over 246 MPH during a test run in Martin, Mich., this past Sunday, Sept. 11.
Hogan's elapsed time for the run was 5.78, the second quickest drag bike pass ever behind Larry McBride's 5.74. Hogan was blown off the bike while reaching for the parachute button.
The good news for Hogan is, amazingly, the drag bike speed king suffered only skin abrasions and minor injuries. He was released from the hospital just hours after the accident.
The bad news is Hogan's career could very well be over. The former Funny Bike champion is certainly no stranger to high speed incidents.  The talented rider suffered an infamous crash in Gainesville, Fla., at the 2007 AMA Prostar World Finals when a spark plug wire came off and grounded on the frame, sending electrical current through the handlebras and leaving Hogan with no choice but to let go.  Hogan suffered another scray incident in 2009 in Valdosta, Ga., when his motorcycle nearly crashed into the wall after the finish line.
It was that incident and the birth of his daughter that convinced Hogan retirement was his only option.
Hogan came back in late 2010 after his team spent several months improving the stability of the machine.  Hogan said he felt a lot more confident following the changes.
The positive results showed. Hogan qualified on the pole at the first Manufacturers Cup race in November 2010, and in April of 2011, at the Spring Cup, Hogan set a new speed record of 255 mph en route to winning the event.
All appeared to be well, until this past Sunday.
With another high speed crash, one has to wonder if Hogan's Top Fuel days are over for good? For now that scenario seems likely.
On his Facebook page Hogan wrote, "On my way back home to Denver; definitely gonna be sore today. Being blown off a motorcycle over 246 mph and walking away with a few scratches is definitely going to lead to my retirement. Ran my career best lap 5.78 at 246 and blew off the bike. The bike is pretty bad off but I walked away from a second, 200 mph crash. I've had enough and I appreciate everyone's concern and help."
Crash on 9/11/11 in Martin, Mich.
Close call in Nov. 2009 in Valdosta, Ga.
Hogan shocked in Nov. 2007 in Gainesville, Fla.