After qualifying number one and racing his Gen 3 Suzuki Hayabusa into the finals for the fourth straight race, Vance & Hines/Mission Suzuki rider Gaige Herrera's perfect Pro Stock Motorcycle season finally came to an end with a runner-up finish at the NHRA Thunder Valley Nationals at Bristol Dragway in Bristol, TN.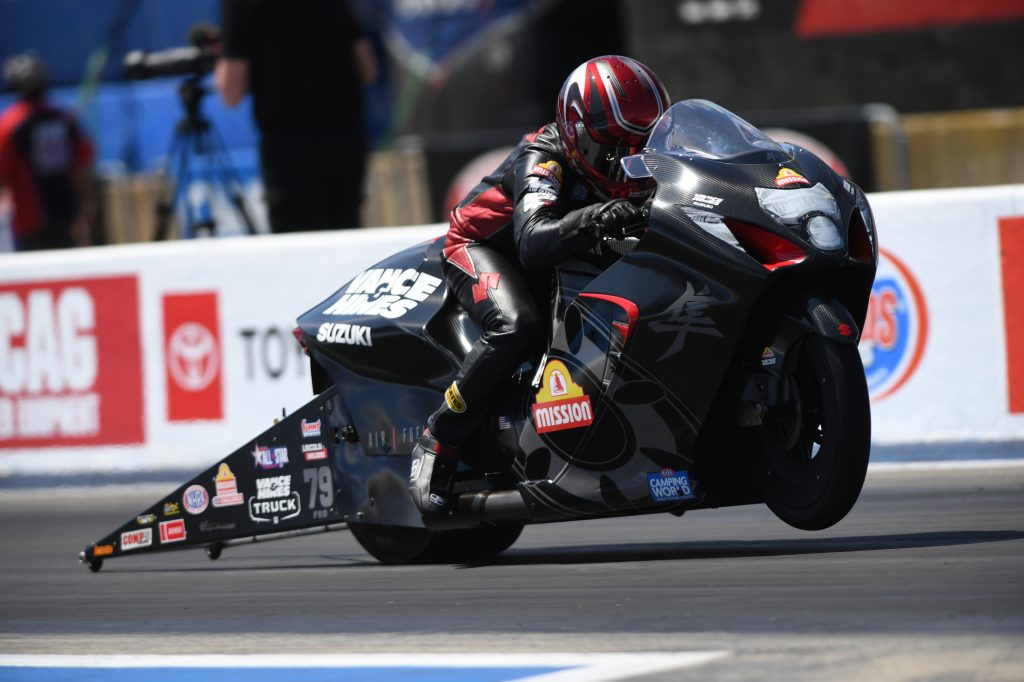 Race Highlights
Gaige Herrera qualified number one for the fourth race in a row, winning the Mission Foods #2Fast2Tasty Challenge, and finishing runner-up in his fourth straight final-round appearance.
Eddie Krawiec qualified third and advanced to the second round of eliminations, and now sits second in the season championship points.
Steve Johnson won Top Eliminator on the debut of his Suzuki Gen3 Hayabusa, continuing Suzuki's strong 2023 season showing in the class.
Through the opening three races of the season, Herrera set the Pro Stock Motorcycle class on fire, running the table with three consecutive top qualifying performances and race wins. He looked set to continue that streak in Bristol after topping qualifying for the fourth time with a 6.808-second/198.61 mph run on Saturday. During Saturday's qualifying rounds, Herrera also won the Mission Foods #2Fast2Tasty Challenge, a specialty race pitting the semi-final round winners from the prior race against each other in the first and final rounds of qualifying for additional prize money and bonus points towards the championship.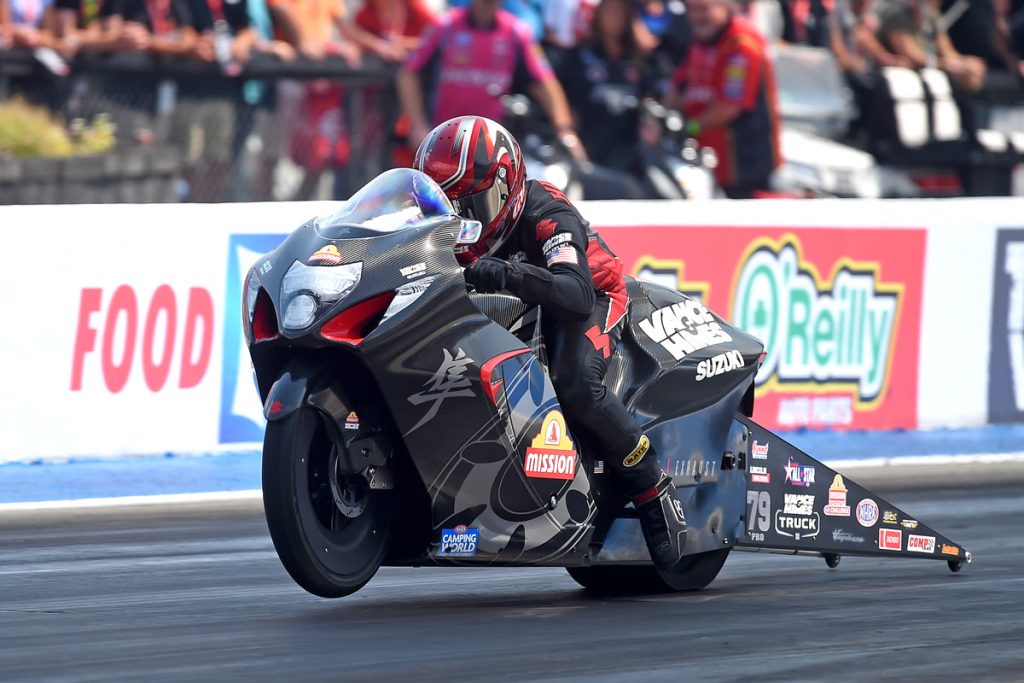 Herrera advanced out of the first round with a 6.816-second/195.73 mph run against Ron Tornow, who set no time. Facing Chase Van Sant in the second round, Herrera posted a 6.805-second/196.99 blast, his fastest of the weekend, to easily advance against his fellow rookie's 6.976-second/193.10 mph run. Herrera then defeated Angie Smith (6.933-seconds/196.07 mph) in the semi-finals with a 6.845-second/195.73 mph run to advance to a fourth-straight final round.
n the finals, Herrera committed a rare and uncharacteristic riding error, the first in his sensational rookie campaign, with a redlight foul on the starting line that handed the win to veteran Suzuki rider Steve Johnson, debuting his new Gen3 Hayabusa. Suzuki congratulates Johnson on the win in the all-Suzuki final.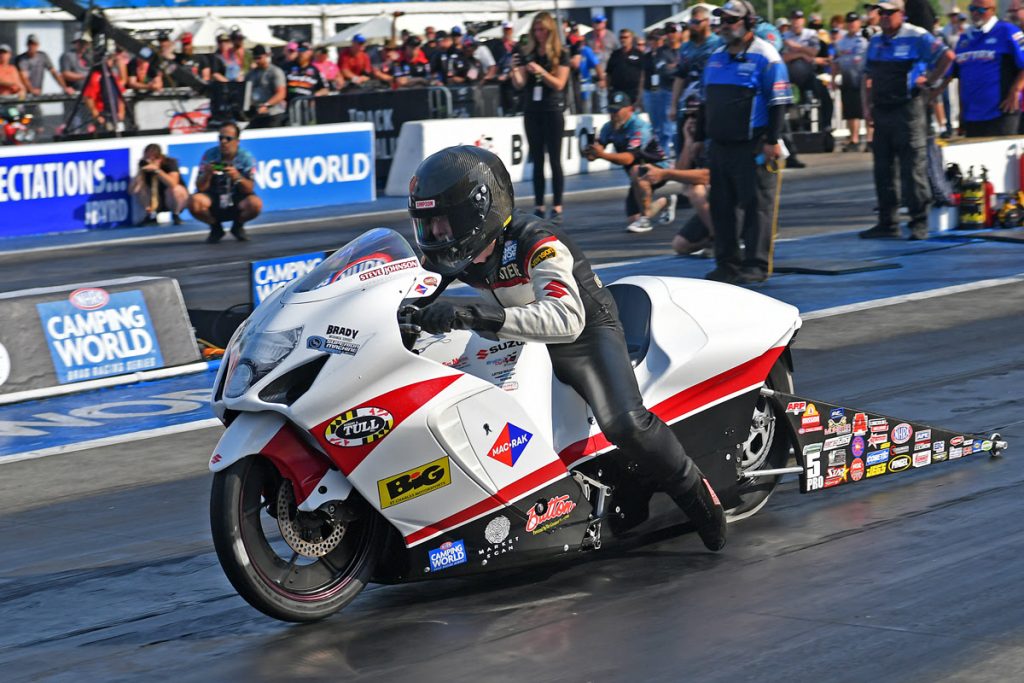 "Andrew Hines and the entire Vance & Hines/Mission Suzuki team had my Hayabusa on rails this weekend. I was cutting great lights all day, but unfortunately rolled in a little too deep and got the redlight," Herrera said of this finals race. "In a strange way, losing takes a little pressure off my shoulders because now everyone's not looking at me like I'm going to win them all. I'm still disappointed in myself for going red. That's one way I hate to lose. But we'll regroup and head to Norwalk looking to come back strong."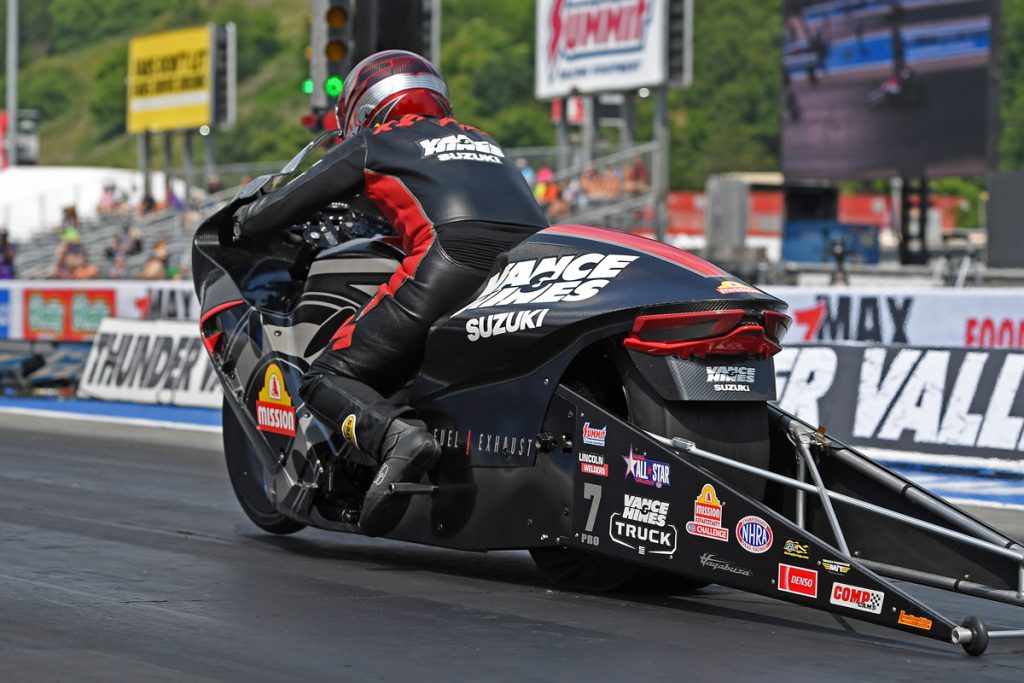 Eddie Krawiec qualified third on Saturday with a 6.855-second/198.03 mph run, then defeated his first-round opponent Kelly Clontz (7.033-seconds/192.80 mph) with a 6.864-second/196.50 mph run.
Facing Johnson in the second round, Krawiec got a late start off the starting line, his 6.870-second/196.99 mph run not quick enough to chase down Johnson's slower 6.899-second/192.85 mph pass.
The holeshot loss left Krawiec ruing what might have been, losing a chance to advance deeper into the elimination rounds after other riders faltered in earlier rounds.
"We struggled a bit on a couple of runs in qualifying but by Q4 we had my Hayabusa into its tuning window. The rider just screwed up in the second round. A 0.060-second light is not acceptable in my opinion. I should have been in the 30s," Krawiec said. "I didn't get it done and lost my opportunity to go further this weekend. I will be better at the next race. I have a great motorcycle in the Suzuki, and this is the most confident I've felt leaving a race this season."
Crew Chief Andrew Hines was philosophical about the loss and confident that rather than be taken as a setback, this round is an opportunity for rider reflection and improvement.
"We got a Mission #2Fast2Tasty win and a runner-up finish this weekend. That's a result any team would be happy to take. I said early in the season that Gaige would eventually find a flaw in his riding that he would learn from, and he now knows what that feels like," Hines said. "He started off this weekend on a track he'd never been on, and that's bumpy. Gaige had some riding and shifting issues in qualifying. He said, 'I'm never doing that again.' The redlight is another one of those moments he can learn from, and that will make him a better rider. It's not anything to hang his head down about. It's part of racing. All in all, our Vance & Hines/Mission Suzuki team is doing a fantastic job of ensuring he has a great Suzuki motorcycle underneath him. We know we're going to be fast and consistent every time we go up to the starting line."
After four of 15 rounds, Herrera and Krawiec currently sit first and second in the Pro Stock Motorcycle championship standings with 488 and 272 points, respectively.
The Vance & Hines/Mission Suzuki team is back in action June 22-25 at the NHRA Summit Racing Equipment Nationals at Summit Racing Equipment Motorsports Park in Norwalk, OH.
There are more videos on the Cycledrag Youtube channel (please subscribe here) and the Cycledrag Facebook page (Please like here) and more will be coming soon. Check back daily.