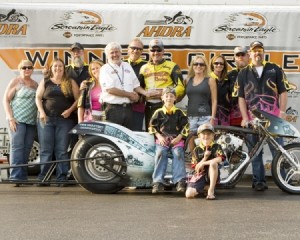 Johnny Vickers, the president of Hawaya Racing Products (HRP) announced today that they have attained sponsorship of Venom-Group International (VGI) for 2012.
"We have reached an agreement with Venom-Group International to come on board as the official battery of the world's only Nitro Bike School. In addition, VGI will also be sponsors of Hawaya Racing's two Pro Dragsters for the 2012 racing season.  All of us here at HRP are excited to have a company such as Venom-Group International get involved in our great sport of Motorcycle Drag Racing. "I did testing on these batteries during the 2011 racing season in our bikes with record setting success," says Johnny. "They are lighter, more durable, and have greater reserve than any battery we have ever used."
Keith Wallace, Director of Sales and Marketing for Venom Group International quoted, " We have seen a huge increase of interest in our battery and charger systems for uses outside of our current RC hobby channels due to our cutting edge technology and undeniable reliability." Wallace went on to say, " This sponsorship with Hawaya Racing is a true testament to the quality and validity of the products, and we look forward to a successful and exciting race season."
Venom Group International is the manufacturer of high quality batteries and charger systems for a wide variety of applications, including the RC hobby industry and unique motorsport applications.  Venom is considered a Lithium Polymer specialist and has over a decade of experience and their products include the industries first Lifetime Battery Replacement Plan.  Hawaya Racing will offer Venom products for sale, as well as offering customer support oat all of our 2012 events.
For More Information Contact:
Toll Free Number: 1.800.705.0620
Outside USA: 208.762.0620
Phone 336-973-5078
Fax 336-973-5079