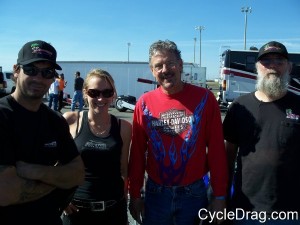 MANUFACTURERS CUP FINALS
PRO DRAGSTER
At the Manufacturers Cup Finals at Bradenton Florida, 12 Pro Dragsters showed up to compete in the final race of the year. Rocky Jackson qualified #1 with a 7.208 ET, Rebel Glover was second with a 7.249 ET, Dale Nilles qualified #3 with a 7.276 ET, recent Nitro Bike school grad Tyler Wilson was on SB #1 and qualified in the forth position at 7.300 seconds, Janette Thornley was in the 5th spot with a 7.326, Clint Pleasant wound up 6th with a 7.363, Willie Hershberger made one good pass winding up 7th with a 7.388 second pass and Rich Vreeland rounded out the top 8 with a 7.519 ET. To my knowledge, this was the quickest 8 bike Pro Dragster field in history. Pete Stimeling, Walter Halonski, Jordon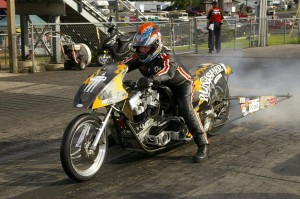 Cruz and Steve Pleasant rounded out the 12 bike field. The Man Cup management decided to run all 12 Pro Dragsters so the 12 bike field was set. During eliminations, the racing was close and exciting and when the smoke cleared, Dale Nilles stood at the top of the field to win the finals and clench his second national title of the year, the AMRA national championship being the other. The top 5 qualifiers were all HRP built Pro Dragsters. All the riders did a great job the entire weekend and put on a stellar show for the many fans that were on hand to see the races.
TOP FUEL TWIN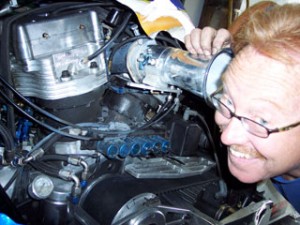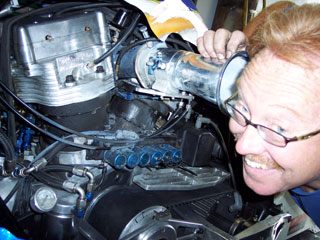 6 Top Fuel Twin bikes showed up to compete in the new class presented by Pingle Enterprises. Bob Malloy qualified #1 with a 6.340 pass at 213 MPH, Ricky House, who was debuting our new 196 Cubic Inch Stage 1 Top Fuel engine, was #2 with a 6.348 pass at 218.28 MPH. Per Bengasson from Sweden was #3 at 6.466, Acka Riemer was 4th with a 6.905 pass and Rich Vreeland on his HRP Nitro Funny Bike was 5th and Ray Cason rounded out the #6 spot. During the first round of eliminations, Bob Malloy just broke the beam when Ray Cason could not make the call. Ricky House took out Rich Vreeland to advance. Per Bengasson advanced over Acka Riemer who went down in the shut down area. In round two, Bob Malloy again broke the beam and shut off due to having a bye run. Ricky House defeated Per Bengasson to advance to the final and face Bob. In the Top Fuel Twin finals, Ricky House put his HRP built ride in the winners circle with an early shut off pass of 6.40 seconds over Bob Malloy's ill fated run, when his ride went up in a ball of fire and sparks at about 300 feet out.
"It was a great outing for our new Stage 1 engine says Johnny Vickers. We had only a couple of shake down runs on the engine in Rockingham prior to this event. The shutdown area at Bradenton is short, so we got on a comfortable tune up early and just tried to stay consistent. Sharky was really focused and riding well; the bike was running good, so it all worked out."
We would like to wish Acka Riemer a "Get Well Soon" as he recovers from 3 broken ribs sustained when he went down in round 1.
FOR 2014:
For the 2014 season, Hawaya Racing Products is committing to the NHRA Lucas Oil Screamin Eagle series as well as supporting the AMRA and Manufacturers Cup events. Hawaya Racing will continue to build the quickest most reliable Fuel bikes anywhere, and to provide assistance and support to our customers at the NHRA, AMRA, and Manufacturers Cup events for 2014. We have set the Nitro Bike School dates as May 28-29-30 and October 8-9-10, 2014.
Hawaya Racing would like to congratulate Dale and Jan Nilles on their AMRA and Man Cup championships. Although the Pro Dragster class with NHRA was not a point series in 2013, Dale won his fair share of Wally's! Dale and Jan logged many miles this year and worked hard to achieve their goals! We would also like to thank all of our customers who performed exceptionally well all year long and made the Pro Dragster/Pro Fuel class the most exciting class for the fans.
THANKS TO OUR SPONSORS:
As always, we are deeply thankful for our sponsors which make our efforts and successes a reality. We could not do it with out their help.
VREELAND'S HARLEY DAVIDSON
VP RACING FUELS
VANSON LEATHERS
MICKEY THOMPSON TIRES
VENOM GROUP INTERNATIONAL
PAC RACING SPRINGS
RUSH RACING PRODUCTS
LUCAS OIL PRODUCTS
THANKS TO OUR CREW MEMBERS for their dedication and support of Nitro Harley Drag Racing.