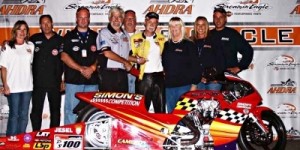 Cycledrag.com has learned dragbike veteran and multi-time AHDRA champion, Andy Simon will compete on the NHRA Mello Yellow Pro Stock Motorcycle tour in 2014.
"Wait until you find out who we are working with," Simon's son, Andy Jr. said. "We will be making an official announcement soon."
Simon Jr. confirmed that the team will not be partnering with any of the current NHRA PSM teams due to a potential conflict in interest.
"We have worked with a lot of the teams and are friends with them, so when we showed up at the Charlotte race last year, everybody was like, "What are you guys doing here,"" Simon Jr. said. "They knew we were up to something."
Rumors have been swirling that Simon may have NASCAR connections.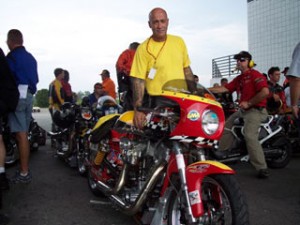 Simon, perhaps best noted for his dominance in AHDRA Street Pro, was so far ahead of the competition, some accused him of cheating.
After being exonerated of those accusations and winning the 2006 championship, Simon let people know why he is so far ahead.
"I've been racing for over 35 years. I've raced motocross, drag cars, stock cars, and I've won championships in everything and I have never cheated," Simon said. "I get ahead by paying a lot of attention to detail and surrounding myself with good people."
Will Simon's success carry over to the NHRA tour?
Time will tell.