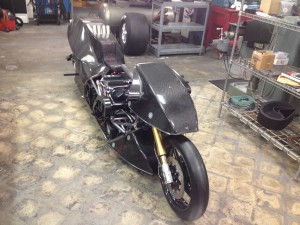 Top Fuel Motorcycle 11-time champion, Larry "Spiderman" McBride is getting closer to unveiling his brand new, state-of-the-art nitro dragbike.
"We are almost done," McBride said. "I'm getting really excited. This bike uses a lot of new technology."
One of the biggest changes is the new fairing that will keep the wind off of McBride's hands to make the motorcycle more aerodynamic and to help McBride hang on easier. Unlike his current ride, this dragbike will utilize a full belly pan like the ones found on Top Fuel Harleys.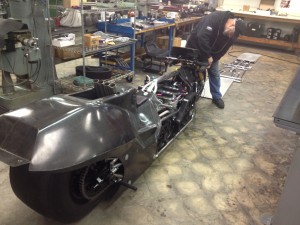 Despite his eagerness, McBride is wisely not giving an expected date of completion. The motorcycle has taken much longer than Spiderman thought due to a slow economy and so many of the components being one-of-a-kind. The new bodywork alone took nine months.
"We are currently trying to get all the electronics wired up," McBride said. "The little stuff that a lot of  people don't even see, like all the brackets we have to make for all the switches, takes a very long time."
McBride is adamant that the motorcycle will not make it to a race until it has been tested.
For the chassis, larger 1.25-inch tubing was used, compared to McBride's current 1.125-inch frame rails. Spiderman's current chassis was made in 1994 by the late, great James "Puppet" DiTullio.
"I think fresh tubing will do us a lot of good," McBride said. "Blue has a lot of passes on her."
The new motorcycle features a 104-inch wheelbase, four inches longer than Blue. Longer wheelie bars will also be used, making the total length of the new motorcycle, from the tip of the front tire to the end of the wheelie bars, over a foot longer than McBride's current bike, at 18.8 feet.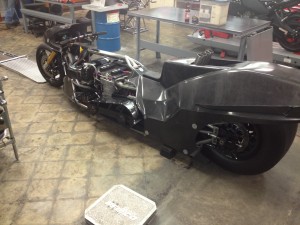 "This bike will truly be state-of-the-art," McBride said. "Steve (McBride) has put his heart and soul into this thing."
As a final note, McBride expressed his condolences for the loss of his friend and drag racing legend "240" Gordie Bonin who recently passed away.
"I used to do the Wish Upon a Star functions with him all the time," McBride said.  "He was a top of the line guy. I'm very sorry to hear about his passing. It is a major loss in drag racing history."
Please visit the websites of Spiderman's supporters –
McBride thanked his primary sponsors;  Pingel Enterprise, Trim-Tex Drywall Products, Drag Specialties-Parts Unlimited, Red Line Synthetic Oil Corporation and Final Swipe Merchant Services.
McBride thanked associate sponsors; K&N Air Filters, Web-Cam, Vance & Hines Motorsports, PR Factory Store, Ferrea Valves, Kibblewhite, Precision Machine, World Wide Bearings, Vanson Leathers, Belt Drives Ltd, Simpson Race Products, Nitrous Express, APE, EK Chain, Arias Pistons, MSD, Protect ALL,  Cometic Gaskets, B&J Transmission, Carolina Cycle, L.A. Sleeve, PJ1, Mickey Thompson Tires, Valco, Goodridge, Carlisle Belts and Gates Belts.