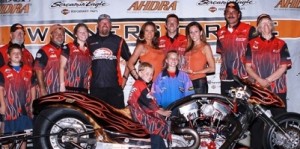 Harley-Davidson Motor Company is pleased to announce the renewal of its title sponsorship of the All Harley Drag Racing Association's Screamin' Eagle Performance Parts Championship Series for the 2012 racing season.
"From 230mph nitro-burning Top Fuel Harleys to the Draggin' Bagger class featuring our Screamin' Eagle 120R race-use engine that debuted last season, the AHDRA showcases the efforts of the sportsman racers who set the standard for Harley-Davidson drag racing performance. It's a great fit for Harley-Davidson Motor Company and especially our Screamin' Eagle Performance Parts brand and we are proud to renew our long-standing relationship with the AHDRA," said Harley-Davidson Racing Manager Kris Schoonover.
In addition to overall title sponsorship of the 10-race drag racing series, Harley-Davidson also sponsors six individual race classes: Top Fuel, Draggin Bagger, V-Rod Destroyer, V-Rod, SEP, and ET.
"Harley-Davidson is a great asset to AHDRA and the sport of motorcycle drag racing and we value our continued relationship with Screamin' Eagle Performance Parts.  The exposure Harley-Davidson gives to AHDRA and drag racing through its Screamin' Eagle marketing is remarkable," AHDRA director Craig Tharpe said.
The AHDRA's 2012 racing season kicks off in Gainesville, Florida, April 21-22, 2012 at the Florida Nitro Nationals presented by Gainesville Harley-Davidson. For more information about the AHDRA, including complete class rules, visit ahdra.com.
Company Background
Harley-Davidson Motor Company produces heavyweight custom, cruiser and touring motorcycles
and offers a complete line of Harley-Davidson motorcycle parts, accessories, riding gear and apparel, and general merchandise. For more information, visit harley-davidson.com.