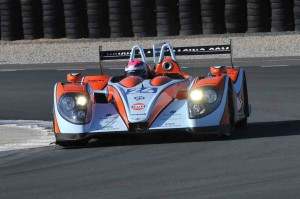 2012 could well be the busiest and most exciting year yet for Gulf in International Motorsport, with a massive Gulf representation in top-flight endurance racing across four different teams and more European championship drag racing.
ASTON MARTIN RACING
Gulf Oil International's partnership with Aston Martin Racing (AMR) now enters its fifth season and AMR recently unveiled its 2012 works race car (pictured) at London's Royal Garden Hotel to an assembled gathering of team partners, VIPs and media.
The stunning GTE car with its strong driver line-up is the vehicle that both Gulf and AMR are hoping will herald another year of success. The latter half of 2011 saw a resurgence in fortune for the team as the Gulf sponsored Aston Martin DBR1-2 coupe returned to the track and achieved a podium finish at the gruelling Petit Le Mans race in October, as well as an outright win at the Laguna Seca American Le Mans Series race, a few weeks earlier.
For 2012, AMR is returning to the GT category to contest the inaugural World Endurance Championship (WEC).
The car chosen for this season is the Vantage GTE, which is a further evolution of the Vantage GT2 that Aston Martin has been developing for several seasons and which was campaigned by Gulf AMR Middle East in 2011.
At the heart of the Vantage GTE is the road-going Aston Martin V8 Vantage. The GTE is a significantly updated version of the original GT2 car and has been specifically designed to compete in championships running to the Automobile Club De L'Ouest GTE regulations.
The Aston Martin's bonded aluminium structure is taken directly from the V8 Vantage road car. Into this, Aston Martin Racing integrates an aerospace specification steel roll cage built to FIA standards. With the exception of the roof, the bodywork is manufactured from lightweight carbon fibre and features an advanced aerodynamic package with carbon fibre splitter, flat floor and diffuser, and a carbon fibre rear wing designed using the latest computational fluid dynamics (CFD) techniques.
The Vantage GTE retains the road car's double wishbone suspension layout at the front and rear, but with bespoke wishbones and coil springs over Koni adjustable aluminium bodied dampers. Powerful but lightweight six-piston Brembo racing calipers are fitted to the front axle with similar four-piston callipers at the rear.
Under the bonnet, the 4.7 litre engine is based on the standard Aston Martin V8, but with competition components including cylinder heads, connecting rods, valves, camshafts and a racing exhaust system. As in the road car, the transmission is mid-rear mounted, but with a six-speed semi-automatic sequential transmission and competition clutch. The transmission also has a dedicated oil/air cooling system.
The Gulf Competition range of products continues to be AMR's lubricants of choice for the factory race cars. Gulf Competition products are also endorsed for use on all of AMR's customer GT cars, thus maintaining Gulf's long and proud history of lubricating the world's leading endurance race cars.
It is a brave decision by AMR to return to its racing roots, after three years in prototypes, but it will undoubtedly be an exciting one as the GT category will certainly be the most competitive of all. The Gulf sponsored Aston Martins will take on factory or works assisted entries from Ferrari, Chevrolet and Porsche, amongst others!
The driver line-up, however, will certainly be one of the strongest in the field. Adrian Fernandez from Mexico, Germany's Stefan Mücke and Britain's Darren Turner are all in the top, "Platinum," rated category. All three have raced for AMR for several seasons and all have extensive race winning experience.
Present at the launch of the new car was Chief Executive Officer of the WEC, GerardNeveu, who was plainly pleased with the inclusion of the Gulf sponsored works Aston Martin, in the series. "When we tell people that we have Aston Martin in the paddock, you see their eyes light up. It is very exciting."
The first race of the season will be the tough 12 Hour endurance classic at Sebring in March and the team plans to have at least two cars at this year's Le Mans 24 Hours in June. The team will also contest the Long Beach and Laguna Seca rounds of the American Le Mans Series on April 14th and May 12th respectively.
OAK RACING
OAK Racing proved to be one of the revelations of the 2011 endurance season. Often running two cars in both the LMP1 and the LMP2 categories, the team ran with Gulf branding throughout – thanks to aninitiative by local Gulf lubricant distributor, Belgium-based Caroil. The OAK-Pescarolos, under the leadership of industrialist, Jacques Nicolet, were always immaculately turned out and often contended for a podium or best petrol-engined finisher.
For 2012, OAK will once again carry Gulf branding in both LMP1 and LMP2 and will contest the full World Endurance Championship with a car in each category as well as a second LMP2 car at the Le Mans 24 Hours itself.
OAK's WEC driver line-up has a largely familiar look to it. The LMP1 car will be crewed by Guillaume Moreau, Bertrand Baguette and Dominik Kraihamer, while Jacques Nicolet, Olivier Pla and Matthieu Lahaye will take the wheel of the LMP2 entry.
"The fact that as many private teams have entered LMP1 as LMP2 is, for me, complete proof of the FIA World Endurance Championship's appeal," enthuses OAK Racing Team Owner Jacques Nicolet. "So understandably I am extremely enthusiastic about the fact that OAK Racing has secured two prototype slots."
OAK will also have a further string to their bow for 2012 as they recently announced a partnership with British luxury sports car manufacturer, Morgan for their LMP2 programme. The OAK Morgans will be Juddpowered.
OAK's Morgan LMP2 cars will also contest the European Le Mans Series – which no longer has an LMP1 category as Jacques Nicolet explains. "LMP2 now represents the premier class and we are determined to fight for overall victories from the outset.Alongside our World Endurance Championship and Le Mans 24 Hours campaigns, the European Le Mans Series will be a perfect proving ground for the new car."
Such is the ambition of the team, that OAK will also run a second LMP1 with dedicated technical team, devoted solely to a development programme throughout the year, to advance future evolutions of its prototype and also build towards the new technical regulations, due in 2014.
GULF RACING
The team that started last year as Gulf AMR Middle East has effectively become two teams for 2012.  Gulf Racing is led by Gulf enthusiast, Roald Goethe and driving partner, Mike Wainwright. Theyhave acquired a brace of McLaren MP4-12C GT cars with which to contest the high profile Blancpain Endurance series. The Blancpain comprises a series of races throughout Europe and is widely recognised as one of the most competitive GT championships around. Roald and Mike will share the cars with McLaren GT works driver and double Le Mans Series GT Champion, Rob Bell, and with former AMR team driver, Stuart Hall.
The Aston Martin Vantage GT2 car, which they campaigned in the Intercontinental Le Mans Cup, may well also be seen in selected WEC and ELMS races.
GULF RACING MIDDLE EAST
The other parties involved in last year's Gulf AMR Middle East team – Fabien Giroix, Jean-Pierre Valentini and Frederic Fatien – have formed a new equipe for 2012. Gulf Racing Middle East will contest the full World Endurance Championship in a pair of brand new LMP2 Lola Coupes, which will carry Gulf's racing colours.
The team is based in Dubai, but will also have a European Headquarters at French GP Circuit, Magny Cours.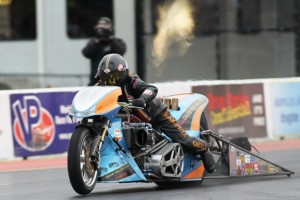 GULF OIL DRAGRACING TEAM
In 2011 the Gulf Oil DragRacing Top Fuel motorbike of Ian King came within a whisker of taking the UEM European Drag Racing title at the first time of asking.
The sensational 1500BHP bike won two European Championship rounds and posted some excellent times & finishing speeds but, according to its rider, it still has the potential to go significantly quicker.
In the off-season the Gulf bike toured India, appearing at various Gulf Oil Corporation events and wowing crowds, as Ian King pulled off huge burn-outs and demonstration runs with the monster machine, often on roads specially closed off for the occasion.
Like the factory Aston Martin Racing cars, the Gulf Top Fuel bike also uses Gulf lubricants and Ian King is hoping that the promise the bike has shown will be fully realised in 2012, to deliver for him an impressive sixth European crown.
The Gulf Oil DragRacing Team is a unique initiative, with sponsorship coming from various Gulf affiliates around the globe together with Gulf's Official Clothing licensee, Dakota (under its Grand Prix Originals brand).
Gulf Oil International Brand and Marketing Manager Sam Cork (pictured at the launch of the new Gulf liveried Aston Martin GTE), is understandably excited about the 2012 season. "All of this activity means that there could be seven or even eight Gulf cars at various rounds of the World Endurance Championship, which would be incredible. Also, with a Gulf presence in the Blancpain Series and the awesome drag racing top fuel bike, there is an incredible motor sport programme for Gulf businesses and fans around the world to buy into. As the brand has continued to grow so has the motorsport programme and the 2012 season presents a truly mouth watering prospect."
2012 World Endurance Championship Dates
March 17           12 Hours of Sebring – USA
May 5               6 Hours of Spa-Francorchamps – BEL
June 16-17        24 Heures du Mans – FRA
August 26         6 Hours of Silverstone – GBR
September 15   6 Hours of Sao Paulo – BRA
September 29   6 Hours of Bahrain – BHR
October 14        6 Hours of Fuji – JPN
October 27        Shanghai 6 Hours – CHN
2012 European Le Mans Series Calendar
March 9-10                    Official Test Day: Circuit Paul Ricard
April 1                           Circuit Paul Ricard, France
May 20                         Zolder, Belgium
July 15                          Donington Park, Great Britain
September 9                 Brno, Czech Republic
November 4                  Portimao Circuit, Portugal
2012 Blancpain Endurance Series
March 20 – 21               Paul Ricard, FRA (Official Test)
April 14 – 15                  Monza, IT
June 2 – 3                     Silverstone, UK
June 29 – July 1            Paul Ricard, FRA
July 25 – 29                  24 Hours of Spa, BEL
September 22 – 23        Nürburgring, D
 October                        TBC
2012 UEM European Top Fuel Championship
June 2 – 4                      Santa Pod, UK
June 14-17                    Tierp, SWE
July 5 – 8                       Alastaro, FIN
August 10 – 12               Hockenheim, D
August 23 – 26               Tierp, SWE
September 6 – 9            Santa Pod, UK