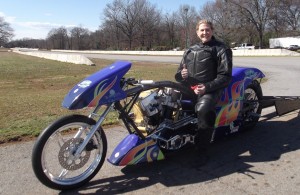 Amazon Racing's Carrie Seifert Tate, a.k.a. The Amazon is going to be competing in the All Harley Drag Racing Association (AHDRA) Pro Drag Class in 2012.  She'll be piloting her brand new 2012 Hawaya Racing Pro Dragster Nitro Harley-Davidson this season.
Carrie and her husband and Crew Chief, Kerry Tate, have been racing their Super Gas Harley-Davidson for the last two years with the AHDRA, AMRA and some local events. However, after attending the Hawaya Racing Nitro Bike School, Kerry and Carrie decided they wanted to step it up a notch and race a Nitro bike. This takes drag racing to a whole new level.
The complete schedule for the 2012 season can be seen on the Amazon Racing website at www.amazondragracing.com.