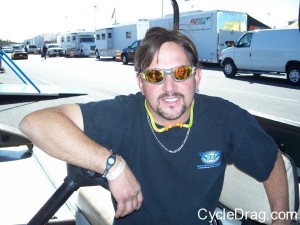 Nitro Harley Drag racer, Tommy Grimes rode the Ray Price Racing Top Fueler to a victory at Mike Lehman's Cyclepalozza Festival and Drag Race at Moroso Motorsports Park near West Palm Beach, FL, Feb., 19-20.
Grimes knocked out the competition taking not only the No. 1 qualifying spot but a win at the end of the day. Grimes qualified with a 6.21 ET at 218 mph and won by a holeshot in the finals.
Lehman's winter race festival brings racers from through out the US for a chance to race at a premier facility and escape the winter dreariness.
Grimes and Ray Price Racing will next perform at the AHDRA season opener at Speed World outside of Orlando, FL on March 5 and 6th.