Brock's Performance teams up with BMW Motorrad USA and Wyotech to bring you the 21st Annual Brute Horsepower Shootout during Daytona Bike Week 2011.
"This is the premier horsepower shootout in the country," said Brock Davidson of Brock's Performance. "It has a rich history and typically attracts the most talented builders in the motorcycle performance industry. We are very excited to be a part of it."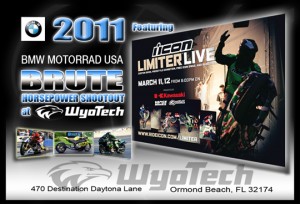 Brock's Performance will be representing BMW Motorrad USA at this historic event. "By becoming the major sponsor of the Brute Horsepower Shootout, BMW is continuing their commitment to motorcycle drag racing and the high-power sportbike customer segment," said Brock. "They are continuing to expand their presence."
The shootout will take place at the Wyotech campus located at "Destination Sportbike", just north of Daytona in Ormond Beach. Competition will be held in 13 classes for Asian and European makes as well as American V-twins. Classes range from all-motor streetbikes to any combination of fuel and power-adder including nitrous, turbos and superchargers with Brock's Performance headlining the Asian/European Open Unlimited class where past champions have eclipsed the 600 horsepower mark.
The weeklong event will also feature midway displays, Stunt shows by Jason Briton and the Icon Elite Team, a hip-hop fashion show, appearances by drag racing stars Rickey Gadson and Larry "Spiderman" McBride, as well as prizes and giveaways. Competition and spectator entry are free.
"This event brings week long excitement for the stupid fast sportbike crowd," said Brock. "There are typically limited daytime options for us, and if you're a horsepower enthusiast, like myself, this is a must-see event. Daytona doesn't have a dragstrip so a dyno shootout is the next best thing for measuring the ultimate performance."
Qualifying for the shootout will take place Tuesday through Friday, March 8-11. The top qualifiers in each class will compete for the championship in an elimination-style format on Saturday March 12th.
For a more information and a complete schedule of events, check out www.BrocksPerformance.com
The BMW Motorrad USA is a division of The BMW of North America, LLC (BMW NA) which was established in 1975 as the United States importer of BMW luxury/performance vehicles. BMW of North America assumed import and distribution responsibilities for BMW motorcycles in 1980. BMW of North America also began to distribute light trucks in 1999. BMW of North America's Corporate Headquarters are located in Woodcliff Lake, New Jersey. Also in New Jersey are its Eastern Regional Headquarters and Technical Training Center, a Parts Distribution Center in Mount Olive, and a Vehicle Preparation Center in Port Jersey.
About Brock's Performance: Brock's Performance leads the way in sportbike innovation for acceleration addicts. From exhaust systems to wheels, this championship-winning company designs, builds and sells more than 3000 products that make it easier and safer for racers and street riders to reach record-breaking results through a never-ending process of research, development and track testing. For more information about BST wheels and other Brock's Performance parts, go to www.BrocksPerformance.com.
Brute Horsepower Shootout Website: http://www.brutehpshootout.com
Wyotech Bikeweek Website: http://www.wyotechbikeweek.com
Schedule of Events: http://www.wyotechbikeweek.com/schedule.php
Competitor Registration Forms: http://www.wyotechbikeweek.com/bhps_entry_forms.pdf
Competition Rules: http://www.wyotechbikeweek.com/bhs_wyotech_rules.pdf