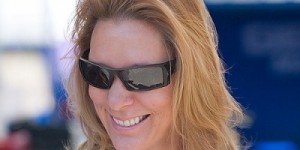 Karen Stoffer and the GEICO Suzuki team kicked off the Countdown to the Championship by racing all the way to the final round of the O'Reilly Auto Parts NHRA Nationals at zMAX Dragway.
Stoffer moved up to second in the Pro Stock Motorcycle standings and is 63 points behind leader Eddie Krawiec with five races remaining in the 2011 NHRA season.
On Sunday, Stoffer turned on the red light .028 seconds too early in the finals against Krawiec.
"I guess the excitement and everything got to me," Stoffer said. "I'd been cutting good lights all day long. We hadn't been in that lane, so we made some adjustments for the left lane. But, ultimately when you cut a .028, that's definitely the driver, not the bike."
The final-round appearance was Stoffer's fifth of the season but first since winning in Denver four races ago. Since then, nagging engine problems have plagued the GEICO team, though the engine "Maverick" was fast and consistent in Charlotte.
"We got eight runs down the race track, and we haven't done that for a long time," Stoffer said. "Kudos to the team for giving me the bike back. We're in the Countdown, we're solidly in second right now, so we've got to keep our game face on and maintain the consistency program that we've got back now.
"I remember the beginning of the year when we went to three final rounds before we brought home the big one. Maybe we won't have to wait as long, but hopefully, we'll see more final rounds in our future."
Stoffer and the GEICO team won't have to wait long to race again, as the AAA of Texas NHRA Fall Nationals at Texas Motorplex is scheduled for next weekend, Sept. 23-25.
On the way to the final Stoffer beat Justin Finley in the opening round with a lap of 6.825 seconds at 195.79 mph to Finley's 6.911at 192.55 mph. That pass by Stoffer was best by any bike to that point in the weekend.
Round 2 saw Jim Underdahl fall by the wayside after Stoffer ran at 6.830 at 195.82 mph. Underdahl crossed the line in 6.924 at 193.90 mph. No. 2 qualifier Matt Smith was the semifinal opponent. She ran a 6.857 second pass at 196.76 mph to Smith's 6.911 at 189.52 mph.
"We're in second," Stoffer said. "That's kind of how we played the first half of the year before we got into first. I'm OK with the weekend. It was a good weekend. I think we got our bike back, and the team's happy. I'm going to kick myself in the butt for a little while, and hopefully after dinner, it'll all be good. We'll put our game face on for Dallas."