It won't be official until the In-N-Out Burger NHRA Finals in Pomona, but Pro Stock Motorcycle's Gaige Herrera moved a step closer to his first world championship by taking down teammate Eddie Krawiec in the final round with a track-record run of 6.755 at 198.32 on his Mission Foods/Vance & Hines Suzuki at the 23rd annual NHRA Nevada Nationals.
It gives Herrera his 10th victory this season, tying Matt Hines for the most in a single season in Pro Stock Motorcycle history, as well a 181-point lead heading into the finale. That means Herrera will clinch the world championship in Pomona with his first qualifying run, a fitting end to one of the most dominant seasons in NHRA history.
After qualifying No. 1 for the 13th time this year, Herrera reached the final round with victories against Marc Ingwersen and Jerry Savoie. That set up a final round matchup with his teammate for the fourth time this season and Herrera again denied his teammate of a 50th career win. He was untouchable in Las Vegas, shattering his own track record in the finals with another epic run.
"This race was really emotional to me. I have a lot of family and friends here, and I had a stellar bike all day," Herrera said. "All day today, it was a little bit of a challenge with the headwind, riding-wise, and you could definitely feel it. But I had a very good bike all day. It was awesome being in the final against Ed. That's the third Vance & Hines final in a row, and it was a fun final.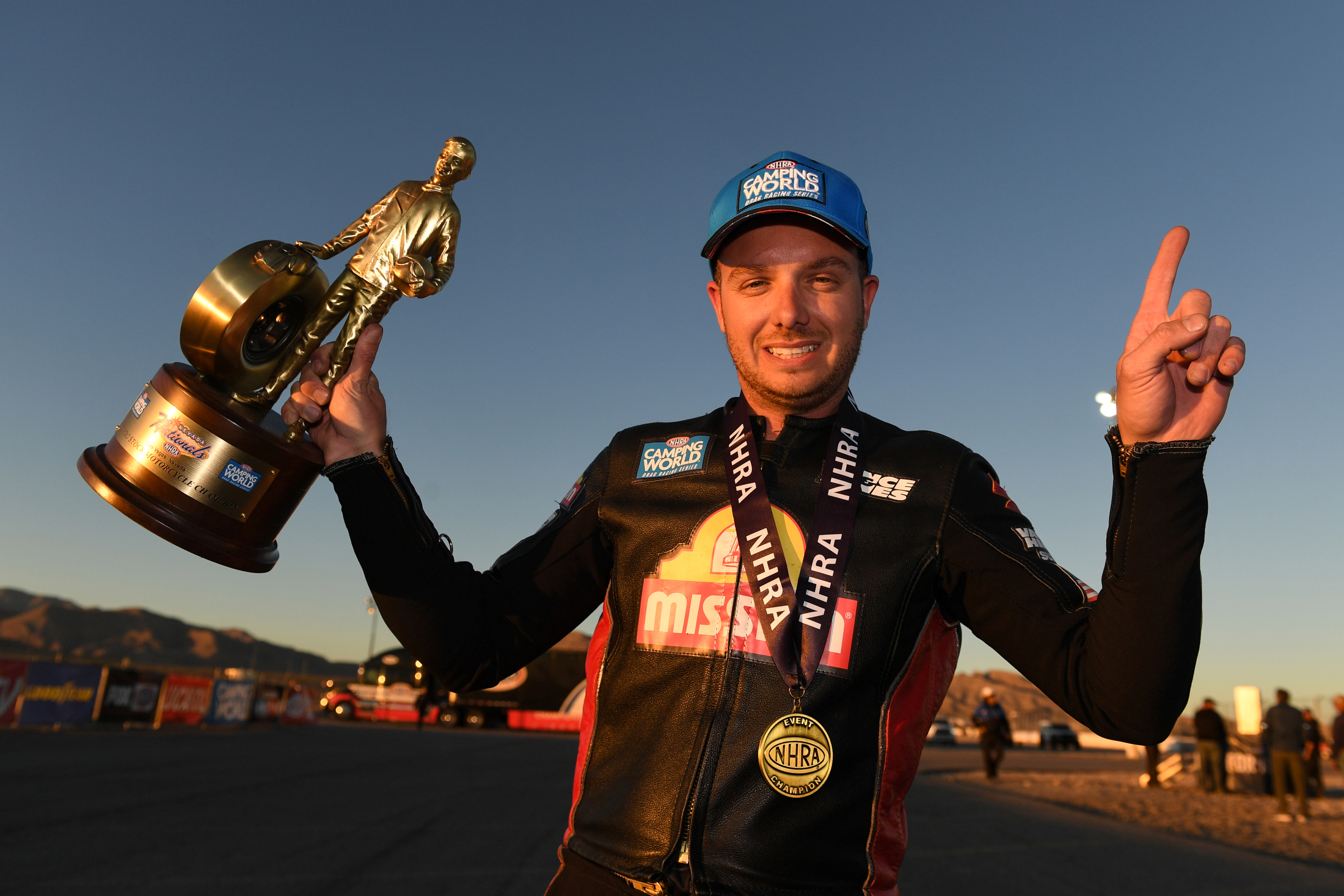 "We went up there, and I had a feeling he wasn't going to stage first so I just sat there. He revved the throttle at me and I did it back. Once he did it the second time I said, 'Oh, he's definitely not going in first,' so I just rolled it in. It knocked me off my game a little, but he shook the tire and I ended up going a 6.755. It felt like a very smooth, good pass, but I didn't expect it to go faster than what I qualified with. We're happy with that, and after this weekend, once I go to Pomona and break the beams, it's a done deal – that's very exciting."
Krawiec advanced to the finals for the fourth time this season and the 95th time overall by defeating Steve Johnson and Jianna Evaristo.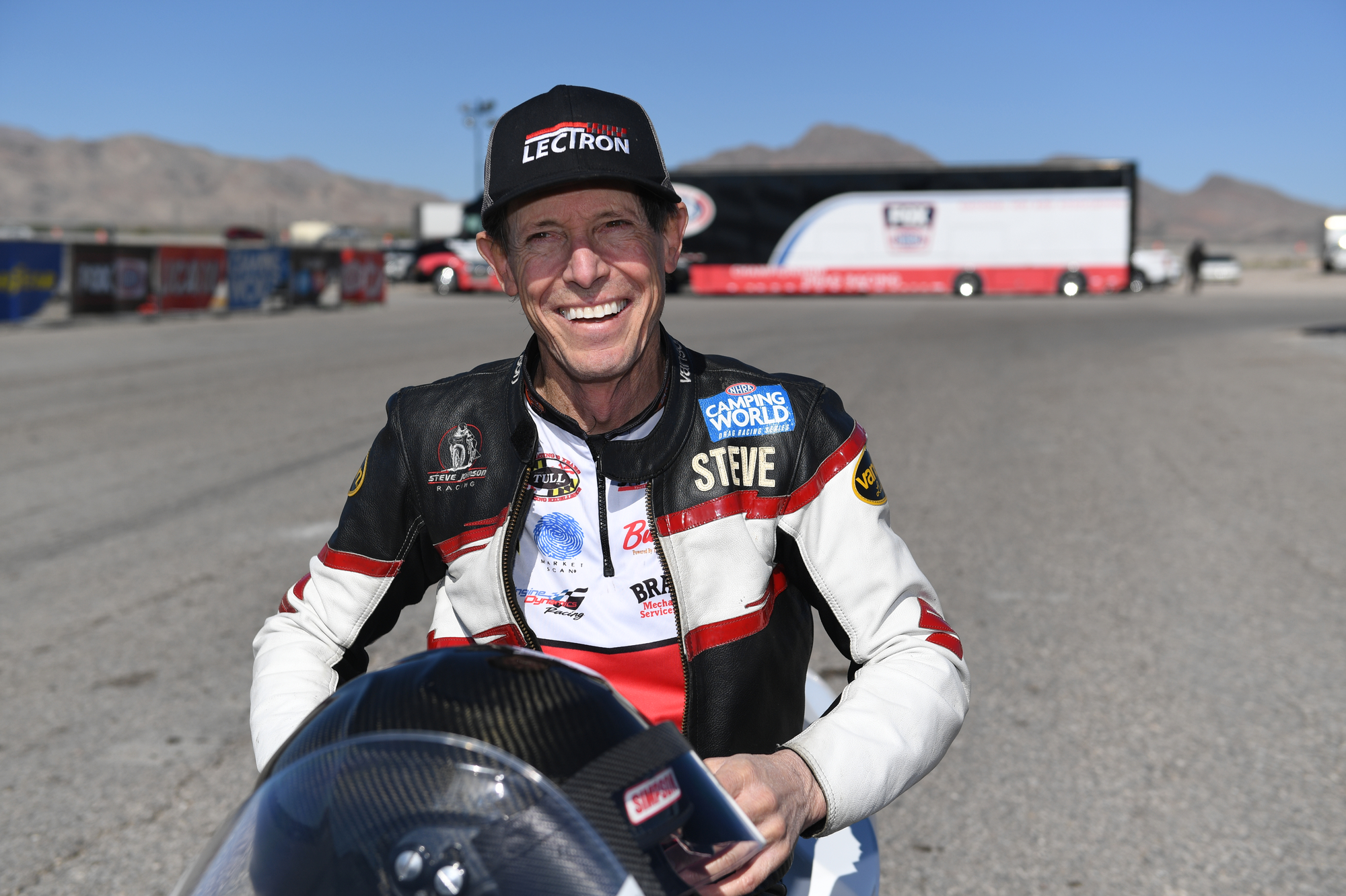 The NHRA Camping World Drag Racing Series closes out the 2023 season with the 58th annual In-N-Out Burger NHRA Finals on Nov. 9-12 at In-N-Out Burger Pomona Dragstrip.
PRO STOCK MOTORCYCLE:
ROUND ONE — Steve Johnson, Suzuki, 6.986, 191.00 def. Chris Bostick, 16.491, 42.61; Jianna Evaristo, Suzuki, 6.889, 192.17 def. Kelly Clontz, Suzuki, 6.956, 193.88; Marc Ingwersen, 7.000, 192.28 def. Ryan Oehler, 6.969, 193.07; John Hall, 6.881, 193.90 def. Matt Smith, Suzuki, 6.949, 194.46; Jerry Savoie, Suzuki, 6.891, 194.18 def. Blaine Hale, Suzuki, Foul – Centerline; Joey Gladstone, Buell, 6.840, 197.22 def. Hector Arana Jr, Buell, 6.856, 197.94; Eddie Krawiec, Suzuki, 16.501, 42.85 def. Karen Stoffer, Suzuki, Broke – No Show; Gaige Herrera, Suzuki, 6.786, 198.41 def. Angie Smith, Buell, Broke – No Show;
QUARTERFINALS — Krawiec, 6.864, 197.08 def. Johnson, 6.959, 189.73; Savoie, 6.925, 192.41 def. Hall, Foul – Red Light; Evaristo, 6.950, 192.77 def. Gladstone, 7.244, 146.93; Herrera, 6.795, 196.93 def. Ingwersen, 7.026, 169.57;
SEMIFINALS — Krawiec, 6.845, 197.57 def. Evaristo, 6.897, 193.29; Herrera, 6.815, 196.85 def. Savoie, 6.906, 193.07;
FINAL — Herrera, 6.755, 198.32 def. Krawiec, 6.847, 198.70.
There are more videos on the Cycledrag Youtube channel (please subscribe here) and the Cycledrag Facebook page (Please like here) and more will be coming soon. Check back daily.
To take advantage of some amazing discounts at Brock's Performance, click – http://brocksperformance.com?aff=12
USE cycledrag5 coupon code.