When Mike Bahnmaier Racing Team's pulls into a track, they're there to make a statement. This powerhouse team brought five Nitro bikes for their 2014 trip to Sturgis for the Amsoil WMDRA Nationals.
Bahnmaier's team started as it has for almost a decade with a visit to the Ft. Meade VA Hospital on August 4th. In past years Verl "Smitty" Smith organized a display drag bikes, but this year Jody Dukelow took the reigns as Smith was unable to attend. It is quite rewarding to be the group who has been visiting the facility since 1998, but other groups have picked up the cause with a local group providing a barbeque for the Vets and Jay Allen of Easyrider providing a ride in bike show later in the week.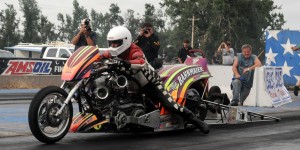 This year the team played bingo with the veterans who won many nice prizes. Mary Lou Brewton served as bingo caller and team members participating were Mike Bahnmaier, Freddie Robbins, Drew Moldenhauer, Bill Hendren, Billy Hendren, Chuck & Linda Bowen , Greg Janosik and Jody Dukelow.
The first day of racing, August 5th was rained out after only one test session with the next day scrambling to catch up.
Bahnmaier's team includes; Team Owner: Mike Bahnmaier; Crew: Jody Dukelow, Drew Moldenhauer, Doug Davis; Riders: Mike Bahnmaier, Freddie Robbins, Bill Hendren & Billy Hendren
In the wrap up below, you can visualize the dominance of this multi bike effort.
A new feature of the Amsoil WMDRA Sturgis Nationals was the presentation of Grand Marshall's. Pete Hill, 1st winner of the Sturgis Nationals racing the coolest, fastest Nitro Knucklehead; Marion Owens, King of the Doubles; and Bonnie Truett who had only hours before had been inducted in the National Motorcycle Hall of Fame were trackside for autographs and photo ops. Even the most jaded of drag race fans lined up for a picture of the kings of Nitro. The icing on the cake was Mike having his picture taken with racing legends Bonnie Truett, Marion Owens, and Pete Hill.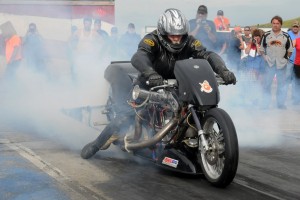 Top Fuel Qualifying
#1 Mike Bahnmaier
#2 Freddie Robbins
Pro Drag Qualifying
#1 Dave Larson
#2 Billy Hendren
#3 Mike Bahnmaier
#4 Kirsten Heling
#5 Bill Hendren
#6 Howard Wiggins
Top Fuel
Round 1 – Mike Bahnmaier – Bye
Semi-Finals – Mike Bahnmaier def. Doc Hopkins
Finals – Freddie Robbins def. Mike Bahnmaier
Pro Drag
Round 1 – Billy Hendren def. Bill Hendren
Semi-Finals – Billy Hendren def. Kirsten Heling
Finals – Billy Hendren def. Dave Larson