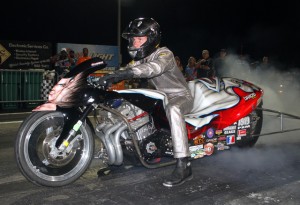 Jeremy Teasley's uncanny ability to master any motorcycle he throws a leg over holds true at the ADRL as well. Last week, multi-time AMA/Dragbike and MIRock Superbike Series champion Teasley had never ridden a Pro Extreme Motorcycle before. Today he goes into the final round of qualifying for ADRL's Dragstock VIII at Rockingham Dragway in North Carolina at the top of the order.
A deal came together quickly for Teasley to ride Robbie Hunnicutt's "Superman" Suzuki, courtesy of Jeremy's backer Roger Starrette. Teasley's first pass last week in testing at Maryland International Raceway was a 4.16 in the eighth mile. Hunnicutt could hardly believe his eyes. He'd put a soft 4.30 tune-up in the bike for Teasley, who despite his many championships has little experience on a wheelie bar bike. So Hunnicutt kept the same tune-up in the bike but found an even better result—a 4.14. "Pack it up, we're done!" said Hunnicutt.
With that same tune-up, Teasley ran a 4.11 with a 1.01 60 foot the first pass off the trailer at Rockingham, good enough for second. But Starrette didn't bring Teasley here to run second, and the stress level between him and Hunnicutt began to rise. After a 4.13 second round pass, the pot came to a boil and Hunnicutt turned it up, putting the same tune-up in it that he runs himself. "Roger wasn't happy qualifying number 4 so he twisted my arm a little," said Robbie. Teasley weighs some 60 pounds less and the result was a 4.04 at 174 mph, good enough for number 1 with one session to go.
But Teasley was apologizing when Hunnicutt met up with him at the end of the track. "Sorry, I short-shifted fourth gear," said Jeremy.
"Sorry hell, you just ran a 4.04!" said Hunnicutt, who's never run an .0 on his bike. He's long wanted to prove to ADRL rulesmakers what a difference weight makes on these bikes and it looks like the difference between him and Teasley is about a tenth. "What he just ran there is the tune-up I ran in Virginia."
And it's not just that Teasley is a flyweight jockey. Although he's raced and won on practically every type of streetbike, from nearly stock Supersports to 600 horsepower Pro Street and all-out grudge bikes, Jeremy's experience on wheelie bar bikes has been limited mostly to a one-off NHRA Pro Stock deal at Charlotte last year. Anyone who's been to an ADRL race or watched one of their broadcasts knows that the lightweight, big horsepower Pro Extreme Motorcycles are a handful. "They make Pro Stocks look like a moped," says Paul Gast, whose decades of experience racing both make his words count.
Indeed, US Nationals winner Craig Treble has been to two ADRL races this year and failed to qualify. "Those bikes are a real kick in the pants," says Treble.
And yet Teasley nonchalantly took up the challenge and in five passes does what some have spent hundreds of passes chasing—runs a 4.0. In those five passes his worst is a 4.16, he's never been as slow as a 4.20! "I guess you can say I adapt to bikes pretty easy," said Teasley. "My instincts take over. I really don't feel the difference between a 1.09 60 foot and a 1.01. The Pro Mod's fun to ride, something different. It's smooth and straight."
With last night's air so perfect, Teasley doesn't expect to go much quicker in today's final session. "Since it happened so far down the track, the short shifting killed the mile-an-hour more than anything, but a 4.03 would be better." True enough
Teasley and the team would like to express their deepest sympathies to the family and team of Extreme Pro Stock driver Bert Jackson, killed in an accident during the third round of qualifying at Rockingham.