The crisp spring weather couldn't have been better as the Midwest's largest motorcycle
drag racing series took over T.T. Jones' Huntsville Dragway for the NHDRO April
Season Opener. A lively crowd from all over northern Alabama and south Tennessee
came to see what Brian and Niki Welch's Yankee NHDRO series had to offer. What
they saw was a major win by the home team.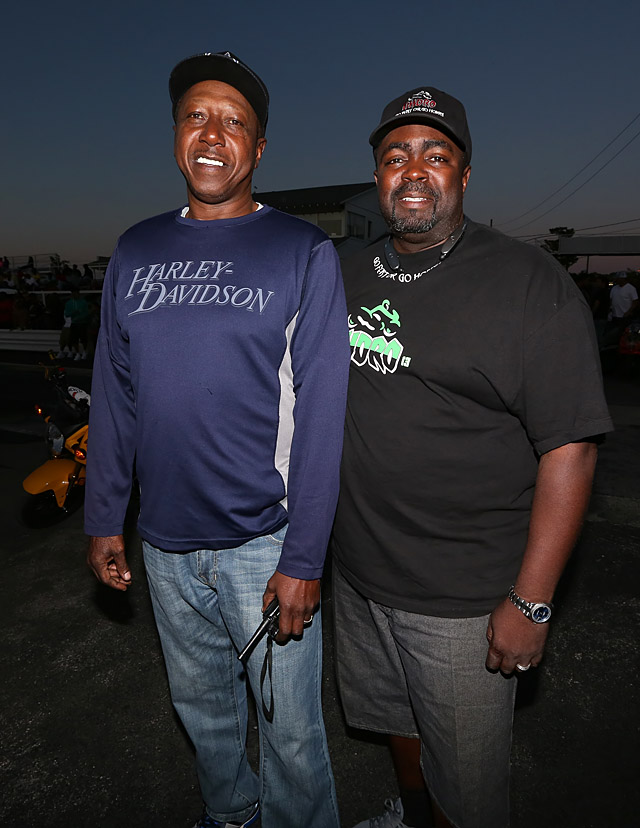 Chris Garner-Jones, son and teammate of track owner T.T., qualified number 1 in HMH
Motorsports Coatings Pro Open with a 4.118—just a tick quicker than Richard Gadson's
4.119 on the Billy Vose-tuned, Jeff Jones-owned, Fast Time Motorsports Suzuki.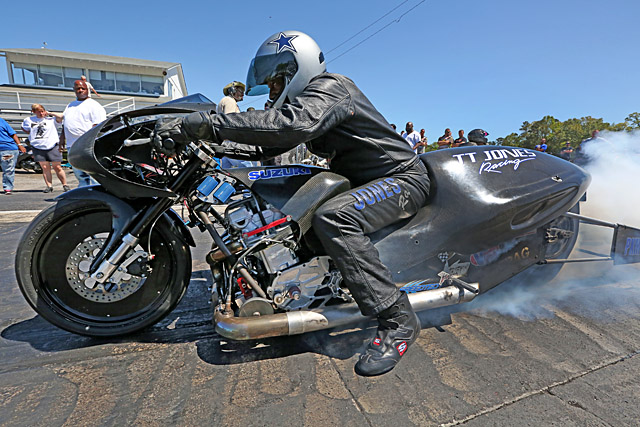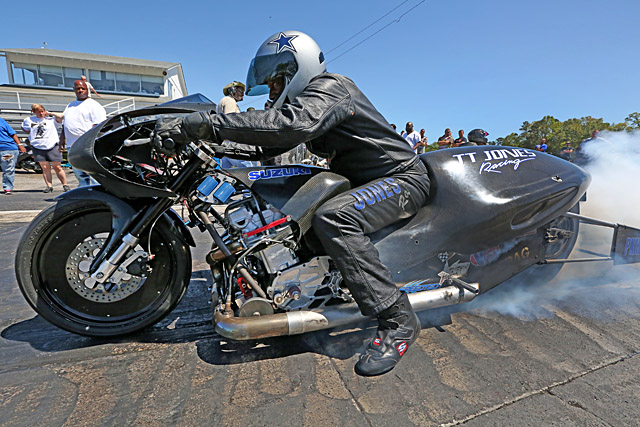 But Garner-Jones broke the clutch hat on raceday, while Gadson improved to a 4.06. It
was with great confidence that diminutive Gadson faced big rider T.T. in the final, so it
was a perplexed Lil' Richard that looked over his redlight timeslip later while T.T., wife
Angelia, son/tuner William, and the whole family celebrated in their own winners circle.
Gadson wasn't the only final round favorite that went home disappointed.
Justin Doucet and Derek Miller had their Two Wheel Werkz/ HMH Motorsports turbocharged Suzuki
Hayabusa set on "kill" all weekend, qualifying number 1 in McIntosh Machine &
Fabrication Pro Street with a 4.65 at 167 mph on Hunstville's eighth mile. "Mothug"
Doug Gall was a step behind with a 4.66 at 168, followed by Quicktime Motorsports'
Rudy Sanzottera with a 4.67.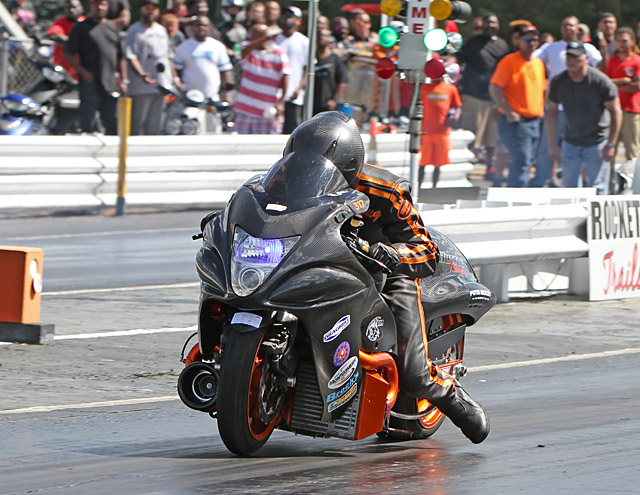 So it was a tight field that entered raceday, where Doucet improved to a .64 and faced
fellow finalist Gall. But weather that had been dry and moderate turned suddenly hot
under the relentless Alabama sun. "Track temperature's gone way up," noted a worried
Miller as he rolled Doucet to the waterbox.
And indeed, Doucet's tire spun like it hadn't all weekend after nailing a stunning .004
light. But Gall was struggling with an opposite problem in the right lane, wheelieing
through most of the eighth mile. In the end it was Gall's winlight that came on with a
4.75 to Doucet's 4.81.
As what happened in Pro Open, the Quicktime Motorsports/Lindeman Performance Pro
Ultra 4.60 win went to a local team, and also at the expense of Nashville's Fast Time
Motorsports. Decatur, Alabama's Mantez Thompson ceded the tree to Fast Times'
Chase Morris .023 to .018, but took the stripe 4.65 to 4.69.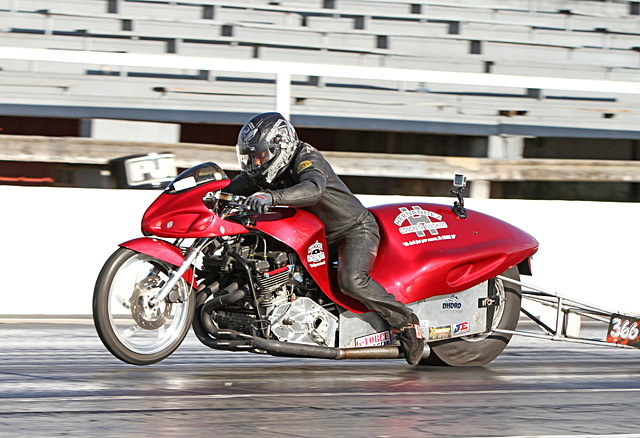 NHDRO double champ Dustin "Tennessee" Lee took home two wins from Huntsville—
Crazy 8s and Millennium Trailers Super Comp. Ben Smiley's .130 light doomed his final
round campaign from the start, with Lee's .037 and 5.79 sealing the deal in the 5.70
index on the eighth mile.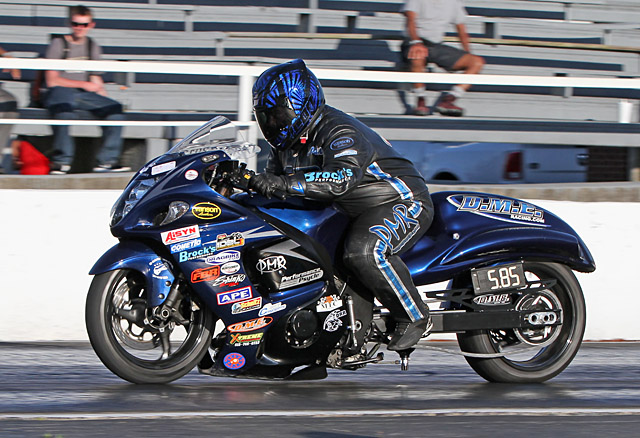 The startling consistent Lee also had an .037 light in the Super Comp final, though this
time .003 slower than that of opponent John "Spooky" Markham. But it was
dragbike.com's BAMF Lee who ran the number better, running 5.61 to Markham's .63
for the win.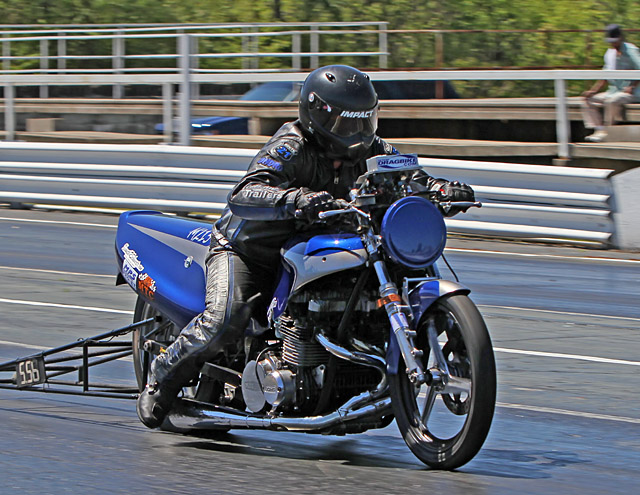 Don't cry too long for Markham, who won MPS Pro ET over Rick Scott. Super Comp
champ Chad Isley took the other Pro ET win with a .009 light against Iowa's Bruce
Damewood.
"Kounselor" Kenny Schwartz stopped fellow St. Louis area racer Heather Baldi's



relentless march of 5.10s in the G&G Metal Spinners Top Gas final. Only .002
separated the two at the tree, but Baldi dropped off with tire shake to a 5.16 while
Schwartz ran 5.15 for the win.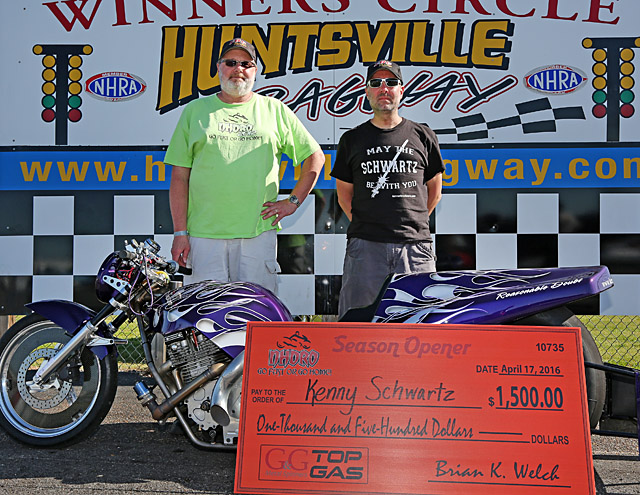 Ben "Hardest Working Man in MC Drag Racing" Knight took the tree in the 2015 Route
21 Street Fighter final, but lost anyway to Blake Parker in a double breakout race.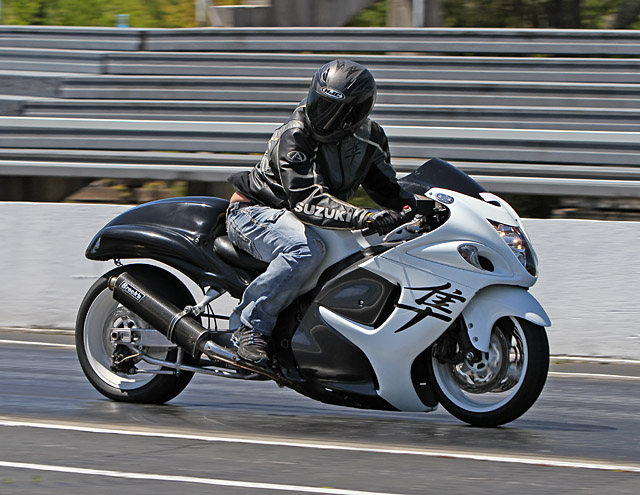 "I didn't stick to my game plan," reported Knight. "I knew we were both going to break out
and I was just going to lock it up at about 550, but I also knew I treed him so I tried to
take the stripe. I think I took .02, but needed .015 or less."
Dennis Insurance Street ET wins went to Kentuckian Ron Arnold against Richard Davis,
and Bud Calhoun over Spencer Claycomb.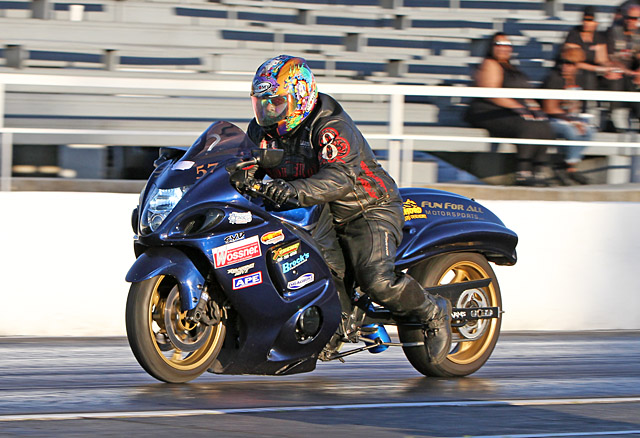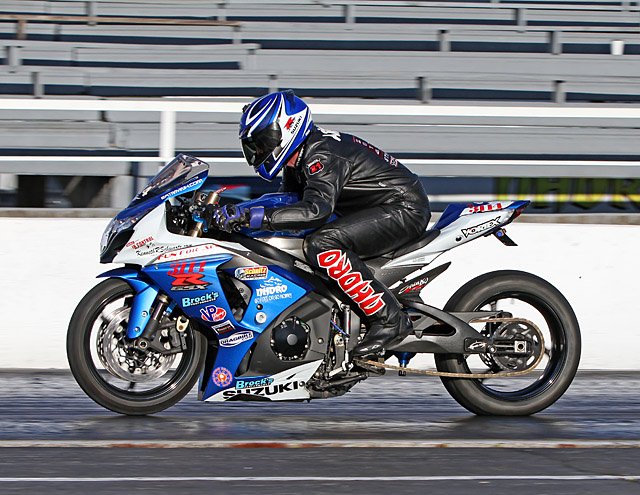 Port-Tech Grudge Racing saw hot action on a cool spring night, with rider Jeremy
Teasley taking one on MSP's "Venom" over Kapt'n Ken Grate on "Rhonda." The
Teasley/Venom combination lost later after giving Matt Dozier on "Rare Breed" a bike
length at the tree.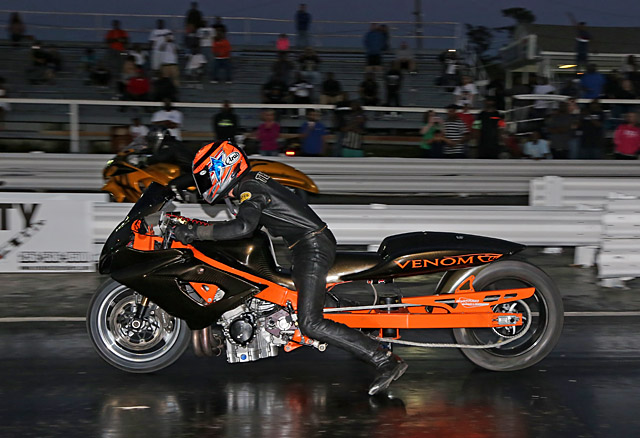 Teasley took a series of entertaining "Bike Swap" wins against Lavar "Lil' Charlie"
DeLee on Teasley's bother Cameron' blue Kawasaki ZX14 and a BMW S1000R. He
then celebrated wins over Zello sensation Carolina Carl with a turn signal wink.
Everyone with NHDRO and Huntsville Dragway raced with heavy hearts as beloved
fellow racer Eldred "BayBay" Yarbrough succumbed to severe burns suffered a month
earlier in a car race in Georgia. Ron Arnold and Dustin Lee donated their winnings to
the Yarbrough family to help with medical expenses, and many #BayBayStrong t-shirts
were sold.
Brian and Niki Welch look forward to returning the NHDRO to their home track of Lucas
Oil Raceway in Indianapolis for the May Bike Fest on May 13-15.
Find out more about the NHDRO at http://www.nhdroracing.com/
NHDRO thanks McIntosh Machine and Fabrication
http://www.mcintoshmachineandfab.com , Quicktime Motorsports
http://quicktimebikes.com , Route 21 Racing Apparel http://www.route21.us , Millennium
Trailers http://www.milltrailers.com , G&G Metal Spinners
http://www.ggmetalspinners.com , Kevin Dennis Insurance
http://www.bettercoverages.com , Port-Tech http://www.porttechheads.com/index.html ,
MPS http://www.mpsracing.com/default.asp ,
and HMH Motorsports Coatings https://www.facebook.com/HMH-Motorsports-Coatings-
427240650798192/
This report was prepared by Tim Hailey. Enjoy everything there is to read, see and
watch about motorcycle drag racing and more at http://www.eatmyink.com