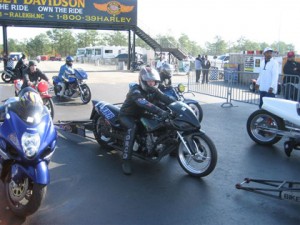 Welcome to the next era.
Dragbike racing has long been dominated by the legendary Kawasaki KZ and Suzuki GS motors of the 70s and 80s.  When Suzuki introduced the ultra-powerful GSXR 1300 Hayabusa in 1999 many longtime racers traded their wheelie bar bike for a Busa. A street legal machine with nine second potential right from the factory made sense to a lot of straight-line enthusiasts.  Marion Ford of the FBR Shop agrees the new technology is where it's at, but Ford says keep the wheelie bars.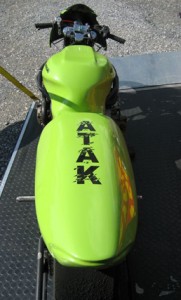 Following over 20 years of dragbike racing, including a stint in the Funnybike class and opening his own performance shop in 1993, Ford introduced the Atak dragbike in 2002. The machine utilizes modern day motors and features nearly all of the luxuries and components a bracket racer would expect on a typical race bike.
"You are starting with more horsepower right off the bat.  If you use a GS 1100 motor, you are starting with an 80 horsepower platform which is capable of making unbelievable numbers if you spend a lot of money on it," Ford said. "If you start with a Hayabusa platform you are already making 160 horsepower. You have double the power right from the start."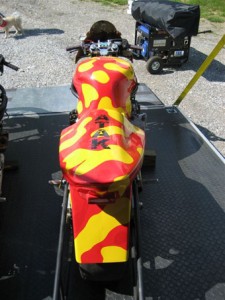 Thus far Ford has built Haybusa and Kawasaki ZX-12 based Atak bikes and is contemplating creating a ZX-14 based ride. Besides the motor, FBR fabricates nearly the entire bike – the chassis, the wheelie bars, the front ends, even the fuel injection systems. The bikes are available in either big tire or small tire set-ups and are priced at $13,800 out the door. Ford says a 200-pound rider should have no problem running in the 8.90 zone.
Perhaps the most appealing aspect of running a new motor is the ease of finding inexpensive parts.  Ford calls the new motors "disposable cameras" and says if something drastic fails, simply get a new motor.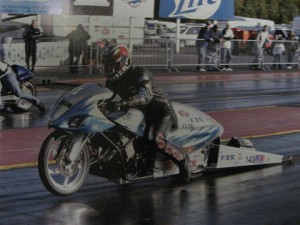 "If you hurt a GS or a KZ, you will spend as much money on a crankshaft as you will buying a complete Hayabusa motor from a salvage yard. That's what's great about the Atak. You can go out there and run in the eights and source your motors from a bike in the junkyard," Ford said.
Ford says that's a luxury dragbike racers on old-school bikes can't afford.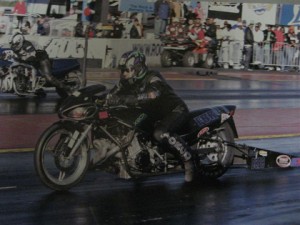 "On the old bikes you are forced to fix the motor because you can't find cases, you can't find a decent cylinder head and people want an arm and a leg for everything.  With the new stuff it's plug and play.  Put a motor in and go racing."
But that's not to say Ford expects a lot of breakage on the Ataks.  Ford says as long as some minor maintenance is performed the machines are nearly bulletproof.
"As long as you change the oil regularly they will last forever," Ford said. "I push the button to start it, ride my bike to the lanes, and ride it back to the pits. It's a stock motor.  That's what it's made to do," Ford said.
The Atak gives a racer the ability to compete without a lot of tools or crewman.
"If I had a GS I would need a battery cart and somebody to tow me. With the Atak you can throw it in the back of your pickup truck and as long as you have gas and a 10 dollar Wal-Mart air pump, you can go all day," Ford said.
Ford says one of the only ways the new motors are more complicated is they require more precise gearing.
"The new motors are very peaky and very touchy and the gearing can make a big difference," Ford said. "On the old bikes you could screw up on sprockets and it would still run close to what it should. The new motors have a great amount horsepower but not quite as much torque."
After making the appropriate gearing changes Ford improved his personal elapsed-time by over three-tenths of a second.
The FBR shop has about 30 Atak bikes in competition and the quickest belongs to Joe Erickson, who runs 7.60s with the addition of aftermarket pistons.
Dale Hamilton also posts impressive numbers. Hamilton weighs over 250 pounds has been 7.80s on his big tire, turbo-charged Atak.
Ford doesn't have a hard time keeping up with his customer's elapsed-times. Once a year at Rockingham Dragway Ford hosts a special Atak only race at the FBR Shop's annual MIROCK event.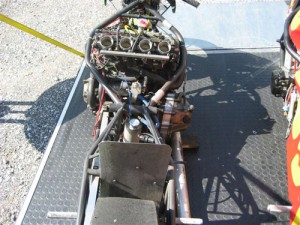 Ford has built Ataks with both a Lectron carburetor configuration and fuel injection but prefers fuel injection.
"We've found that the bikes are about two tenths quicker with fuel injection," Ford said.
Over the winter Ford encountered several racers interested in converting their GS and KZ powered bikes to Hayabusa-based machines.
"We found that the GS and KZ engine departments do have enough space for the Hayabusa motor," Ford said. "All winter we've been busy converting them."
Ford estimates a good KZ or GS motor to cost upwards of $6,000, with the racer supplying the core.  He says the new motors are too affordable to pass up.
"This is the way to go," Ford said. "The money for the old cases and parts has just gone through the roof."
To inquire about an Atak, The FBR shop can be reached at 410-374-1000