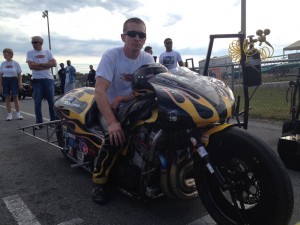 Billy Vose, Charlie Farrar, Ashley Owens – those are the names of some of the most dominant Pro Mod dragbike racers ever.
At the young age of 28, Eric McKinney, who just captured his second consecutive ADRL Pro Extreme Motorcycle (Pro Mod) championship, has put himself in a position to etch his name alongside those aforementioned legends. McKinney has more to achieve to reach that level of notoriety, but he is on the right path.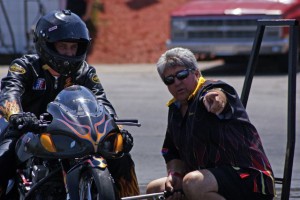 "You are only as good as the people you surround yourself with and I have an amazing team. My dad has been a diehard motorcycle drag racer forever. My support comes from my family and it's a team effort. My uncle Steve McKinney works on the clutch," McKinney said. "I've had the fortune of being around some real elite guys who share information with me. It's free. All you have to do is hang around and listen."
Two of the elite competitors McKinney mentioned are Steve Drake, who successfully raced Pro Mod for McKinney's father for several years, and Ashley Owens who recently joined forces with McKinney Motorsports and finished No. 2 in the ADRL point series.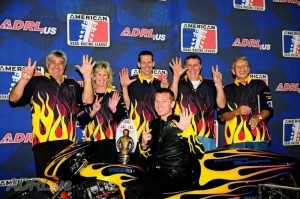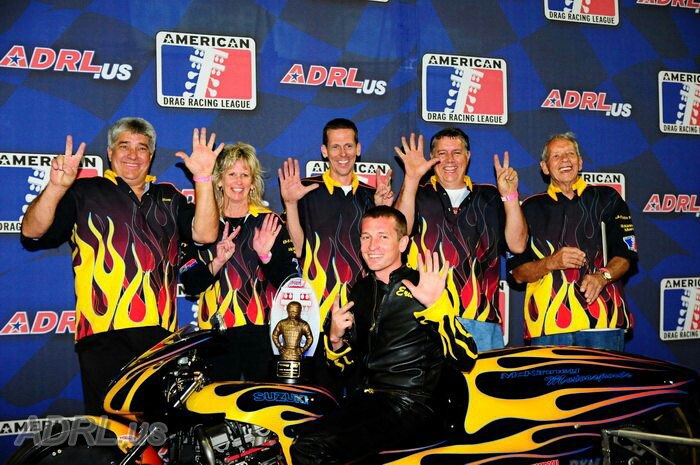 "Steve was a great mentor. My dad taught me a lot about drag racing but it was Steve who really taught me to ride since he had so much experience," McKinney said. "And Ashley is one of the best riders and tuners out there. He has taught me so much."
McKinney has evolved in a short period of time. He was a championship-winning motocross racer for most of his youth, but after breaking his wrist in 2005 and having to miss work, McKinney's father, Scott, told his son it was time to switch to drag racing.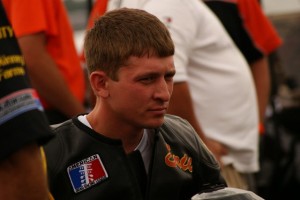 Like most, McKinney started out in the Pro ET and Street ET ranks on Suzuki Hayabusa , before moving up to Super Street, where he was taught tough but valuable lessons, racing fierce competitors like Rickey Gadson.
"It seemed like I had to run Rickey in the second round at every race," laughed McKinney. "We didn't beat him much."
McKinney attended the George Bryce / Frank Hawley Motorcycle Drag Racing School in 2007 and by 2008 he had taken the seat of Drake's Pro Mod Suzuki. By the end of the 2009 season he rode a Timblin Chassis / Dan Wagner built Pro Mod to an AMA Dragbike championship. He was named Pro Rider of the Year by AMA Dragbike. It was a rapid progression.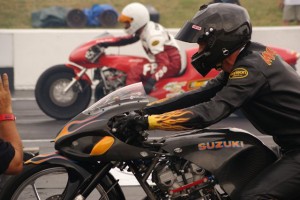 "Once you are on your game you just have to keep in going," McKinney said. "I felt comfortable that I could do my job."
McKinney Motorsports had Ashley Owens put together a new PMFR bike before the 2012 season and no ADRL racer has been able to dethrone it. McKinney captured the 2012 and 2013 titles. He was the 2012 ADRL Pro Rider of the year.
"The past two years have been the greatest time of my racing career," McKinney said. "We had a killer combination that was very consistent."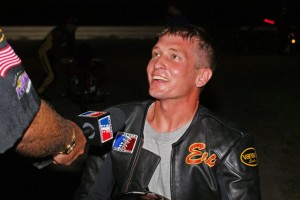 McKinney is hoping for an ADRL three-peat in 2014.
"We may be building a new bike and retiring my current one," McKinney said. "We are going to have Ashley back as well and that will give us a great chance to do it again."
The 10th Anniversary ADRL tour begins April 3-6 at Rockingham Dragway in Rockingham, N.C for Dragpalooza X.
McKinney will be ready.
For all your automotive needs, make sure you inquire about McKinney's vast salvage yard, McKinney's Used Auto Parts.