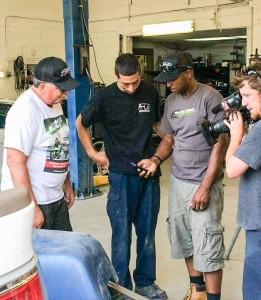 Rickey Gadson, is a 9-time drag racing champion with a compelling story. On Feb 18th, Discovery's "Velocity" channel covers the emotional roller coaster of his complete restoration of the motorcycle that claimed Rickey's father "Suicide's" life some 36 years ago and how it wound up back in his hands after his mom sold it 32 years earlier.
The bike his father rode and was killed on, and the bike that nearly took his brother's life has come back to him in pieces, and Rickey has vowed to bring back the bike, in his father's memory, to race again. Kurt Walter, founder of Icon, builds bikes in order to set and stay ahead of fashion trends. The Portland Company is passionate about early-to-mid-1980s Japanese sport bikes, especially Suzuki Katanas. Kurt loves their ugliness and has made it his goal to redesign them into how, he feels, they should have been designed in the first place. He is confident in his abilities but is gambling the brand and his company on this ugly duckling.
"Rickey Gadson and Icon"
World Premiere Wednesday, February 18 at 10 PM on Discovery.