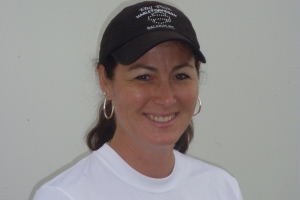 Dream Chaser Racin', Janette Thornley continued her rookie season at the AHDRA Carolina Nitro Nationals held in Rockingham North Carolina May 5-6. Qualifying in the #6 position, Janette ran consistently and continues to develop her skills as a rookie rider.
"I continue to be amazed at my progress and feel as if I'm becoming one with my motorcycle. Although I am more comfortable, I will never under estimate the power of this machine", said Janette "and the fact that I have so much to learn and have yet to experience".
The Hawaya Racing Pro Drag qualifying field was very tight and Thornley was paired up with veteran Rocky Jackson in round one eliminations, she needed to get out of the gate first and not allow Rocky to catch her. With a .092 light, running 7.660 ET at 161.75 mph Dream Chaser Racin' was able to pull off a win. Advancing to the semi-finals, Janette was paired with Rich Vreeland, AHDRA's 2011 Pro Rookie of the Year. Although Janette ran her best ET for the weekend, 7.475 at 160.14 mph, it wasn't enough against Vreeland's run. "Had I pulled a better light, .164 vs .061, I could have had him!" said Janette. "I still had a great weekend, this class is very competitive and I continue to feel very fortunate to be participating and qualifying against many that have been racing for years."
Janette Thornley is owner and operator of her nitro burning, carbureted, 121 cid Pro Dragster and Dream Chaser Racin'.
Thank you to my sponsors: Autolite Sparkplugs and Lowry Callahan of Quality Refrigeration Company. Special thanks to Ray and Jean Price; Freddie Robbins for his time, patience and dedication, keeping me grounded when necessary and being my "go to track guy"; to Bill Hendren for your time; and to the Ray Price Race Team – Tommy Grimes, Justin Heinle, Jeremy Hoy, Mark Morgan and Ray Price for all you do; and Dalton Matthews.  Sponsors always welcome!
Contact Dream Chaser Racin' at dreamchaserracin@yahoo.com