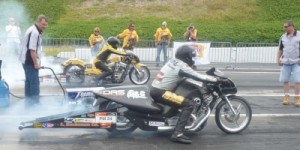 Frank Capone cut an almost perfect light, .004 in the first round against team mate Shaun Reno to take a win and advance to the 2nd round on elimination's on Sunday at the AHDRA Carolina Spring Nationals presented by Carolina Dealers Assoc. at a his favorite southern track, Rockingham Dragway, outside Rockingham, NC.
But trying to be perfect is always a challenge and in the 2nd round Capone's aspiring perfection cut the light a little too close and out popped the red light with a – 026, what a difference 2/100 of a second makes. The AHDRA Pro Mod qualifying ladder was the tightest field ever with less than 1/2 second separating 8 bikes.
Disappointed? Sure, it's always a longer haul home without a new trophy, however, Capone still maintains the #1 position in points. Even he admitted that it's going to be a long, and if this race is any indication, a very competitive season and he'll be ready.
Come see Capone Racing's Pro Modified drag bike at the closest track on the AHDRA circuit for him and his fans, May 19-20th at Atco, NJ for the AHDRA Northeast Nationals.
Capone's team consists of Mark Godin, Richard Murray, Craig Fisher, Lorne Buchanan and Katy Miller
Capone Racing sponsors and friends supporting Capone's record breaking season include: G&G Engineering, DAS Performance, L. Buchanan Co., Gannos Machine, Vanson Leathers and all the staff at Capone Landscape.
Capone can be reached at:
781-224-0700
and by visiting his website at: www.caponeracing.com