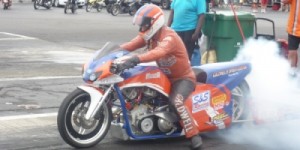 Tennessee native and national champion Pro Stock racer Tom Caldwell has sat out several seasons, career changes got in the way of completing his newest Pro Stock race ride. But he's come out of semi-retirement with a vengeance.
Caldwell brought his newest Pro Stocker to the line at AMRA's season opener at the infamous Beech Bend Raceway Park (where how much fun you can have is only limited by your imagination) in Bowling Green, KY. Starting his weekend by qualifying #1 with a record setting 8.209 ET in the quarter mile, Caldwell continued to smash records by capturing the AMRA 1/8 mile with a 5.117 ET
Caldwell continued making rounds where he appeared in the finals but a new clutch set up caused the bike to "creep" through the timing lights and a red light offered the win to his competition. ALAS (that's fancy for DAMN.)
Rockingham, NC: Caldwell made a quick turn around and pulled to the AHDRA Carolina Spring Nationals presented by Carolina Dealers Assoc. at a traditional record breaking track, Rockingham Dragway, outside Rockingham, NC. A record escaped him here, but the AHDRA Pro Stock victory made up any potential disappointment.
Caldwell ran like a bracket bike in qualifying with a 8.263 for the number one spot, 8.342 151.73;  8.263 150.28: and a 8.439 156.12
During eliminations on Sunday, Caldwell parlayed those numbers with a little fine-tuning to victory with a great reaction time, .045 in the first round with an 8.146 ET at 151.77 mph. The final round a little quicker and faster with an 8.120 at 155.79 mph.
Special thanks to Steve Allstaedt , at SA Racing for his innovative cylinder head design work!
Also thanks to, S&S Cycle, Red Line Oil, Dana the welder, Southern Biker Magazine, PMFR, and 3D Painting.