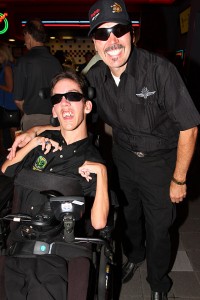 Everybody knows NHRA's biggest fan, Kyle Keck. You may know that Kyle has Cerebral Palsy, a non-progressive disorder of movement and posture caused by abnormal development of, or damage to, motor control centers of the brain, and Scoliosis, a curvature of his spine. Kyle was born at 29 weeks and weighed only 2 lbs. 10 oz. and was in the NICU for 6 months. His family is on a fixed state income, due to the fact that his father is his sole 24 hour caretaker.
Kyle loves drag racing and being at the dragstrip, and relies strictly on donations to attend races. Kyle would love nothing more than to attend the Auto Club Finals at Pomona, then get dressed up and go to the annual NHRA banquet.
Please help us make this happen by donating online at http://kylekeck.com . Donations will also be taken at the VIPER/Matt Smith Racing trailer in the Pro Stock Motorcycle pit area at The Strip at Las Vegas Motor Speedway.
contact: ivette2712@aol.com , jhall451@aol.com
for media inquiries: Tim Hailey timhailey@earthlink.net
for more about the NHRA http://www.nhra.com/