There's no question the Northeast was the place to be for making horsepower during the last weekend of September.  The NHRA Pro Stock motorcycle field was the quickest ever in Reading, Pa., and just an hour south in Rising Sun, Md., the Hannum's Harley Davidson Bike Festival at Cecil County Raceway had all the makings of being a record-smashing race.  That is, until mother nature's persistent drizzles put an abrupt halt to the action.
"It's a shame," tuner Don "DJ" Johnson said. "This was actually a better track than what we had last weekend in Virginia."  That's a powerful statement coming from the man who's rider ran the quickest ever Harley run at the aforementioned Virginia race track last week.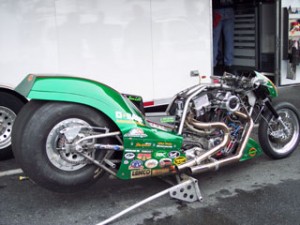 Tracy "The Bad Apple" Kile set the pace in Top Fuel with a career-best 6.46 at 212 mph.  "It was like a bucking bronco.  The wheelie bars broke and it set the the front wheel down about three times," Kile said.  "It was dancing all over the place.  I was thinking about getting out of it but I never do that."
Kile was convinced, had the wheelie-bar not broke the run would have been in the 6.30-zone.  "This track was one of the best I have seen all-year-long," Kile said.  "It was very smooth.  I'm bummed it rained out and we didn't get to race.  Especially since we didn't win any money.  How are we going to pay the bills?"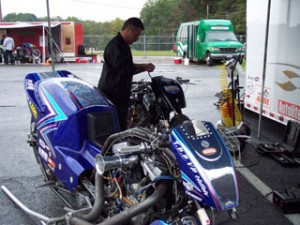 Johnson had two bikes entered in competition, ridden by Virginia winner Jay Turner and Larry "Drums" Brancaccio.  Turner, riding Shigematsu's machine, ran a 6.57 at 189 mph to qualify in the No. 2 spot.  "Jay called me this week and said he wanted to race.  I didn't think twice about putting him on a bike," Johnson said.  "He's a great rider."  Brancaccio ran a 6.92 at 175 mph to qualify fourth. Brancaccio racing back under the banner of his former long-time crew chief Johnson, begged the question – are Drums and DJ back together?  "Hell no," laughed Johnson.  The duo was all smiles and, despite the breakup, are apparently still good friends.
Dean Comunal qualified in the No. 3 spot with a pass of 6.71 at 172 mph. "It was on a great pass until it ran out of fuel at 1,000 feet," reported Comunal.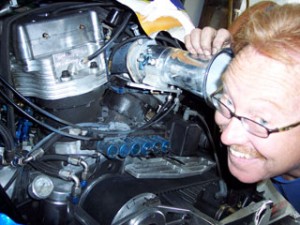 Virginia No. 2 qualifier Bob Malloy appeared to be on a strong pass until his motorcycle violently spewed flames and engine pieces after he passed half track.  The bike was traveling at about 150 mph, but fortunately Malloy was uninjured.  The same could not be said for his motorcycle.  "It cooked a head," Malloy said.  "This would have taken us out of competition for the day. We'll have some work to do back at the shop." Malloy's run of 7.53 at 127 mph qualified him fifth and Larry Stanley rounded out the field with a 7.82 at 145 mph.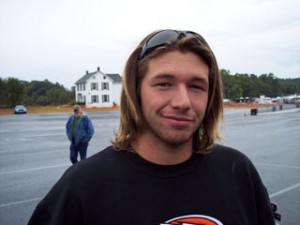 In Harley Davidson V-Rod Destroyer two competitors ran under the lofty AHDRA elapsed-time record of Don Stratton at 9.21.  First Wanda Poff clicked off a 9.19 at 146 mph, (which also surpasses Michael Ray's AHDRA mph record of 142) then No. 1 qualifier Doug Horne ran an impressive 9.18 at 141 mph.  "We tested yesterday and I ran a 9.17 so I knew the track was really good," Horne said.  "This is the best air I have ever ran in.  Last night the corrected altitude was about 300 feet and today it was about 650 feet. I think it had a 9.16 in it this weekend."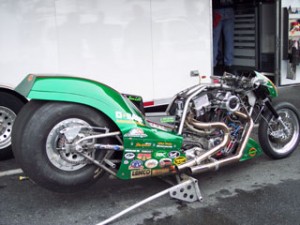 Unfortunately drizzles began after the Destroyer session and continued for quite some time.  After studying the radar the decision was made at about 2:00 PM to cancel the event. "We were off to a great start and we are really disappointed that this happened," Hannum's Harley Davidson General Manager Anthony Pierantozzi said. "Rain is one thing that is beyond our control but we will be back at it again next year."
Top Fuel Final Qualifying
1) Tracy Kile                6.46 at 212 mph
2) Jay Turner              6.57 at 189 mph
3) Dean Comunal         6.71 at 172 mph
4) Larry Brancaccio     6.92 at 175 mph
5) Bob Malloy               7.53 at 127 mph
6) Larry Stanley          7.82 at 145 mph
Modified Final Qualifying
1) Dale Raudenbush      8.57 at 148 mph
2) Dave Pressley           8.80 at 151 mph
3) Tom Hannum           8.82 at 147 mph
4) Lee Hitz                     8.84 at 149 mph
5) Lauren Long            11.15 at 85 mph
V-Rod Destroyer Final Qualifying
1) Doug Horne             9.18 at 141 mph
2) Wanda Poff             9.19 at 146 mph
3) Rider # 18               9.59 at 137 mph
4) Ronnie Fensick       9.62 at 138 mph
5) Dave Pressley         9.67 at 136 mph
6) Andrew Rosa          9.78 at 132 mph
7) Jim Young               14.96 at 51 mph