While we were waiting for the track to dry on Friday for the student's sixth and final pass at the George Bryce Drag Racing School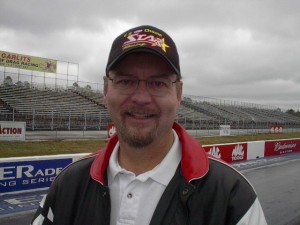 , I had the opportunity to engage in a candid conversation with one of the sports most highly regarded crew chiefs.
JK – After last year's impressive Pro Stock performances that included Angelle running 7.049 in Englishtown, NJ and Joe Koenig running 7.029 in Richmond, VA, it appears as if we are on the brink of witnessing the category's first 6-second pass. With Star Racing out for 2003, who will be the first to accomplish the feat?
GB – I really don't see anyone doing it this year in NHRA.  We were the closest last year with the 7.04.  Other than that I don't think any of the guys were closer than 7.09. There are not enough riders out there that really know how to sixty-foot.  The rider is a lot more important than the clutch tune-up or anything else when it comes to getting a good short time.  I think the motorcycle that we ran last year is capable of doing it with the right rider on it, and if all works out, that could be Fred Collis.  As far as Prostar goes, I think it can happen this year and if Fred rides Paul Gast's bike again, he could do it at the first race if the weather conditions are right.
Note – Collis went 7.06 on Gast's brand new TL-1000 during a test session at the last race of the year.
JK – You and Angelle have gone your separate ways this year after competing together every season since 1996.  Do you foresee a future with Angelle and Star Racing in years to come?
GB – No.  I think we are split.  Nothing negative but it's a closed chapter.  I'm not going to say that we would never consider it, but I feel it's time for a change.  Even if we get the business side of this thing back on our side and things are going as good as can be, we still need change.  Angelle and I are still working on a few small projects together.  We are coming out with a TL-1000 diecast.
JK – You have had a tremendously successful career both as a rider and a crew chief.  If you could go back and relive one race, which one would it be?
Note – George thought for several moments and was a bit reluctant to answer the question.
GB – That is so hard to say because there have been so many great weekends.  If I had to pick just one I would have to say the 1989 U.S. Nationals in Indy with John Myers.  We were faced with so much adversity.  We were at a crossroads with our business and overdrawn in our checking account.  We had to borrow money from my wife's parents just to make it to the race.  We had just built a brand new GSXR, and we worked so hard to get it just right.  This bike was perfect when we were done with it.  We tested at a local track before the race and ran under the national record.  I thought we were in for a great weekend but when we got to Indy we found that we were 40 lbs under the minimum weight!  I literally borrowed weight from every single racer there. After we put the weight on, we didn't know what to expect.  John got on the bike and set a new track record in the first round of qualifying.  Afterwards Keith Gray came up to me and offered me $75,000 cash for the bike. At that time a Pro Stock bike was only worth $30,000-$40,000.  So I had a lot of thinking to do.  I couldn't sleep that night.  I had no money, but this was the bike we put so much time and effort into.  I didn't know what to do, I just prayed and prayed.  The next day a gentleman from the Wax Shop approached me and started talking about the bike.  He said, "Is this bike quicker than Dave Schultz's Eagle One (a major competitor in the wax industry) bike?"  I said so far this weekend it is.  He gave us some polish and Wax Shop stickers and told me that he would give us a bonus every time we beat an Eagle One sponsored bike in head-to-head competition.
By the end of the weekend we had set a new national record, won the race, and collected an extra $2,000 from the Wax Shop.  It was great.  It was John Myers' first win.  He was in shock.  The TV crew went to interview him at the end of the track and he didn't know what to say.  All he could utter is, "Where's George?"  At that point I walked over and told Keith Gray I couldn't sell the bike because it was worth way more than $75,000.  It was a very special weekend for me. It was a turning point for us. Following the U.S. Nationals we qualified #1 at the next 17 events.
Note – Many racers dream of someday winning NHRA's most illustrious race, the U.S. Nationals. Star Racing has won it on several occasions with three different riders; George Bryce, John Myers, and Angelle Savoie.
JK – With the emergence of Top Fuel Harleys in the NHRA scene, how do you feel about the current state of the Pro Stock Bike class and it's security within the organization.
GB – I think the Nitro Harleys will be a test for fan reaction.  I don't see them as a threat to the Pro Stock Bikes.  They won't be competing with Pro Stock for publicity, they run at separate events.  But if that ends up being the direction NHRA goes (T/F Harleys) then we will go with the flow.
As for the state of the Pro Stock class, it has improved every year and I think it will continue to get better.  We are in the drivers seat.  If I don't field a team, I will walk around the pits and tell everyone that the responsibility is on their back. I buy my baby clothes and food on racing, so of course I want it to grow.  We have come a long way in the last few years.  The dream has definitely come true.  We have got a lot of notoriety over the years.  I would love to be back out there, but it takes about $400,000-$500,000 to defend a championship. I don't want to paint a bad picture by not returning, but we needed to work toward a sponsor, much of Angelle's time was spent working toward her dealership, so it was hard.
JK – When we will see Star Racing back in competition?
GB – I don't know.  I would like to do it again someday.  But right now I'm just going with the flow.  I've never been this available.
Note – I asked George if he knew who Paul Gast's new crew chief would be.  With a smile on his face, he said "Maybe me.  I have never been this available."
Word Association
I threw a few words out and asked George to respond to me by telling me the first word or phrase that popped into his head.
JK – Angelle?
GB – Champ
JK – PowerAde Championship?
GB – Tuxedo
JK – John Myers?
GB – Hero
JK – Fred Collis?
GB – Calzone  (laughs)
(Like many other Pro Stock riders, Fred has been on a strict diet but decided to indulge in a calzone and fries at the Gainesville Ale House the night before. Consequently, George wouldn't let Fred live it down and he was the butt of several jokes, to which he would respond "It's not easy being Freddy.")
JK – Prostar?
GB – Scooter
JK – Matt Hines?
GB – Empty spaces in my trophy case.