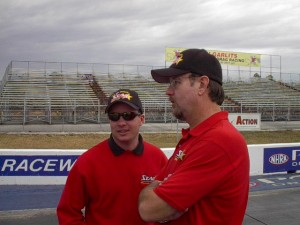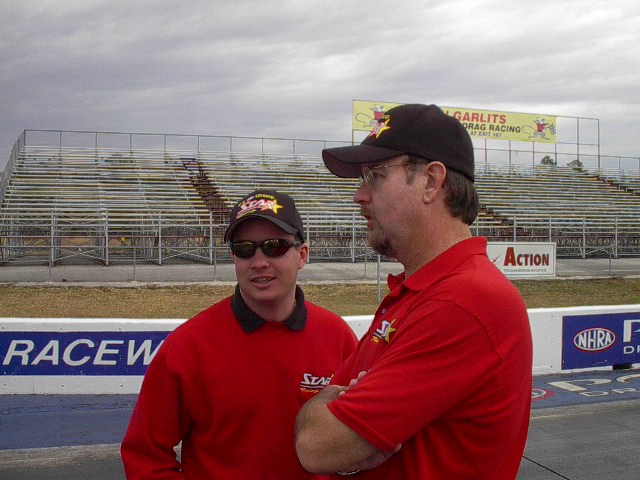 After attending Frank Hawley's Funny Car school in 1985, as a present for winning the Funny Bike championship, Star Racing owner George Bryce wanted to create a similar school focusing on the intricacies of two-wheel racing. Hawley agreed that a motorcycle school would complete his series of classes and decided to add Bryce as the instructor.  Since the inception of the class, Bryce has put over 600 racers through the school, accrediting many of them with NHRA Pro Stock licenses.  Bryce has created a place for young riders to learn the ropes and veteran rides to hone their skills.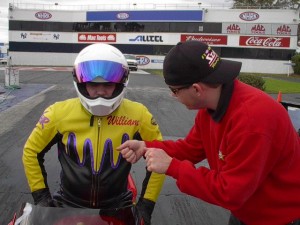 "I like the way it makes me feel to help other people out," said Bryce.  "When I see these guys improve I get the same feeling that an elementary school teacher gets educating students."
Much like Bryce's racing operation, the school has become a total team effort.  Experienced crewmembers Ken "Big" Johnson, and Jason Jones worked diligently to keep the two Seven second Pro Stock bikes in top-notch condition.  Former two-time Prostar champion and graduate of the school, Fred Collis was there to assist Bryce in instructing and critiquing the students.
Collis stated, "In the beginning this school was training for me.  Now I am to the point where I enjoy helping other drivers advance.  It feels good to give back to the sport.  If we didn't have this school there wouldn't be nearly as many good drivers out there."
By focusing on each individual student, the school caters to racers of all types of motorcycles, not just Pro Stock.
"I didn't want the class to be cast in iron," said Bryce.  "We adjust to meet the individual needs of each student. It doesn't matter what kind of bike they ride, we just focus on making sure each rider improves."
Bryce's in-depth discussions emphasize such aspects as the importance or peripheral vision, mental preparation, and the responsibility of the rider to fully understand the complex timing equipment. This two-day course allows riders a total of six passes, with the students shutting off the throttle at different points on the track, starting with 60 feet, followed by 330 feet, 1/8 mile, 1000 feet, and two full quarter-mile runs.  Bryce stresses to each rider how throttle control is an essential part of motorcycle drag racing that can save racers not only money on equipment but on hospital bills as well.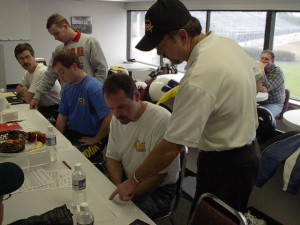 After each round of runs the group assembles back to the classroom to examine films of the runs along with on-board data from each of the bikes.
Bryce's formula for training a rider to become a champion resembles that of many world-class athletes in all types of competition. Bryce explained that a rider must program his or her subconscious by mentally visualizing every characteristic of a run over and over again.  He went on to discuss how it is necessary to make the visualizations so realistic, that the mind cannot distinguish between imagination and reality.  At the conclusion of the class on the first day, Bryce gave each of the students a homework assignment.  He told them to go back to the hotel rooms and visualize a perfect run several times.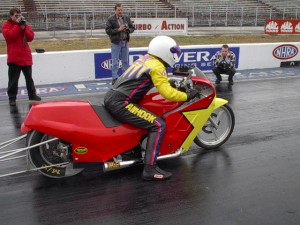 Positive results were clearly evident the next day as each rider shaved a great deal of time off their 60 ft and elapsed times.  "Some of you may not have improved as much as you wanted to, but you all have improved a lot," Bryce told the class.
When it comes to motorcycle drag racing, Bryce is a strategic genius and a wealth of knowledge with 6 NHRA championships to prove it.