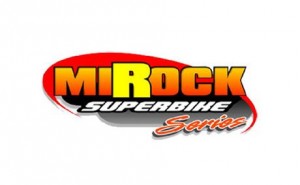 After a record-setting dynamic "no-bar" season-opener at the Rock, competitors are preparing for round two this weekend at Maryland International Raceway.
As always the Fast by Gast MIR Showdown Series will be running Schnitz Outlaw Pro Street, Mickey Thompson 60-Inch, Superbike ET, Street ET, and Quick 32.  New this year is the "Heavy Weight Shootout" category designed for riders weighing in at a minimum of 240 pounds.  The bikes must be equipped with DOT tires, front and rear, and of course no wheelie bars.
MIR has changed Saturday's format to better accommodate races traveling several miles.  Gates will now open at 2 pm on Saturday with racing at 3pm.  There will be nighttime qualifying sessions for the pro bikes along with a gamblers race for the ET gang.  Remember that each new day is a new race for the ET classes and new entries will be accepted for Sunday.
At the first race in Rockingham, Matt Smith laid down a track sizzling 7.41 to take the Outlaw record away from defending champion, "Fast" Joe Long.  However, Long answered right back with a 7.37 to reestablish himself as the record holder.  MIR is only 80 feet above sea level, so if atmospheric conditions permit, Long will have a very good chance of further lowering the mark this weekend.  "We have got the baddest Outlaw bike out here and I think we will continue to dominate at MIR," Long said.  "You will see 7.30s this weekend."
The new and improved Mickey Thompson 60-Inch class is boasting more entries than ever, with an astounding 27 bikes entered in competition at the Rock.  Factory-backed riders such as Rickey Gadson, Barry Henson, and Brock Davidson, are among the many that have fielded entries this year.  The diversity of the class is quite astounding, with all four major manufactures represented.  Doug Witt proved that the older models can still be competitive as he took the number-one qualifying spot on his 1987 GSXR.
Don't forget there will be grudge runs each day, a wheelie contest on Sunday, and of course the famous MIR Bikini Contest.