After a tremendously successful rookie season in AHDRA's V-Rod Destroyer category it seems Douglas Horne's success has followed him into the Pro Fuel category.
2006 AHDRA Sportsman Rookie of the Year Douglas Horne made the daunting jump to the nitro methane-burning Pro Fuel class look easy at his Pro debut, the AHDRA Bikeweek Nationals from Gainesville, Fla. March 2-4.
During the off season Horne, who finished the 2006 campaign No. 7 in the ultra-competitive V-Rod Destroyer point standings, hired two-time defending AHDRA Top Fuel champion Mike Romine to build him a sate-of-the art Pro Fuel bike for 2007.
At the season opening event, persistent Gainesville rain showers wouldn't allow Horne to make any test passes on his new machine, but during his one and only license run Horne clocked a very respectable 7.08. He shut off the throttle at approximately 800 feet, to which point the pass had all the makings of a six-second run.
"It was amazing," Horne said.  "Mike Romine built us an awesome motorcycle.  It performed strong right out of the trailer."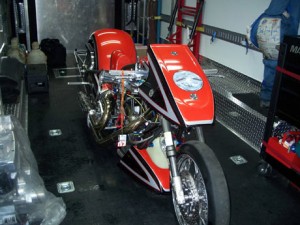 Along with racing his new six second beast, Horne will continue to compete in the V-Rod Destroyer class as well. At the Bikeweek Nationals Horne advanced to the Destroyer semifinals and ran as quick as 9.14.  Horne admits there aren't many similarities when it comes to riding the Destroyer and the Nitro bike.
"It's very different," Horne said.  "After riding a (Pro) Fuel  bike I feel like I have time to wave to the crowd when I ride my destroyer, and the Destroyer is a very quick bike. In Pro Fuel everything just comes at you so fast it's hard to describe.  It's like warp speed."
One of the very few similarities between the machines are the near identical luminous paint jobs. Horne decided to match the paint scheme of his Destroyer and run the traditional Harley Davidson colors on his Pro Fuel bike.
For 2007 Horne is eager to gain some valuable seat time and possibly even contend for an East Coast championship.
"We are going to try to run all of the East Coast races and as many of the West Coast races as we possibly can," Horne said.  "I'm very excited."
Next up for Horne will be the AMRA Spring Rally in Bowling Green, KY, March 25th and the AHDRA Arizona Bikeweek Nationals from Phoenix, Ariz. March 31st – April 1st.
Horne thanked all of the 2007 sponsors Chesapeake Harley Davidson, Ramsey Ford, Cecil County Dragway, Maryland Portable Concrete, Mid-Atlantic Supply, Fred's Welding and Steel, Romine Racing, and Horne Concrete and Construction.
The team extended a special thanks to crew chief Rex Harris.