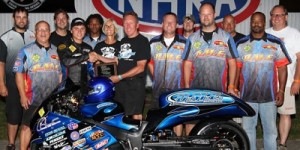 DME Racing's Dimey Eddinger knows what it takes to win heads-up, no wheelie bar racing.
Eddinger is calling on his many years of experience to prepare his team for victory at what he believes will be the biggest Pro Street race in history, the Orient Express Battle Royale at Maryland International Raceway, October 4-5.
The winner will receive $10,000 – an unprecedented purse for the class.
"I think you will see over 45 entries," Eddinger said. "We've spent the past few weeks going through all seven of our motors to make sure everything is perfect. We checked or replaced every piston, rod, valve and bearing."
Perhaps living just five miles from revered NASCAR powerhouse, Richard Childress Racing, has helped inspire and condition him.
The successful, Winston-Salem, N.C. business owner has been involved in the sport for nearly his entire life and has been a fixture in MIROCK since the series' inception.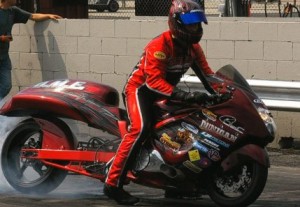 Eddinger manages a three-rider team which consists of Joey Gladstone (best run -6.95, ranked 4th in the world) , Terence Angela (7.03, 8th) and Jason Dunnigan (7.11, 15th).
This high-stakes, high-profile race has attracted the world's quickest street bike jockeys like Ryan Schnitz (6.907, 1st) and Tony Ficher (6.908, 2nd). The event will even bring former champion Mike Slowe (7.15. 19th) out from hiatus. The high caliber of competition can be overwhelming and intimidating. Eddinger's message to his team is, "concentrate on consistency."
"Everybody is going to want to go fast, but a guy running consistently in the 7.0s will have a better shot than the team that goes out there and tries to run 6.80s," Eddinger said. " Those guys who are set on kill will eventually hit a round where they wheelie or spin."
Eddinger retired from riding at the end of the 2011 season to put more time into running his business and guiding his team. His personal best in MIROCK is a 7.16 – a number that still has him ranked in the top-25 worldwide.
"I'm excited for the race," Eddinger said. "We will be bringing a ton of parts. If any of the many racers need anything at all, we will have them covered. Just come over to the DME trailer."
Eddinger's experience and preperation could very well lead his team to a $10,000 payday on Oct. 5th.
For more visit DME on the web.
Complete payout –
Pro Street Main Event (#1-16 Qualifiers)
$10,000 …….. Winner
$1,500 ….. Runner-up
$250 ………….. Semis
$150 …….. 1/4 Finals
$100 ………. 1/8 Finals
$500 Bonus to #1 Qualifier from DME RacingPro Street "B" Class (#17-32 Qualifiers)
$500 …………. Winner
$100 …….. Runner-up
$50 ……………. SemisPro Street "C" Class (#33-48 Qualifiers)
$250 …………. Winner
$100 …….. Runner-up
$50 ……………. Semis