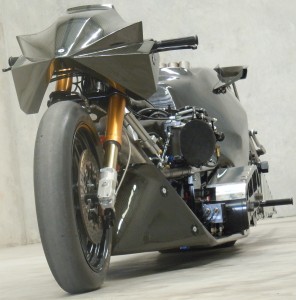 Australian Multiple Top Fuel Motorcycle Champion Chris Matheson and his Nitro Voodoo Team are in preparation to return to the Australian National Drag Racing Championship after a terrifying high speed crash earlier this year at Sydney Dragway.
Matheson was blown off his 1500 horsepower motorcycle at over 230 mph (370 kph) as he crossed the finish line whilst reaching for the rear brake lever.  Matheson suffered multiple injuries and underwent two operations to recover from the accident.
Matheson said a foot full of titanium screws and plates holding his shattered foot together is a reminder of the sport we love to enjoy!  Sure, the risks are there, however, you can hurt yourself falling out of bed!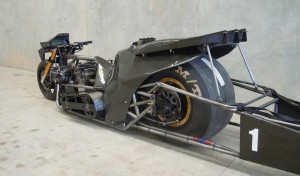 The new Top Fuel machine has a number of upgrades including improved aero dynamics, chassis modifications, larger supercharger and numerous other improvements.  We have had nearly four months to re-group and prepare for the next chapter in our quest to run lower numbers and set more new records. 
Matheson holds the Australian ET and MPH record of 6.043 and 241.8 mph, however, is focused on getting back in the groove and returning to his dominant winning style, which has seen him win 3 consecutive Australian Championships.
Matheson said he is keen to race, but mindful of getting back up to speed, both mentally and physically, all in good time.  We are heading out to our home track to complete testing with the new machine.  "We have to reset the bike to ensure it behaves under full power and is stable at high speed before we get back up to where we left off performance wise, earlier in the season". 
The ANDRA Pro-Series Championship is nearing season end, with only two more rounds remaining.  Matheson is currently second in the points chase behind Chris Porter of Bad Bones Racing, despite missing two of rounds due to injury.
Matheson said Porter and his Bad Bones Racing Team are the consistent fast front runners in the Championship and have been all year.  They will be a hard act to beat, I have seen the dedication they have at and away from the track and that's why they are leading the Championship.
Thank you once again to our Sponsors & Supporters:
WebCam, Red Line Oils, RB Performance, Rocket Industries, CRC Industries, PDS Graphics, Kitten Car Care Products, GT Radiators & Machining, Vance & Hines, Hi-Side Leathers, PR Factory Store and special thanks to Larry "Spiderman" McBride & Steve McBride.