Here's a few observations from my various wanderings about the track and grounds of the South Georgia Motorsports Park during the MANCUP World Finals, presented by Kibblewhite Precision Machine and the Mann Hill Garage on November 12/13/14, 2015. Please note the race was run November 13/14/15, but I was not present on the 15th, due to work commitments.
Did you happen to notice?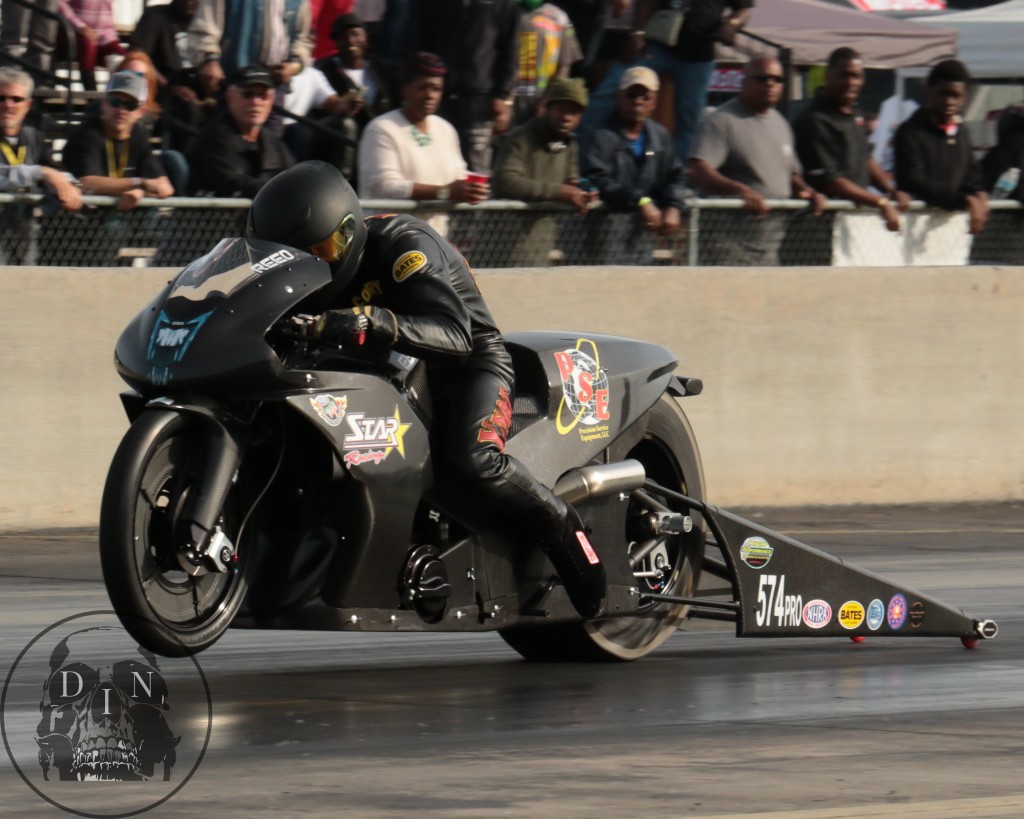 George Bryce and the Star Racing team were really having a ball at the 2015, MANCUP World Finals race. They could have been at most any race track in the USA that weekend, but they decided to hit SGMP and enter their newest P/S bike and rider into competition at the MANCUP race. Why? Because there's no substitute for seat time, that's why. A dyno can only tell you so much. If you want to know what a drag bike and a racer can and can't do; you have to address the 1320 dyno directly. Wise man that Mr. Bryce.
AND BTW: Did you notice how well Corey Reed handles himself on a drag bike? Took me about 30 seconds to be impressed with this kid. He throws a leg over an NHRA P/S bike like he's mounting a Schwinn headed to the corner store. He's totally comfortable on the bike. NHRA P/S bike will have a completely different list of Top Ten racers by mid-season 2016, mark my words.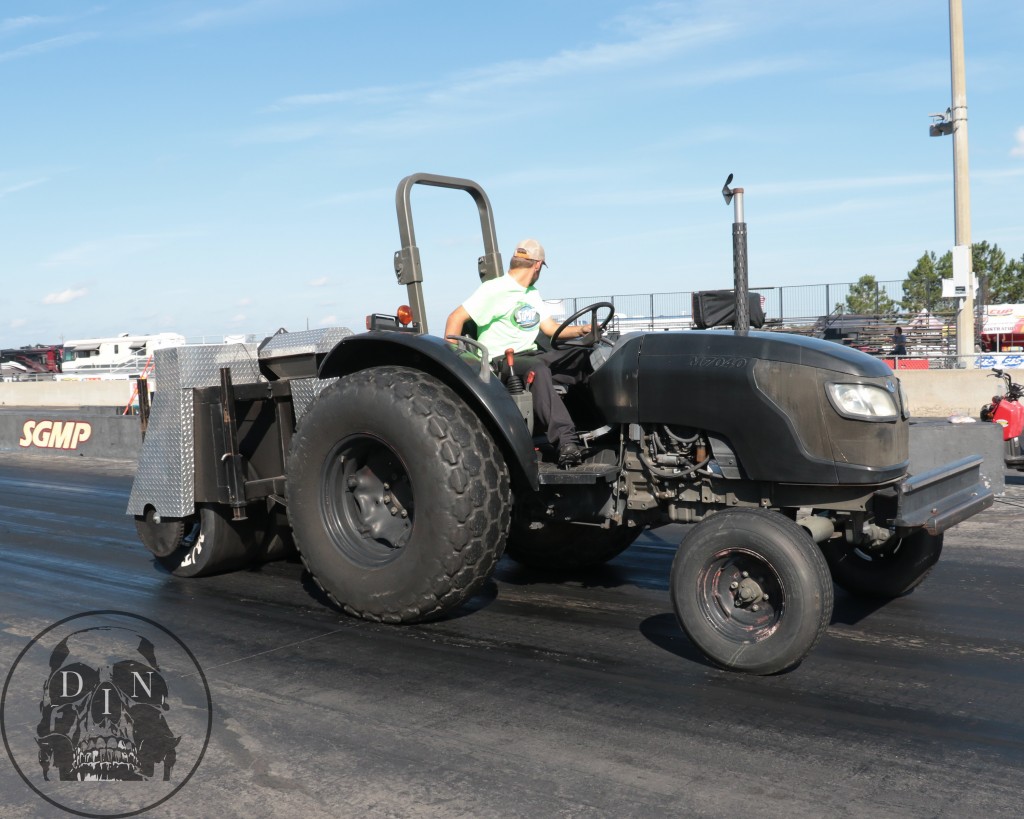 Did you happen to notice the level of track prep and track surface attention by the SGMP staff? They have state-of-the-art machinery and they did a hell of a job of doing all that was physically possible to give MANCUP racers a great racing surface. And they did this from Thursday through Sunday. Joey Gladstone's 6.49 on a single motorcycle street tire and Dave Vantine's 5.77 attest to the fact that the SGMP race track is indeed a great racing surface. World class numbers baby.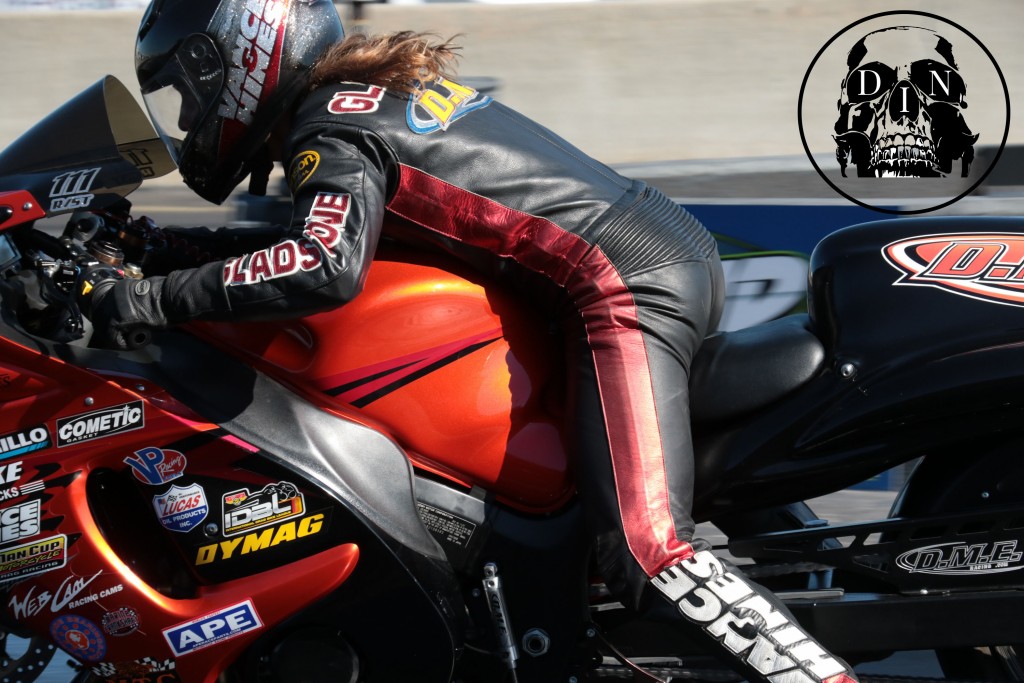 Speaking of the Gladstone gladiator, did you notice what he ran in practice on Thursday on the Real Street bike on a test lap? How about a 7.76 @ 176!! Now here's the cool part you don't know if you saw that lap like I did: he did it without a shift light. While doing the 1320 boogie, the shift light slipped out of its mount and dropped out. That's ok, he knows when to shift.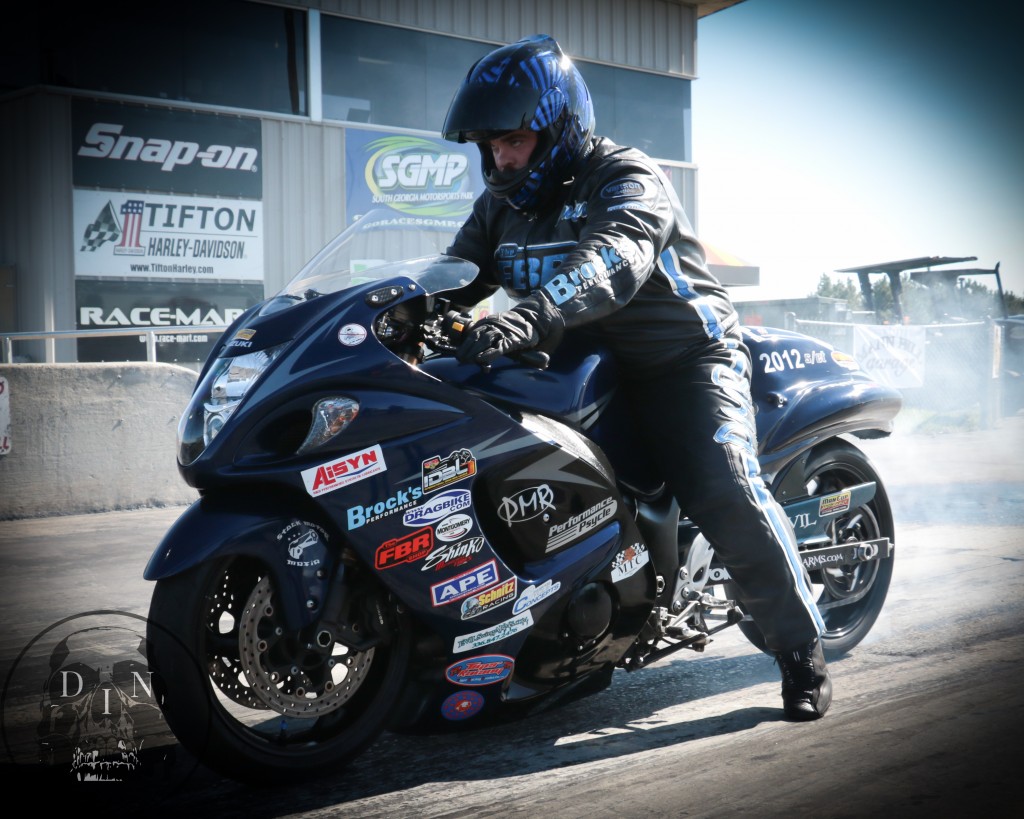 Did you notice who made the most test laps on Thursday? I'll give you a hint, he's got a blue drag bike, matching leathers and he's one of the winningest sportsman racers in MANCUP racing. I've said it before and I'll say it again: There's no substitute for seat time. It's not an accident this BAMF wins as many rounds of racing as he does – he works for it. And he's not alone in the hard work department.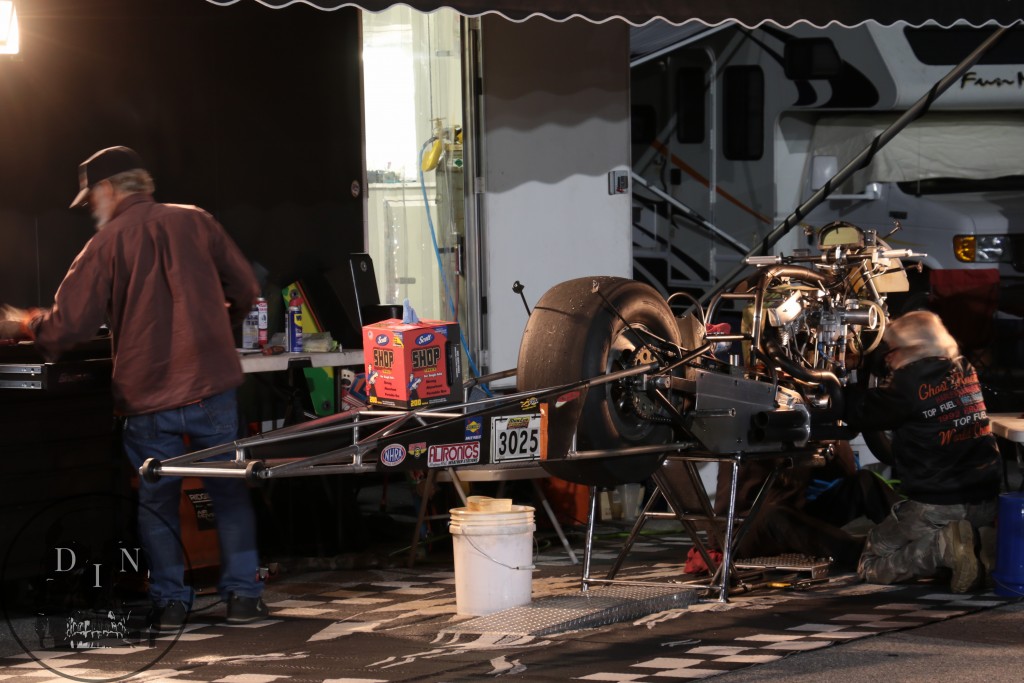 Hard work is a given if you're going to race a fuel bike, lots of hard work (and money too). Did you happen to notice Dennis Fisher and his team working on their Pro Fuel Bike until Midnight on Friday night? At exactly 11:58PM Friday night, they plugged the starter into their bike and chugged the motor over at a brisk pace. The team finished #2 in NHRA P/F points this year and they are a win looking to happen. Dennis is a menace, so keep eyes on him.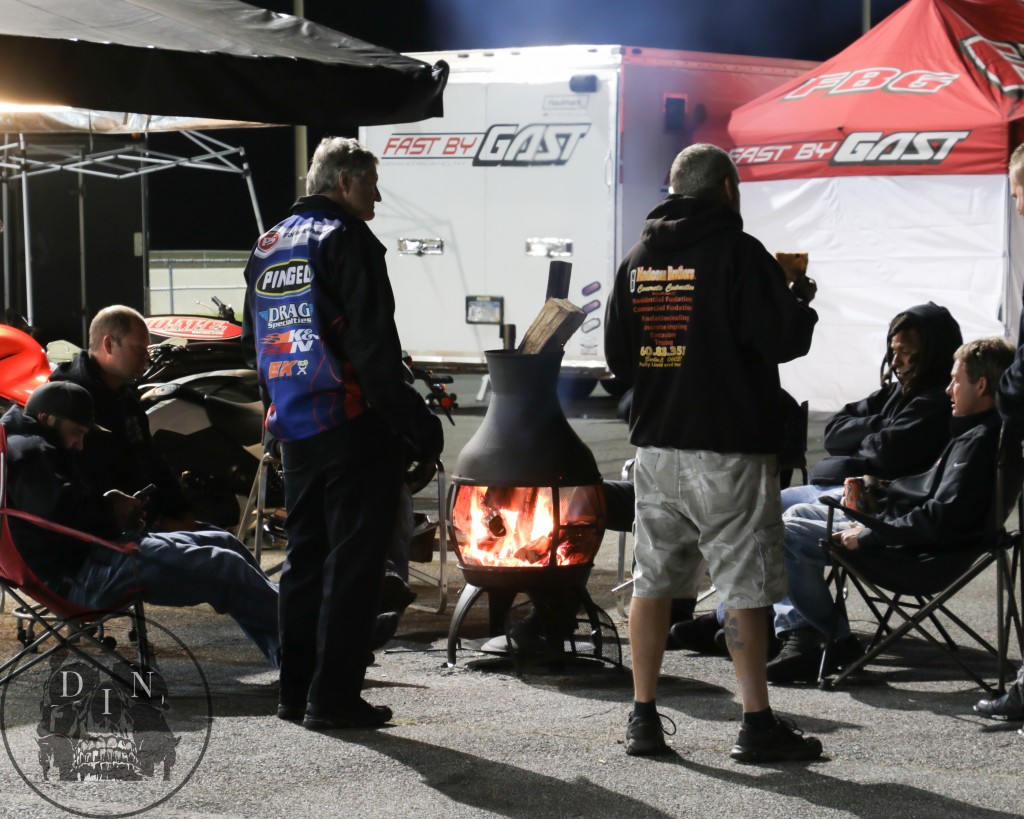 Did you notice how chilly it got in the pits Friday night? Team DME was ready for this and one could not help but notice their fire bit blazing around 11:30PM, just across the lane from Dennis Fisher's nitro Harley. The camp fire guys were all swapping war stories after midnight, enjoying the last race of the season to the MAX! Smart people, no wonder they do well at racing, they love it.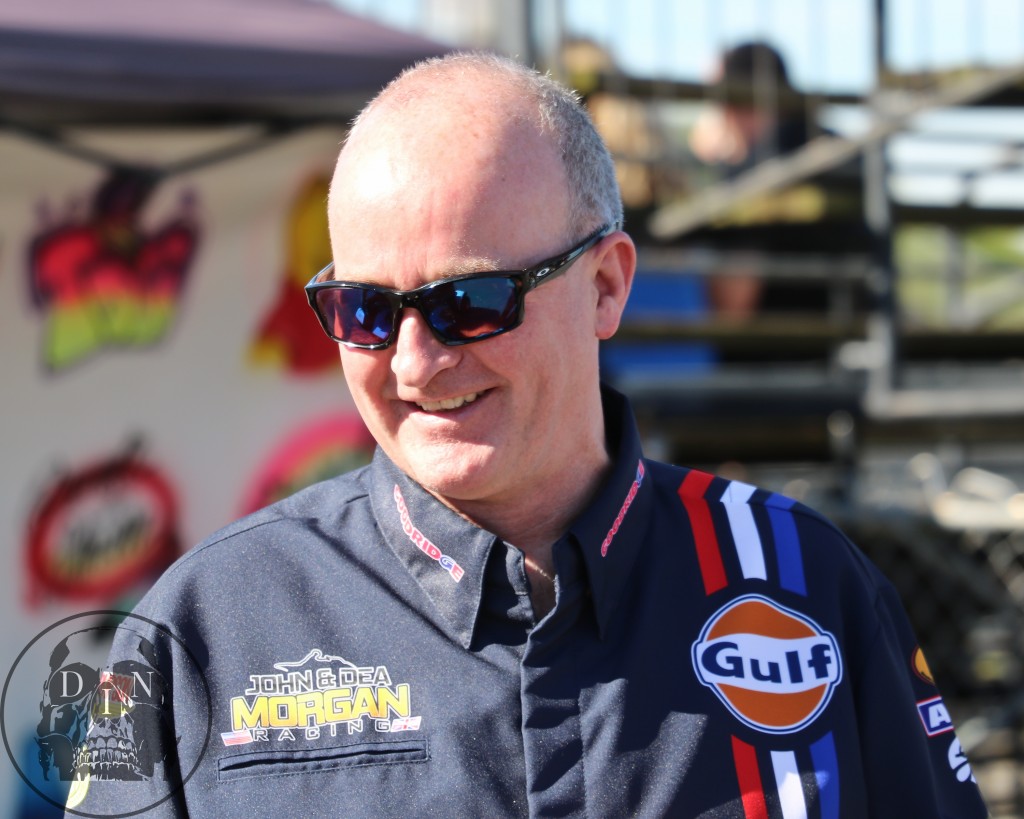 In wandering the pits, I noticed the King was in attendance and watching closely. That's right, eight time European Top Fuel bike champion Ian King was in the house all weekend checking out the action. I've no doubt he's pleased that in 2016, the MANCUP will likely see its first full eight bike field of inline four cylinder Top Fuel bikes. That Mr. Puma, his bad-self, was at the World Finals is a vision of things to come. Very good things from very bad, bad things…five second things.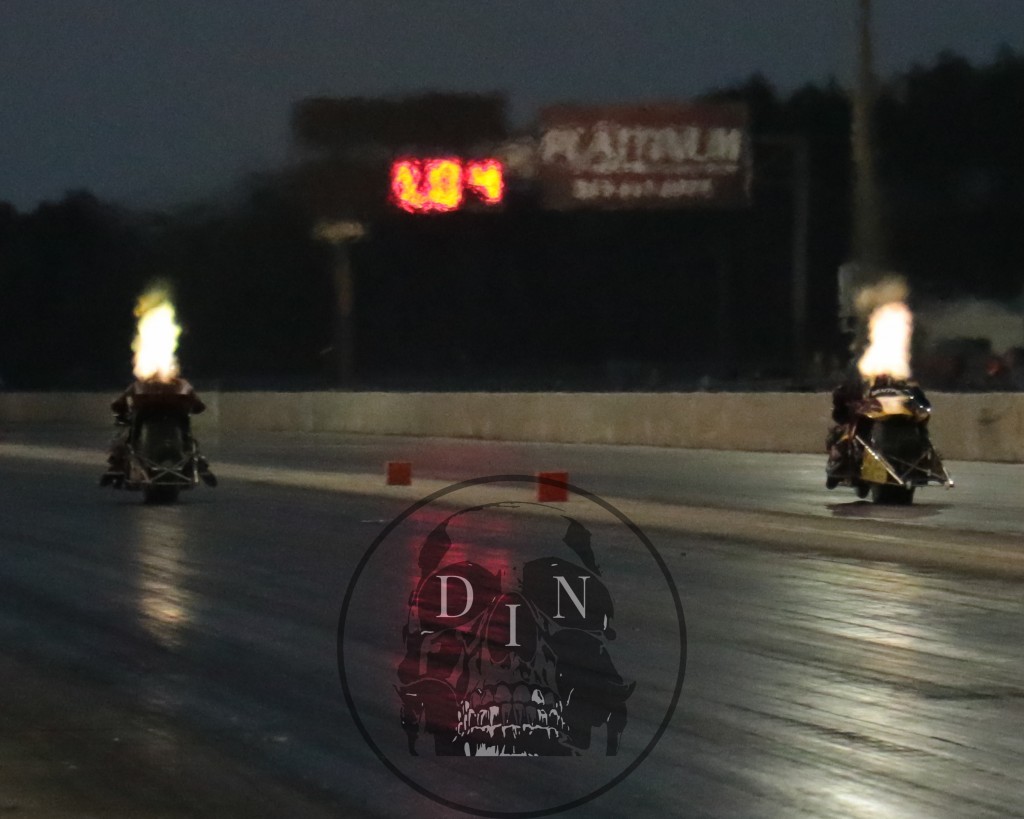 THIS SUCKS is how I was greeted on the starting line by one of Top Fuel bike's most prominent citizens at the MANCUP race on Friday evening. He was ingloriously perched on a cement barrier by the Chief Starter, with his arms folded, watching fuel bikes go thundering by while I was engaged in my photography duties – loving life. Did you all happen to notice Larry McBride's entire T/F bike team was at the race? Being a racer and not racing sucks, I agree. Name not important, warrior spirit: priceless.
Darkness in the shadow of the Hable – Did anyone happen to notice a nutter in a Prius Hatchback at 1am typing out a story and photos on Friday night? The Hable Racing motorhome and rig was sparked in such a way at SGMP, that it blocked the light and gave great darkness to the nut case in the Hatchback Hotel. Thank you by the way to Hable Racing for dark spot so I could get some sleep.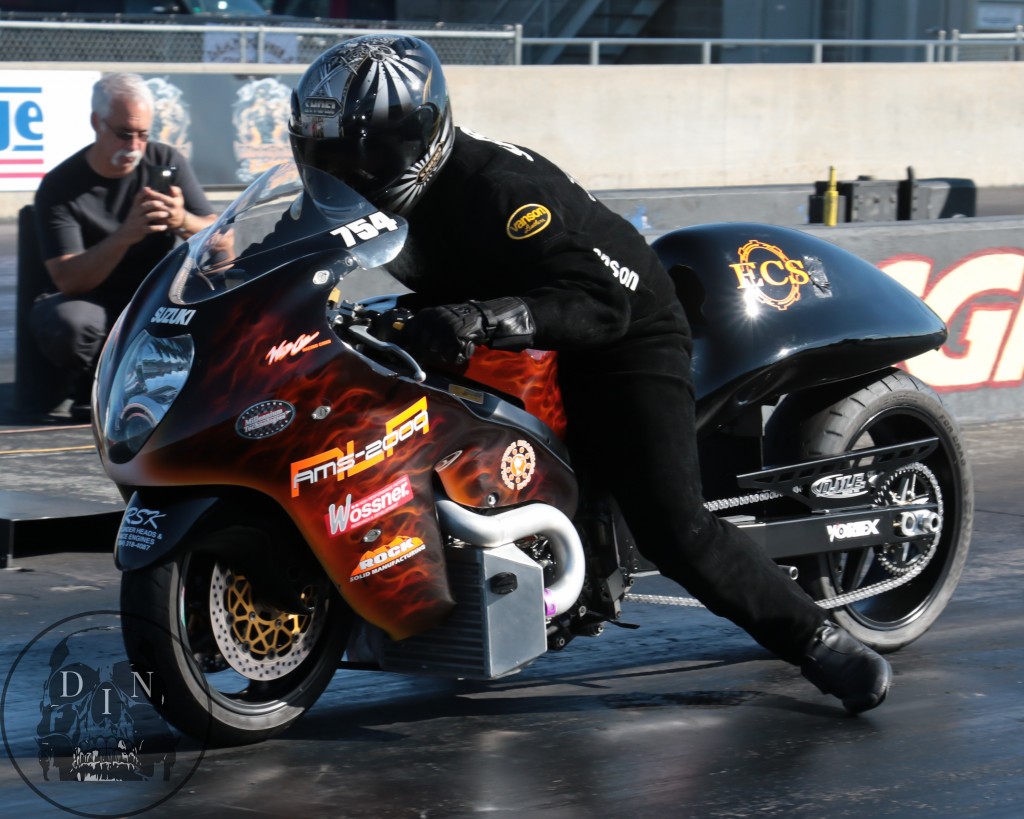 Did anyone other than me notice that gorgeous black and gold, with fire – Pro Street, bike of Walter Sprout? That bad boy is near show bike quality. If the MANCUP sanction had a best appearing bike award, that bike would have killed it.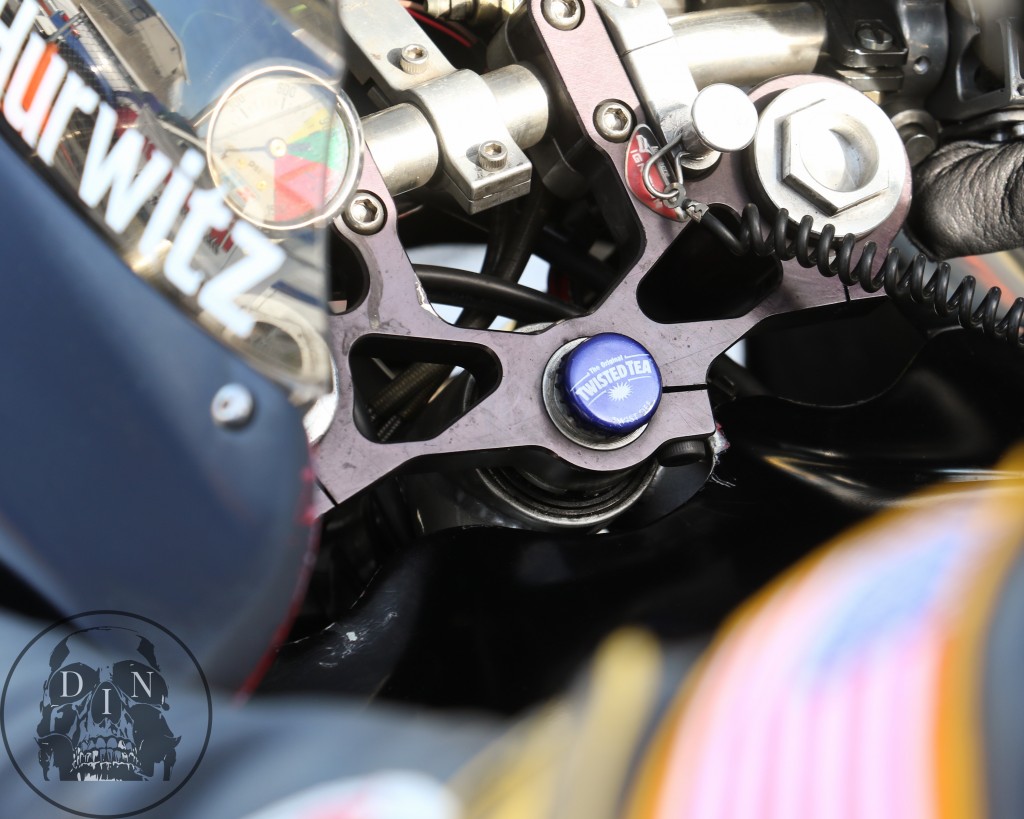 Ho's in the house – Did anyone notice Team Ho in the house at the MANCUP race? They hail from the ever-so-proper, Boston, Massachusetts region. A close inspection of their race rig license plate will reveal that these Yankees, traveled over a thousand miles just to get in one more racing fix before the snow flies. If racers look closely at their race bikes, they'll see who's on Team Ho. As one can imagine, these racers get around…a lot.
Did you notice DRR was also in effect at the MANCUP race? Who the what? Death Row Racing, that's who and as to what, if you're a sportsman racer and you encounter one of the DRR racers, you'll likely be seeking a buy back or have a shortened racing weekend. No they are not real G's and don't pretend to be, but really, as far as sportsman racers go, these guys are as tough as they come. They all park their rigs in a row near one another, and they effectively eliminate fellow sportsman racers like crushing ants, hence the loosely stated, self titled, DRR.   It's a serious sportsman-racer-insider thing. They are easy to spot, look for them next race, you'll find one or more of them in the winner's circle after the event. They use Ho's like, well…..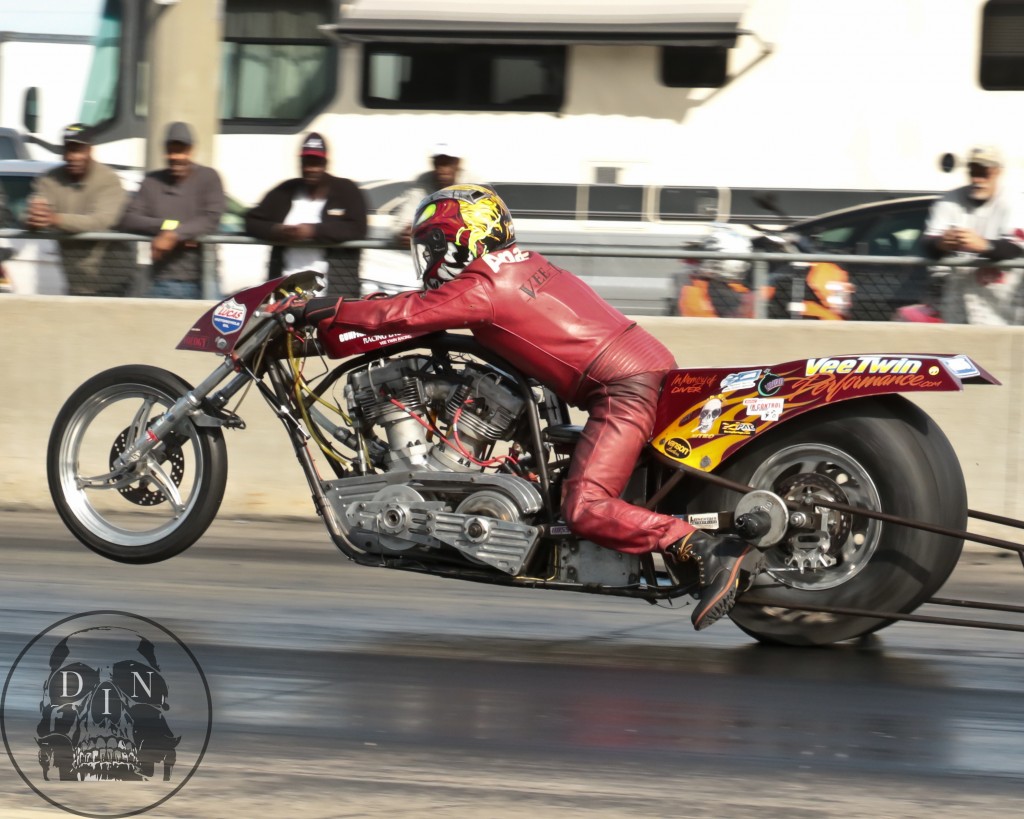 And here's something you didn't notice: Rocky Jackson had some mechanical issues to deal with after Q-2 and Rockstone and his team were trashing to get ready for the third and final qualifying shot when they found they needed a part. Rocky's lady, Shane, strolled into the Kirby Apathy pit area looking for a little help and Kirby said to his team "get her whatever she needs." There was a brief flurry of activity and Shane was on her way back to Rocky's pit area. Kirby then blurted out "I don't want him to not be out there, I want him racing. I don't want to win like that." Kirby was referring to the fact that he and Rocky were in a close points, championship race, and Kirby did not want to win a Pro Fuel championship that way, buy the points leader being out from breakage. That's not how he races, and that's why he's so well respected by his peers.
It's good to notice these things.