It was an emotional Jerry Savoie that addressed the crowd and media following his Pro Stock Motorcycle win at the NHRA Chevrolet Performance U.S. Nationals on a day that—according to Statman Lewis Bloom—all pro class winners collected U.S. Nationals Wallys for the first time.
Only .001 of a second separated Savoie and fellow-finalist Chip Ellis on their semifinal passes, so the final was set up to be one of the best of all time. And with Savoie on a Suzuki TL1000 and Ellis on a V-Twin Buell, it was exactly the kind of match-up that the diverse PSM class thrives on.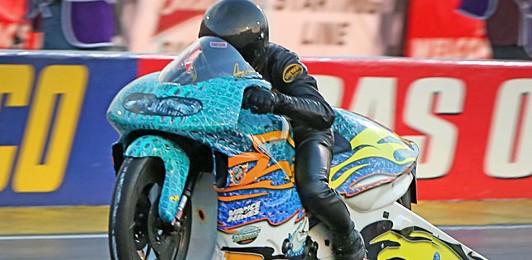 Ellis rode for Savoie a couple of years ago when Jerry was recovering from neck surgery. Savoie and Ellis' bike owner Junior Pippin are good friends—both self-made, blue-collar businessmen who can be found working hard all day, everyday. Pippin is currently working hardest on a serious battle with cancer, and after a pre-race prayer in the staging lanes, the feeling was that a win for one was a win for all.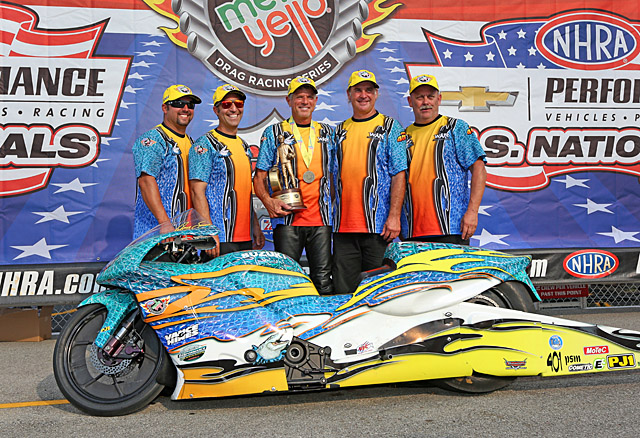 But there was still a matter of trophies and checks to be settled on Lucas Oil Raceway's quarter mile just outside of Indianapolis, and the White Alligator Racing team rolled up to the starting line anything but certain of how their bike was going to perform.
The team had to replace the entire clutch set-up after the semi. "The whole clutch was just melted," said crew chief/tuner Tim Kulungian, who put in a new basket, bearing, plates—everything. "Normally the clutch is one of the most predictable parts of our program. But to get it to do what we want to do has required a lot of clutch, a lot of plate load. It was working pretty much the way we expected it to this weekend 'til the semis. There was nothing in my tune-up that should have caused that, but it still ran a respectable number (6.878 at 194.77 mph over Hector Arana Jr.)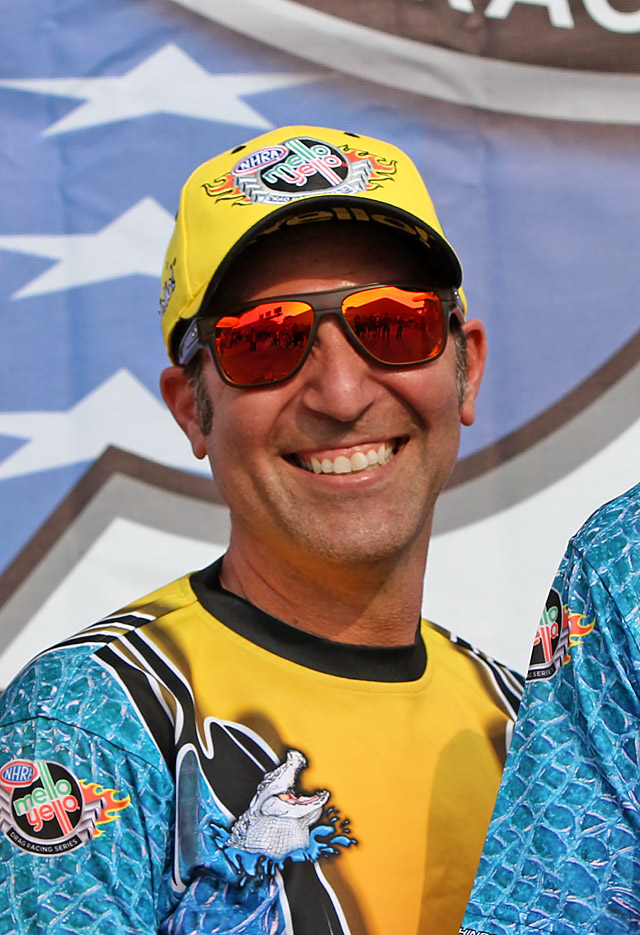 So Kulungian had to apply a tune-up to the whole new set-up as best he could for the final. "The biggest variable you could possibly have thrown at you! I did my best to come up with a tune-up, but it just spun."
Savoie found some racing luck when he needed it most as Ellis redlit.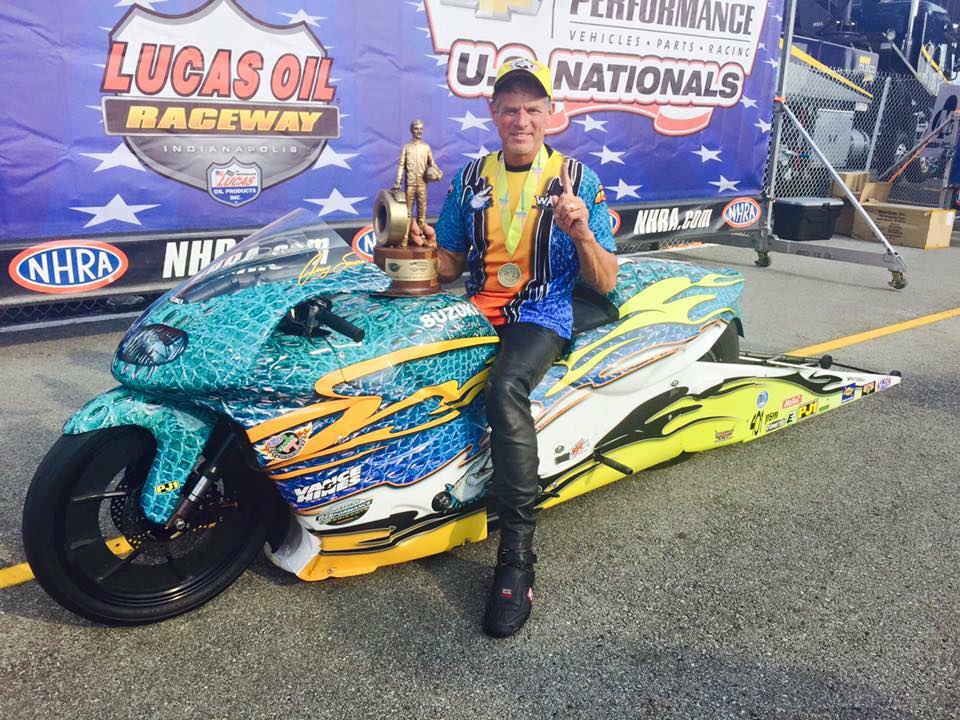 The problem also could have been the broken wheelie bar brace the team found while pushing the bike back after the win. "That definitely could have unloaded the tire," said Savoie.
It was a well-deserved victory for a team that started the weekend fast right off the trailer, running 6.93 at 192 mph to lead the first full qualifying session. "It's hard to do that," said Kulungian. "We're not like that every weekend, but when you can come off the trailer and be very competitive like that, it puts you a step ahead."
True enough, as runs of 6.896, 6.900, and 6.908 followed and Savoie finished third in the qualifying order.
Eliminations opened with a competition bye when Chaz Kennedy couldn't get his Buell in gear, and Savoie ran a very quick 6.877. Then after cutting identical reaction times, Savoie's Suzuki outran Steve Johnson's 6.896 to 6.945 for the round 2 win.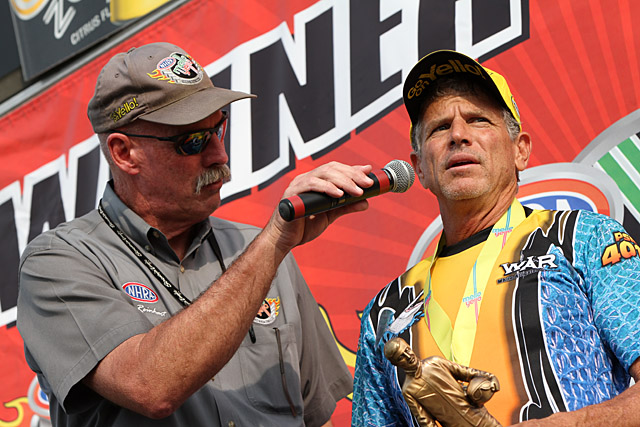 That round qualified Savoie and the WAR team for NHRA's Countdown to One championship playoffs, which begin when the teams unload for the 8th Annual NHRA Carolina Nationals on September 18-20 at zMAX Dragway in Concord, North Carolina.
"If Jerry keeps doing what he's doing, and I can find the power and get a hold of the clutch tune-up, we can have a very competitive program the rest of the year," predicts Kulungian.
Watch Jerry Savoie's US Nationals race winning press conference
Jerry Savoie thanks Eddie Krawiec, Byron Hines, Terry Vance and everyone at Vance & Hines, E3 Spark Plugs, High Performance Lubricants, PJ1, crewmen Jeremy Derouche, Rick Elmore and Steve Zellman, Kulungian, his whole family, and the staff of Savoie Alligator Farm.
For more information about Jerry Savoie and White Alligator Racing go to http://www.whitealligatorracing.com/