In Pro Stock Motorcycle, Savoie took home his second victory of the season with a 7.011 at 193.02 on his Savoie's Alligator Farm Suzuki, beating No. 1 qualifier Chip Ellis who fouled out at the start on his PiranaZ/Pippin Motorsports Buell at the on Labor Day Monday at the Chevrolet Performance U.S. Nationals.
The win was Savoie's third career victory and his first at Indianapolis. He was the runner-up here in 2011 and 2014. He defeated Chaz Kennedy, Steve Johnson and Hector Arana Jr. to advance to the final.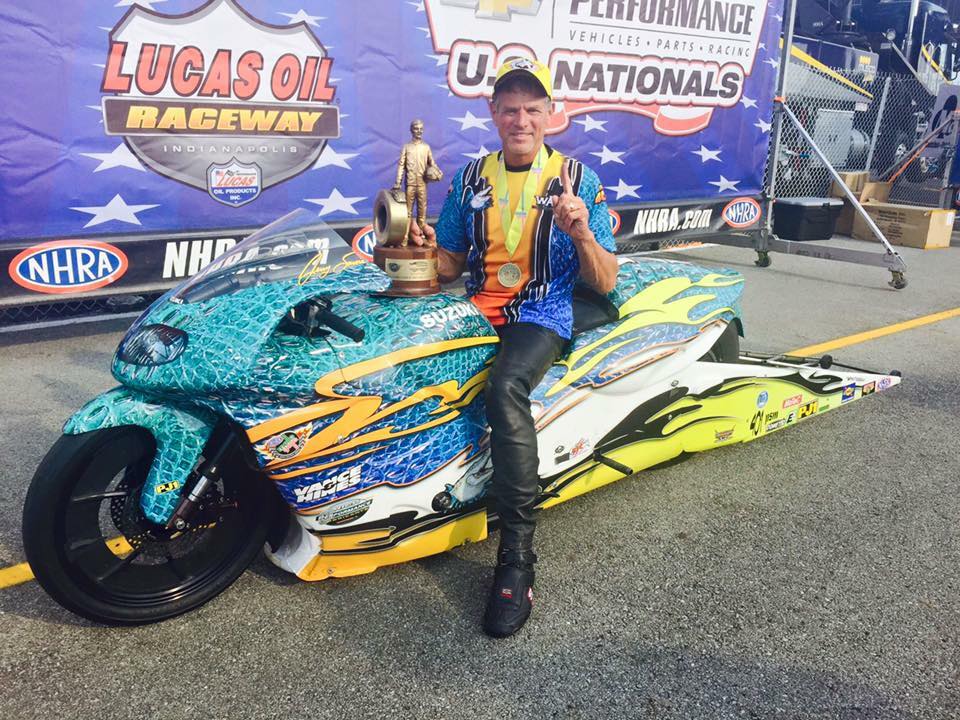 "It's a great day," said Savoie, who will enter the Countdown as the No. 4 seed. "The last round was not the way we wanted to win but we held our composure. We had a good day and we've been blessed."
Ellis was the No. 1 qualifier and was looking for his first win of the season. Despite the loss, Ellis was able to move around LE Tonglet and earn a Countdown spot.
Scotty Pollacheck secured the final Countdown spot when three-time world champ Angelle Sampey lost in the semifinals.
This is the second straight year that all four winners were first-time victors of the U.S. Nationals.
The Mello Yello Countdown to the Championship, NHRA's six-race playoffs, will begin in two weeks with the NHRA Carolina Nationals, Sept. 18-20, at zMAX Dragway in Charlotte, N.C. The championship is open to the top 10 in each professional category following the U.S. Nationals.
PRO STOCK MOTORCYCLE FINISH ORDER
Jerry Savoie; 2.  Chip Ellis; 3.  Hector Arana Jr; 4.  Angelle Sampey; 5.  Eddie Krawiec; 6.  Steve Johnson; 7.  Andrew Hines; 8.  Matt Smith; 9.  Karen Stoffer; 10.  LE Tonglet; 11.  Jim Underdahl; 12.  Shawn Gann; 13.  Hector Arana; 14.  Scotty Pollacheck; 15.  Angie Smith; 16.  Chaz Kennedy.PRO STOCK MOTORCYCLE ELIMINATIONS RESULTSROUND ONE — Chip Ellis, Buell, 6.880, 195.59 def. Angie Smith, foul; Jerry Savoie, Suzuki, 6.877, 194.46 def. Chaz Kennedy, Buell, broke; Hector Arana Jr, Buell, 6.904, 195.36 def. Jim Underdahl, Suzuki, foul; Angelle Sampey, Buell, 6.910, 192.99 def. Karen Stoffer, Suzuki, 6.911, 194.69; Andrew Hines, Harley-Davidson, 6.916, 193.82 def. Scotty Pollacheck, Buell, 7.171, 188.33; Steve Johnson, Suzuki, 6.946, 193.38 def. Hector Arana, Buell, 6.977, 194.83; Eddie Krawiec, Harley-Davidson, 6.873, 193.96 def. LE Tonglet, Suzuki, 6.919, 195.56; Matt Smith, 6.915, 192.85 def. Shawn Gann, Buell, foul;

QUARTERFINALS — Sampey, 7.000, 190.46 def. M. Smith, 6.960, 190.03; Savoie, 6.896, 194.30 def. Johnson, 6.945, 192.30; Arana Jr, 6.953, 194.07 def. Hines, 6.952, 192.93; Ellis, 6.900, 195.05 def. Krawiec, 6.923, 194.13;

SEMIFINALS — Ellis, 6.877, 196.47 def. Sampey, 7.130, 176.53; Savoie, 6.878, 194.77 def. Arana Jr, 6.963, 195.48;

FINAL — Savoie, 7.011, 193.02 def. Ellis, foul.